Request for Qualifications
2018 Art on Market Street Kiosk Poster Series
The San Francisco Arts Commission invites artists and artist teams residing in the United States to submit qualifications for the 2018 "Sanctuary City" Art on Market Street Kiosk Poster Series.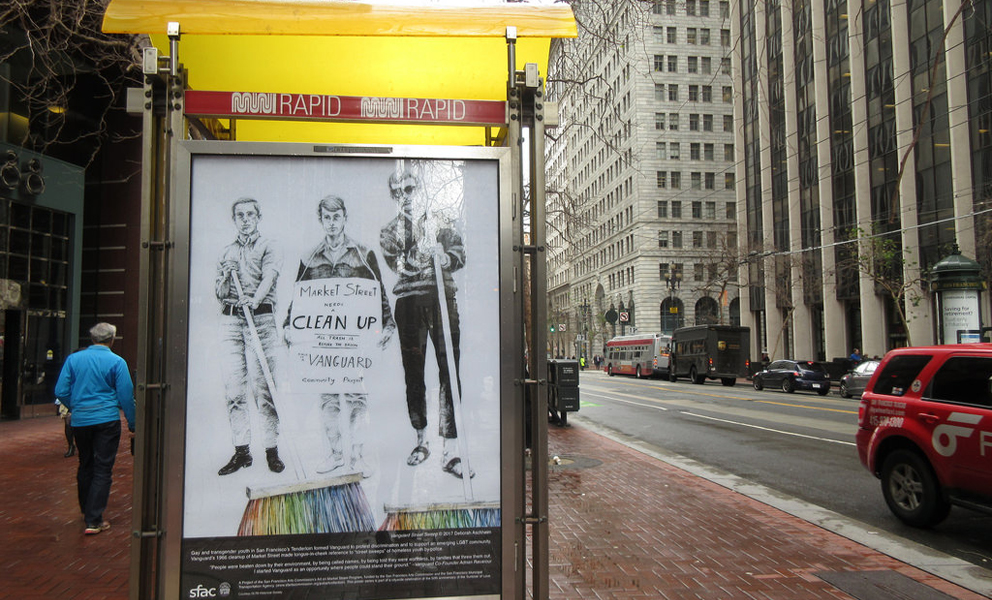 Project Overview
The Art on Market Street Kiosk Poster Series has commissioned new artwork by Bay Area artists on an annual basis since 1992. Each year, the Program commissions three or four artists to create a new body of work that responds to a theme specific to San Francisco. Each poster series is on view for approximately three months, and consists of 6 unique images that are printed at 68 inches high by 47 ¼ inches wide, and installed in 18 bus kiosks on Market Street between 8th Street and the Embarcadero.
Project Description
The theme for the 2018 series is Sanctuary City.
A sanctuary city is loosely defined as a jurisdiction that welcomes refugees and immigrants, and limits its cooperation with federal immigration enforcement actions. San Francisco declared itself a sanctuary city in 1989 with the intention of providing access to municipal services to all residents, regardless of immigration status, to ensure a safe and inclusive city for everyone.
The 2018 poster series will focus on what it means to be a sanctuary city in today's political climate. While the theme is open to interpretation, work in this series may include stories of immigration, immigrant contributions to the cultural landscape of San Francisco, perspectives from the children of immigrants, Native American perspectives on immigration, and profiles of individuals/organizations who work to defend immigrant rights.
Funding
The total budget is $10,000 inclusive of the artist fee, poster designs, digital file preparation, and proofing. The budget does not include printing and installation which will be managed and paid for by the Arts Commission. Finalists for the project will be paid an honorarium of $850 to develop their proposals.
Selection Process
Artist Qualification Panel: The applications will be reviewed by an Artist Qualification Panel to identify a list of qualified artists to be considered for the project opportunity.
Artist Selection Panel: This list of qualified artists will be presented to an artist selection panel consisting of two arts professionals and one Arts Commissioner. After considering the artists' application, the artist selection panel will identify approximately 8 finalists for recommendation to the Arts Commission for approval. The finalists will be invited to develop conceptual proposals after attending an orientation session.
The Artist Selection Panel will reconvene to consider the finalists' concepts in an interview format along with any community input and will select one artist and an alternate for recommendation to the Arts Commission.
Arts Commission Approval: The Artist Selection Panel's recommendation will be submitted first to the Visual Arts Committee, a subcommittee of the Arts Commission and then to the full Arts Commission for approval.
All Arts Commission meetings and Public Art Selection Panel meetings are open to the public and are posted on the Arts Commission website at least 72 hours in advance of the meeting. To check the meeting schedule for public art projects, please go to our calendar.
ARTIST SELECTION CONSIDERATIONS
Complete application submitted prior to the application deadline.
Artwork examples submitted represent the artist's own original creative work.
The artist's work reflects artistic excellence, innovation and originality, as evidenced by professional quality of craftsmanship and mastery of skills, techniques; professional approaches to processes and presentation, and/or communicate a unique vision or perspective.
The artist's work is judged to be appropriate to the goals of the project.
The artist's work reflects an ability to respond to the poster series theme.
The artist's professional experience is adequate to meet the demands of the project. Qualifying activities would include some combination of the following: education and training as an artist, an exhibition record in museums, commercial art galleries, and/or non-profit art spaces, previous public or private commissions; participation in artist-in-residency programs, or other related activities indicative of a professional art practice.
The artist is available to participate in the design, approval and implementation of the project as required.
Assessed ability to meet project deadlines and to perform work in a timely and professional manner.
Results of reference checks for project finalists.
Project Timeline
| | |
| --- | --- |
| Application Deadline | June 5, 2017 |
| Selection Panel 1st Meeting | Late May 2017/Early June |
| Applicant notification via email  | Late May/Early June 2017 |
| Selection Panel 2nd Meeting     | July 2017 |
| Approval of selected artist by Visual Arts Committee | August 2017 |
| Approval of selected artist by Full Commission | September 2017 |
| Artist under contract | September 2017 |
Anticipated installation dates for each Kiosk Poster Series is as follows:
January - March 2018
April - June 2018
July - September 2018
October - December 2018
*Subject to change
How To Apply
Applications are available through SlideRoom, an online application system for calls for entry. There is no charge to artists for using SlideRoom. Please be sure to allow adequate time to submit your application as technical difficulties can occur. Applications that are mailed, emailed, faxed or hand-delivered will not be considered.
Applications will not be accepted after the June 5, 2017, 11:59 p.m. (PDT) deadline.
Application materials include
1. Letter of Interest
One page maximum.
This should be a summary of your artistic focus and professional career, especially as your background relates to this project. Do not make a specific proposal for a new commission.
2. Resume
If you are applying as a team, please include your team/studio resume. If that is not available, please combine the individual resumes (one right after the other) of each team member into one document.
3. Ten images of previous work
SlideRoom accepts all image file types up to 5MB. Images should at least 72 dpi and no larger than 1500 x 1500 pixels
For team application, please indicate the lead artist for each project.
4. Image Descriptions
When you upload your images, SlideRoom will prompt you to fill out image descriptions. Please include the title, medium, dimensions, and year for each work. You may also include a brief statement (2 sentences maximum) about each work.
Check out our How to Apply to Calls for helpful tips on how to submit the most competitive application.
FOR SLIDEROOM TECHNICAL ASSISTANCE
Applicants can receive SlideRoom technical support by emailing support@slideroom.com or by accessing the online help desk, available Monday – Saturday by email, 9 a.m. - 9 p.m. (CST)
FOR QUESTIONS REGARDING THE RFQ
For questions regarding this RFQ, contact Alyssa Torres, Public Art Program Associate by
email
or by phone at (415) 252-2219. Please note that Arts Commission staff will be available to answer questions about this call until 5 p.m. (PST) on the deadline date, June 5, 2017.
Eligibility
Eligibility is open to professional, practicing artists who reside in the United States. Entries not meeting eligibility guidelines will be withdrawn from consideration.