Artist in Residence Program – SFAC Galleries & SF Public Library
The San Francisco Arts Commission (SFAC) Galleries is pleased to announce a new Artist in Residence (AIR) opportunity in partnership with the
San Francisco Public Library (SFPL)
. The Purpose of this RFQ is to identify artists to engage with the SFPL (staff and unique resources) and then use that research to develop new work(s).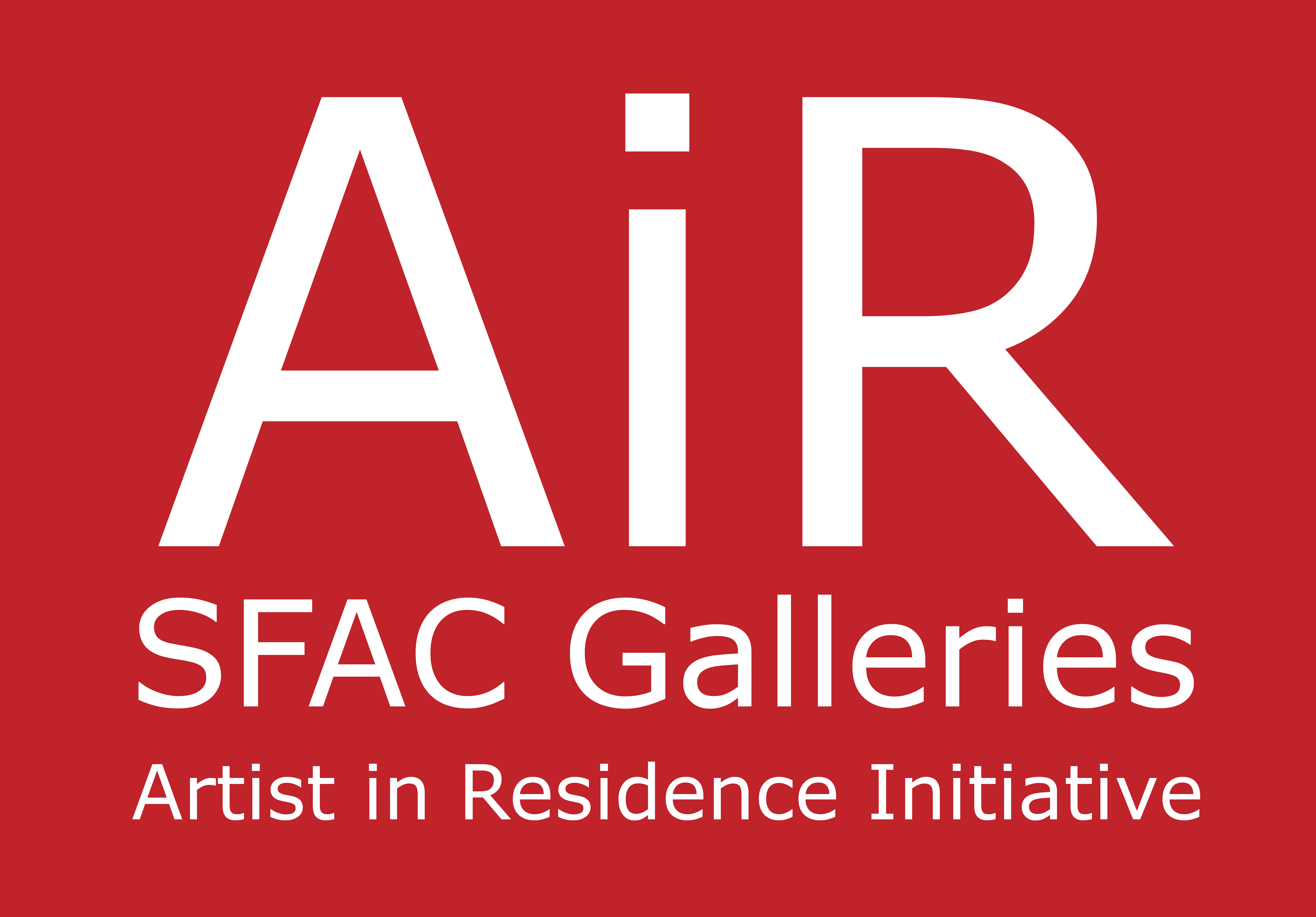 Project Overview
Launched in 2015, the SFAC Artist in Residence Program builds partnerships with City Departments in order to provide unique artist residencies that result in strengthening the value of artists participating in and responding to the advancement of civic dialogue.
Project Description
The selected four artists will spend 10-weeks with the SFPL conducting research around its history, programs, services, and inner workings. The residencies will culminate in the creation of a work or body of work that is responsive to the artist's experience at the SFPL.
SFPL is dedicated to the sharing of library resources, knowledge, services and experiences to foster a more connected community and a more resilient city. The library system includes the architecturally significant Main Library in the City's Civic Center, 27 neighborhood branches, and four bookmobiles. SFPL has a collection of more than 3.7 million items and a circulation exceeding 11 million materials each year.
Selection Process
Application must be completed and submitted by the application deadline.
The artist's professional experience is adequate to meet the demands of the project. Examples would include the execution of past projects or residencies of a similar scale and/or experience working collaboratively with nonprofit organizations or businesses.
Artist must be available for a residency period of 10 consecutive weeks from February-May 2022.
During the residency period, the artist must be able to engage with the SFPL for a minimum of 5 hours a week during SFPL business hours, which vary by site.
Artist must demonstrate the ability to write clearly about their practice and the perceived benefit of this residency.
The selected artist must:
Become an approved City Supplier in order to receive any payments. If the artist is unwilling or unable to become a City Supplier after selection, they are ineligible for participation in the AIR program.
Be able to manage the allocated budget and all subcontractors for the resulting project as needed.
Demonstrate an assessed ability to meet project deadlines and to perform work in a timely and professional manner.
SFAC Racial Equity Statement
The San Francisco Arts Commission is committed to creating a city where all artists and cultural workers have the freedom, resources and platform to share their stories, art and culture and where race does not predetermine one's success in life. We also acknowledge that we occupy traditional and unceded Ohlone land. Fueled by these beliefs, we commit to addressing the systemic inequities within our agency, the City and County of San Francisco and the broader arts and culture sector. This work requires that we focus on race as we confront inequities of the past, reveal inequities of the present and develop effective strategies to move all of us towards an equitable future.
How To Apply
Your application should not propose a specific project. Rather your time during the residency should be used to explore subjects and ideas that are responding to the work, programs, and services of the SFPL. Applications that do propose the creation of a specific work or project may not be considered.
1. Letter of interest (two page maximum).
The letter should be a summary of your artistic focus and professional career, especially how your professional background relates to the residency.
Specify any experience/involvement engaging with culturally and racially diverse communities in the San Francisco Bay Area.
The letter should indicate one or two possible subjects of interest under the purview of the SFPL:
Main Library: The Main Library is 376,000 square feet and serves as a resource library for the entire system as well as the local branch for the surrounding Tenderloin neighborhood. It houses affinity centers that provide specialized resources for the African American, Chinese, Filipino and LGBTQAI communities as well as for the visual and hearing impaired. There are also centers dedicated to jobs and careers, transitional-aged youth, teens, children and environmentalism.
San Francisco History Center: Housed at the Main Library, the Center contains a research collection of books, newspapers and magazines, photographs, maps, posters, archives and manuscript collections, and ephemera, documenting all aspects of San Francisco life and history. The Center also houses the archives for the City and County of San Francisco. Possible subject of interest could allow a chance to explore how the library serves as a repository for the historical memory of various communities, neighborhoods and civic government.
Branch Libraries: SFPL branches are varied in size with architectural styles that span more than a century – Carnegies, WPA, mid-century modern and contemporary. They are located throughout the city and each has its own distinct culture and community with dedicated staff who are committed to meeting their specific needs through a variety of programs and resources.
Jails and Reentry Services (JARS): The incarcerated population in San Francisco averages around 800 individuals. SFPL's JARS program brings books every month into the jails. Librarians also provide Reference by Mail to incarcerated patrons providing access to all types of information not readily available in the jail system such as reentry planning, business and job development and historical and cultural resources.
Mobile Outreach Services (MOS): Mobile Outreach offers a variety of library services beyond the Library's physical locations to connect with SF residents where they work, play, create, learn and live regardless of physical, economic, social and geographic or other barriers. The Library's fleet of bookmobiles visit many locations throughout the city such as senior centers & residences, parks, schools and daycare centers. MOS also serves as Treasure Island's only library service and participates in community and cultural events happening year-round.
Other Themes:

Behind the Scenes: An exploration of the Library's complex operations with a focus on how the Library contributes to reducing consumption and the sharing economy.
Collection/Preservation: An examination of the Library's collections practices including how choices are made on what to collect and for whom and how the library cares for objects in the collection, including rare, bequeathed objects and ephemera.
Historical Memory: A chance to explore how the library serves as a repository for the historical memory of various communities, neighborhoods and civic government.
2. Resume
Please include exhibitions, performances, publications, fellowships, awards, teaching and all former residencies on your resume.
3. Examples of Previous Work
No more than 10 total examples (e.g. 7 images, 1 video, 2 writing samples):
Image files must not exceed 1500 x 1500 pixels and at least 72 dpi. JPEG and PDF files only.
Video/Audio files must not exceed 5 minutes total. Do not submit a highlight reel. Excerpts are fine. MP3, WAV, MP4, AVI, MOV file formats only. Total video/audio file(s) not to exceed 250MB. You may also submit links to video/audio as long as the files have been edited to the exact excerpt(s).
Writing samples must not exceed 7 pages total (double spaced, 12pt). PDF file format only.
A checklist of examples must include project details (e.g. title, date, media, location). Also include a brief statement (two sentences maximum) about each example.
All application materials (letter, work examples, and checklist) should be in a digital folder that is then zipped and sent via Dropbox, WeTransfer, or Google Drive to ART-Galleries_Call@sfgov.org
Applications that are mailed, faxed, or hand-delivered will not be considered.
Applications will not be accepted after the deadline.
Questions? Please contact SFAC Galleries Manager of Education and Public Programs, Maysoun Wazwaz at maysoun.wazwaz@sfgov.org.
Project Timeline
| | |
| --- | --- |
| RFQ Issued | Friday, November 5, 2021 |
| RFQ Deadline | Friday, December 3, 2021, 11:59 p.m. |
| Artist Selection Panel | December 2021 |
| Artist Notification | December 2021 |
| Artist in Residence at SFPL | February - May 2022 (10 consecutive weeks) |
| Artist Presentation to Departments | May 2022 |
| Deadline for Resulting Artwork | September 2022 |
The total budget for the Artist in Residence Program is $20,000 per artist:
$10,000 artist fee for the residency, summary presentations to both departments, and participation in one public program (artist lecture, panel discussion, etc.)
$10,000 for the creation and presentation of a substantial new work (2D, 3D, performance, video, social practice, site-specific intervention, etc.) or body of works. Payment will be issued in multiple stages based on set deliverables.
Eligibility
The RFQ is open to professional individual artists of all disciplines who reside in the greater Bay Area (San Francisco, Alameda, Contra Costa, San Mateo, or Marin counties).
Artists must be able to work in an SFPL branch or administrative office, work collaboratively with available staff, and research subjects that fall under the purview of the department.
Partners