Outside Exhibition of Existing Large Scale Sculptures for Display in Patricia's Green (Reissue)
Project Description
The San Francisco Arts Commission is soliciting submissions to establish a pool of existing sculptures to be considered for a one year temporary display in Patricia's Green in San Francisco. The height of the sculpture should allow for a high visibility amongst the surrounding residential and commercial structures. Patricia's Green is located in Hayes Valley on Octavia Street between Hayes and Fell Streets. This will continue a long legacy of temporary artwork being displayed in Patricia's Green that started in 2005. This program is the result of a strong partnership with the Hayes Valley Neighborhood Association and their advocacy for public art funding.
If selected for this temporary sculpture outdoor exhibition, artist(s) will be required to schedule a minimum of one Artist Talk at the site of sculpture throughout the duration of the loan.
Project Overview
Patricia's Green is a popular neighborhood destination, providing one of the primary sources for public open space in the Hayes Valley neighborhood. It includes perimeter landscaping, seating, lawn area for casual activities and a play area for children. It spans two city blocks on the north/south axis and is situated in the midst of a commercial and residential area. The specific site for the sculpture is a round concrete plaza, of approximately 26 by 37 feet, in the center of Patricia's Green which is on axis with Linden Alley. There is a source for electrical power adjacent to the concrete plaza which may be used for the exhibition, if necessary. Please see rendering of Patricia's Green below: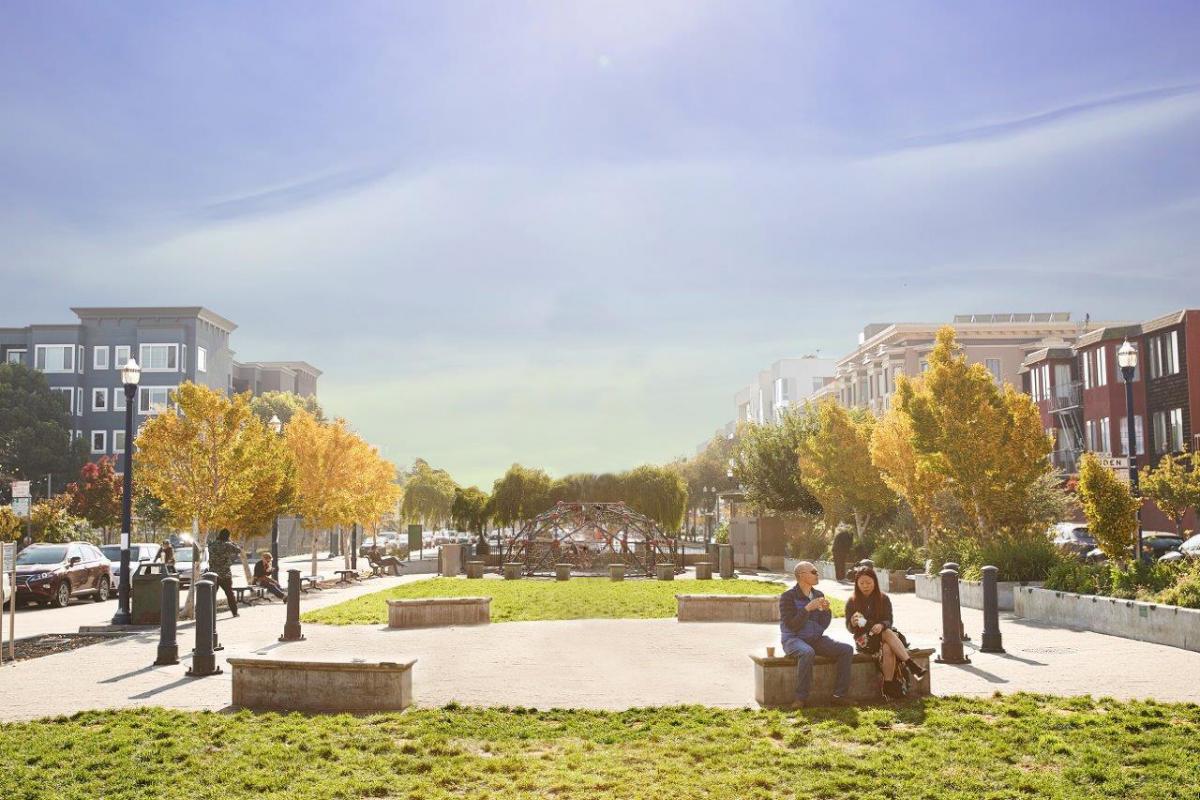 How To Apply
Applications are available through SlideRoom , an online application system for calls for entry. There is no charge to artists for using SlideRoom. Please be sure to allow adequate time to submit your application as technical difficulties can occur. Applications that are mailed, emailed, faxed, or hand delivered will not be considered.
Applications will not be accepted after April 1, 2021, 11:59 p.m. (PT). Please note that the Arts Commission staff will be available to answer questions until 5 p.m. on the deadline date. SlideRoom technical support is available Monday – Saturday by email, 9 a.m. – 9 p.m. (CDT) at support@slideroom.com.
Application materials include:
Resume
25,000 characters maximum.
1-5 images of existing artworks available for display.
Images must be under 5 MB.
You can upload images with any dimensions, as SlideRoom resizes images larger than 1280 x 1280 x 72 ppi.
Videos must be less than 250 MB in size.
If including video, please make the duration under one minute.
Image descriptions
When you upload your images, SlideRoom will prompt you to fill out image descriptions. Please include the title, medium, dimensions, year, and retail value (for insurance purposes) for each work. You may also include a brief statement (2 sentences maximum) about each work, including where the work has been previously exhibited.
Check out our How to Apply to Calls for helpful tips on how to submit the most competitive application.
Please note that Arts Commission staff will be available to answer questions about this call until 5:00 PM (PST) on the deadline date, April 1, 2021.

Arts Commission Staff: Program Associate Luna Izpisua Rodriguez can be reached at: luna.izpisua@sfgov.org.
SlideRoom technical support is available Monday – Saturday by email, 7:00 AM – 7:00 PM (PST) support@slideroom.com.
Selection Process
Artwork Selection Panel: The applications will be reviewed by an Artwork Selection Panel consisting of representatives from Arts Commission staff and/or Commissioners, arts professionals, and representatives from the Hayes Valley Neighborhood Association to identify and recommend a specific sculpture for the site.
Arts Commission Approval: The Artwork Selection Panel's recommendation will be submitted first to the Visual Arts Committee, a subcommittee of the Arts Commission and then to the full Arts Commission for approval.
Recreation and Park Commission Approval: Following approval of the artwork by the Arts Commission, the project will be presented to the Recreation and Park Commission for approval of a permit to display the work. This presentation will be made by the Arts Commission, however the artist may be asked to attend.
All Arts Commission meetings and Public Art Selection Panel meetings are open to the public and are posted on the Arts Commission website at least 72 hours in advance of the meeting. To check the meeting schedule for public art projects, please go to the calendar page of our website.


Artist Selection Considerations
Complete application submitted prior to the application deadline.
Artwork examples submitted represent the artist's own original creative work. The artist's work reflects artistic excellence, innovation and originality, as evidenced by professional quality of craftsmanship and mastery of skills and techniques; professional approaches to processes and presentation, and/or communicate a unique vision or perspective.
The artist's work will appeal to a wide range of the public who frequent the site.
The work is fabricated in materials appropriate for public display in an exterior and/or outdoor environment and is in exhibition-ready condition with no sharp edges or extruding components that might pose a hazard.
The artist's professional experience is adequate to meet the demands of the project. Qualifying activities would include some combination of the following: education and training as an artist, an exhibition record in museums, having had work displayed at commercial art galleries and/or non-profit art spaces, previous public or private commissions; participation in artist-in-residency programs, or other related activities indicative of a professional art practice.
The artist is available to oversee the management and implementation of the project from start to finish, including coordinating the work of subcontractors and arranging for the rental and delivery of equipment.
Assessed ability to meet project deadlines and to perform work in a timely and professional manner.
Project Timeline
The display of the work shall begin in early 2021 and will be on display for no less than one year. The exhibition may be extended upon mutual agreement of the Artist, the Arts Commission and the Recreation and Park Commission, from which approval and a permit must be obtained.

Project Budget
The Project Budget will include an honorarium/loan fee in addition to reimbursement for project related costs for: engineering, General Liability insurance, transportation of the sculpture to and from the project site, installation, deinstallation and periodic maintenance and repair of the sculpture to be performed by the Artist throughout the duration of its yearlong loan to the City. The budget is to be established in consultation with the Commission.
Eligibility
Eligibility is open to professional, practicing artists/teams who reside in the San Francisco Bay Area. Entries not meeting eligibility guidelines will be withdrawn from consideration.