New Report Shows Importance of Arts Industry in San Francisco
Arts and Culture Sector Generates $1.45 billion in Economic Activity and Supports 39,699 Jobs Annually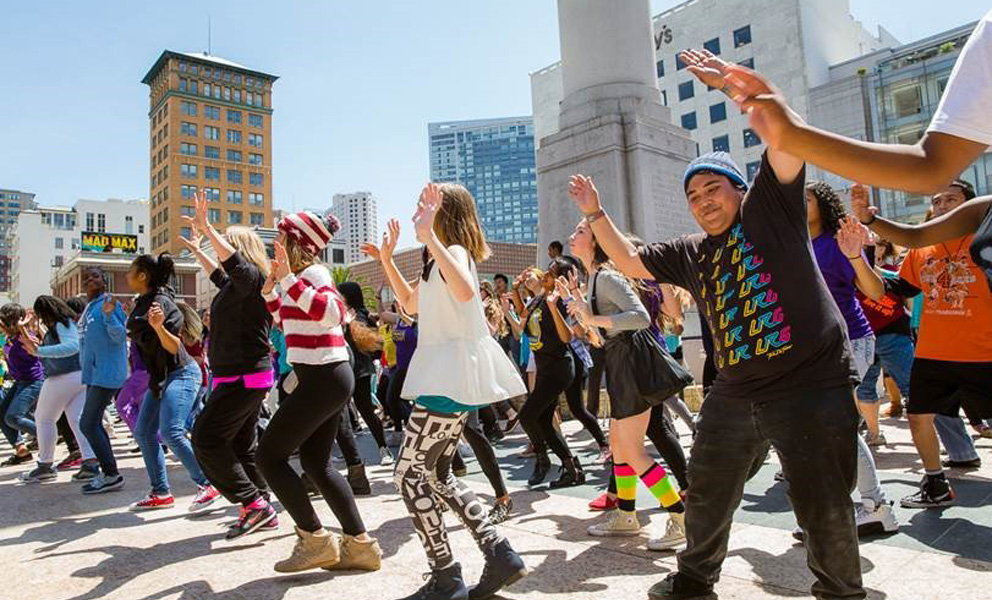 SAN FRANCISCO — The nonprofit arts and culture industry generates $1.45 billion in annual economic activity in the City and County of San Francisco, helping to support 39,699 full-time equivalent jobs, according to the Arts & Economic Prosperity 5 national economic impact study.
"The arts are vital to San Francisco's unique character and a key component of our tourism industry," said Mayor Edwin M. Lee, "The arts express our city's values and contribute to an environment that fosters innovation and creativity. My administration has made a firm commitment to ensuring a healthy arts and culture sector so that our city can continue to flourish."
The most comprehensive economic impact study of the nonprofit arts and culture industry ever conducted in the United States, Arts & Economic Prosperity 5 was initiated and overseen by Americans for the Arts, the nation's leading nonprofit organization for advancing the arts and arts education.
These figures show substantial growth since the last study in 2012, reflecting San Francisco's rapid economic recovery and enhanced investment in the arts nonprofit sector. City funding for the arts has increased more than 14 percent under Mayor Lee's administration. In 2015, he approved a $2 million enhancement (equivalent to a 50 percent increase) to the City's Cultural Equity Endowment Fund and $1 million to Grants for the Arts. In addition, the Nonprofit Sustainability Initiative, created in 2016, commits $6 million in programs over the next two years to strengthen nonprofits in San Francisco.
"This economic impact study sends a strong message that when we support the arts, we not only enhance our quality of life, but we also invest in the City and County of San Francisco's economic well-being," said San Francisco's Director of Cultural Affairs Tom DeCaigny.
Additional results show that nonprofit arts and culture organizations spent $780.6 million during the 2014-15 Fiscal Year in San Francisco. This spending is far-reaching—organizations pay employees, purchase supplies, contract for services and acquire assets within their community. Those dollars, in turn, generated $1 billion in household income for local residents and $131.1 million in local and state government revenues.
Nationwide, the Arts & Economic Prosperity 5 reveals that the nonprofit arts industry produces $166.3 billion in economic activity every year, resulting in $27.5 billion in federal, state and local tax revenues. In addition, it supports 4.6 million full-time equivalent jobs.
"This study demonstrates that the arts are an economic and employment powerhouse both locally and across the nation," said Robert L. Lynch, president and CEO of Americans for the Arts. "A vibrant arts and culture industry helps local businesses thrive and helps local communities become stronger and healthier places to live. Leaders who care about community and economic vitality can feel good about choosing to invest in the arts. Nationally as well as locally, the arts mean business."
In addition to spending by organizations, the nonprofit arts and culture industry in San Francisco leverages $667.7 million in event-related spending by its audiences. As a result of attending a cultural event, attendees often eat dinner in local restaurants, pay for parking, buy gifts and souvenirs, and pay a babysitter. Of the 59.2 percent of arts attendees who are nonresidents, 9.3 percent reported an overnight lodging expense. Not surprisingly, nonresident attendees with overnight expenses spent considerably more money per person during their visit to the City and County of San Francisco than did nonresident attendees without overnight lodging expenses ($228.43 and $37.60, respectively).
"The city's diversity of museums, theatre, festivals, dance, literary arts, music, light art and unique character make the city a unique desirable destination for travelers," said Joe D'Alessandro, president and CEO of the San Francisco Travel Association. "We position the cultural assets of San Francisco as one of our strategic marketing pillars as we promote the city globally."
The Arts & Economic Prosperity 5 study was conducted by Americans for the Arts and supported by The Ruth Lilly Fund of Americans for the Arts. Americans for the Arts' local, regional, and statewide project partners contributed both time and financial support to the study. Financial information from organizations was collected in partnership with DataArts™, using a new online survey interface. For a full list of the communities who participated in the Arts & Economic Prosperity 5 study, visit www.AmericansForTheArts.org/AEP5Partners.