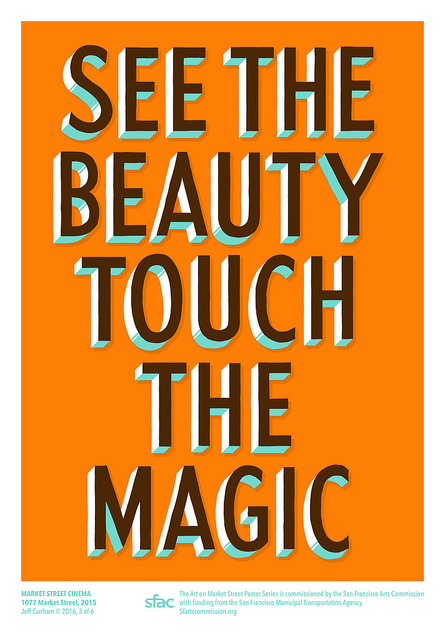 SAN FRANCISCO - A resident of San Francisco's Outer Sunset neighborhood, Jeff Canham honed his skills as an artist while working at New Bohemia Signs, the longest running traditional sign shop in San Francisco. For the latest Art on Market Street Poster series, The Best Show in Town, he employs his colorful, typographic aesthetic to re-imagine messages found on the famed thoroughfares' abundant theater marquees. The series, which includes six distinct posters repeated along Market Street from 8th to the Embarcadero, feature text from marquee signs from 1928 to 2015.
According to the artist, "Some of them may be easily recognizable to people who have lived in the city for a long time such as the Market Street Cinema's slogan 'See the beauty, touch the magic.' People who have only lived or worked in the area for the last couple of years will get something different out of it. I like the idea that these posters will speak differently to the different audiences that populate Market Street."
"Jeff Canham's posters celebrate one of Market Street's defining, yet underappreciated, characteristics," said Director of Cultural Affairs Tom DeCaigny. "This project demonstrates how art can illuminate our surroundings and instill new appreciation for our urban environment."
The posters will be on view through October 10, 2016.
San Francisco-based artist Jeff Canham draws from his background as a vintage sign painter to recreate Market Street theater marquees from the distant and not so distant past