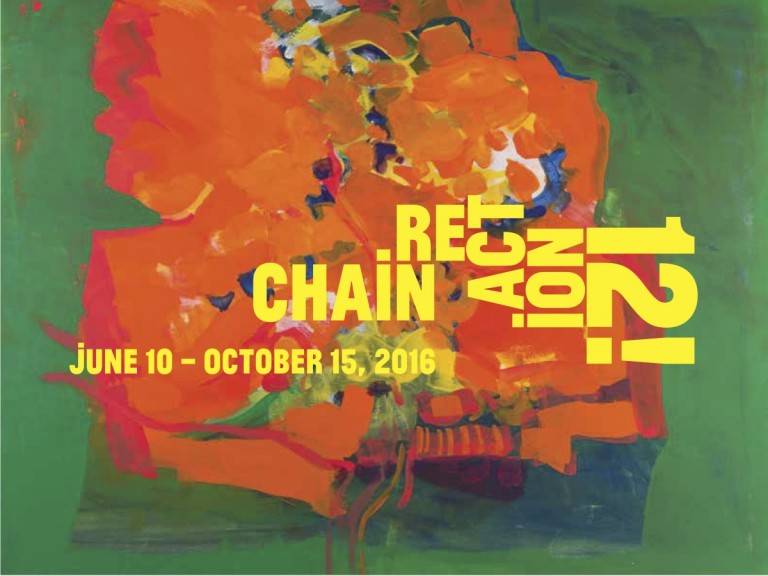 SAN FRANCISCO, May 13, 2016 – The San Francisco Arts Commission (SFAC) Galleries is proud to announce Chain Reaction 12, a group exhibition featuring 21 emerging and mid-career San Francisco-based artists. Originally conceived by the SFAC Galleries in 1986, Chain Reaction mimics a chain letter where an initial group of "selectors" each choose an artist, and then those artists select other artists, and so on. The artists participating in Chain Reaction 12 live throughout San Francisco's 49 square miles, from Forest Hill to the Mission to the Castro, Glen Park and other neighborhoods.
"We're excited to present Chain Reaction 12 in our new Main Gallery because it's an exhibition that truly celebrates San Francisco artists and the supportive networks that help artists continue to thrive in our city," said Director of Cultural Affairs Tom DeCaigny.
For Chain Reaction 12, the SFAC Galleries invited seven arts luminaries to initiate the chains: Oakland Museum of California Curator Rene de Guzman, Laurie Lazar and Darryl Smith from the Luggage Store Gallery, Kevin Krueger and Jorge Garcia from Alter Space, Margaret Tedesco from 2nd Floor Projects, artist Lynn Hershman Leeson, and arts professionals Maysoun Wazwaz and Rhiannon MacFadyen. All 21 artists in the seven chains will exhibit side-by-side.
According to SFAC Galleries Associate Curator and Chain Reaction 12 coordinator Jackie Im, "The San Francisco Arts Commission is committed to serving the region, but for Chain Reaction 12 we wanted to go back to our roots supporting San Francisco artists. We wanted to give the public an opportunity to see the breadth of work being made by San Francisco artists and to celebrate the artists who call the City their home."
The seven chains include:
(The initial selector is not a participating artist.)
Alter Space – Justine Rivas – Lauren Strom-Berg – May Wilson
Rene de Guzman – Jonn Herschend – Lindsey White – Jean Conner
The Luggage Store Gallery – Chad Hasegawa – Francesco Igory Deiana – David Bayus
Lynn Hershman Leeson – Catherine Wagner – Brion Nuda Rosch – Binta Ayofemi
Margaret Tedesco – Anne McGuire – Wayne Smith – Bruno Fazzolari
Maysoun Wazwaz – Taraneh Hemami – Omar Mismar – James Gobel
Rhiannon MacFadyen – Craig Calderwood – Nicki Green – Julz Hale Mary
Chain Reaction 12 is generously supported in part by Grants for the Arts / San Francisco Hotel Tax Fund.
EXHIBITION DETAILS:
Chain Reaction 12
Exhibition Dates: June 10 – October 15, 2016
Opening Celebration: June 10, 2016, 6-8 p.m. Free and open to the public.
Location
SFAC Main Gallery
401 Van Ness Avenue (War Memorial Veterans Building)
San Francisco, CA 94610
Chain Reaction 12 at the SFAC Main Gallery celebrates San Francisco artists