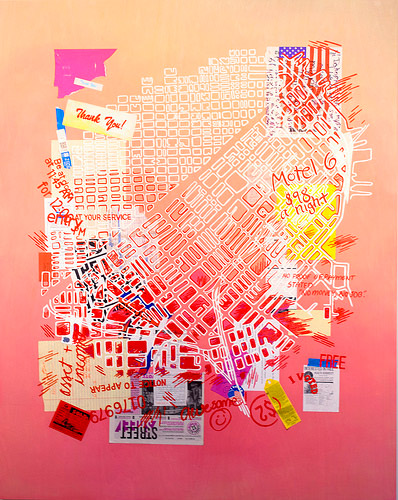 SAN FRANCISCO, March 23, 2016 – Every year, the San Francisco Arts Commission engages local artists to create original works of art for its popular Art on Market Street Poster Series, which graces the bus kiosks between the Embarcadero and 8th Street. Since its inception, the program has addressed a broad range of themes from city parks to the Civic Art Collection and most recently the centennial of City Hall. This year, the theme invited artists to take a closer look at the street itself. Local artist Lauren Bartone kicks off the series with New City Atlas, a collection of interpretive maps of San Francisco's most important thoroughfare and its surrounds. On view through July 2016.
"Market Street has seen tremendous transformation in recent years. As a theme it offers so much for artists to explore. Lauren Bartone's New City Atlas project invites us to contemplate how our urban environment shapes our everyday lives in subtle and profound ways," says Director of Cultural Affairs Tom DeCaigny. "We hope the public will enjoy seeing this artist's unique take on our city."
Bartone creates images that borrow from topography, city life, and everyday materials. Her poster series is inspired by the public life of Market Street; both real and utopic. Over several months in 2015, the artist collected detritus and transformed the materials into colorful images that conjure a range of urbane experiences.
According to the artist, "Using the materials I've found along Market Street has given me a different way to understand the city and explore its patterns."
For The Office, the artist assembled workplace memos, name tags and other office space litter to comment on the presence of labor and commerce tied to Market Street. Getting There is an interpretive map of San Francisco made from collaged MUNI transfers layered over a 1948 transportation plan that designates large swaths of downtown for parking, which the artist has reimagined as bicycle zones. For the Culture Club poster, Bartone used a collection of museum passes, city guides and gallery ephemera to convey the rich and diverse array of arts and culture surrounding Market Street. Places We Share highlights the collective desire for shared public space and A Friend in Need incorporates handwritten notes for help, social service agency flyers and other collected evidence of street life to reveal the way society satisfies its cravings and desires.
Local artist Lauren Bartone uses material found on Market Street to create interpretive maps of San Francisco's main artery