Centennial Reckoning: Work In Progress Showing
a site-specific performance followed by a talk back with the company and reception in the SFAC Gallery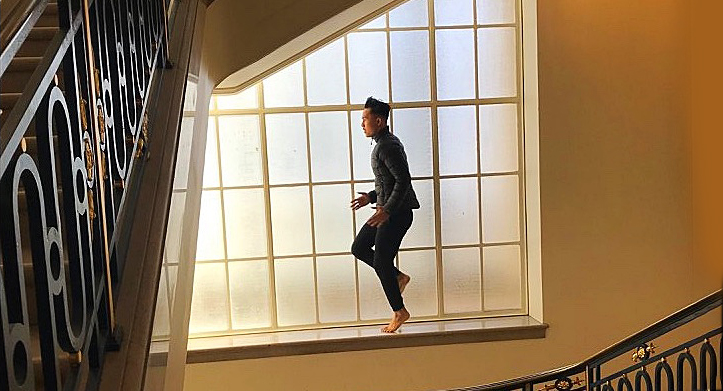 Meet at the SFAC Main Gallery to begin our moving journey. We will be walking, standing, and sitting in various locations throughout the War Memorial Veterans Building. Accessible to all.
Directed by Krista DeNio.
Performed by Jesselito Bie, Malia Byrne, Chloe Crotzer, Stephen Funk, Adrian Gebhart, Hien Huynh, Rae Raucci, and Kristen Rulifson.

EchoTheaterSuitcase (ETS) and Krista De Nio>>Moving Ground present a preview showing of Centennial Reckoning, a work in progress performance bringing to light the untold stories of LGBTQ+ and immigrant service members from WWI to today. At this historic moment in time, the project brings forward the stories of those who have held important roles in our military, but have often been unacknowledged, underrepresented, or whose central identities were erased as a part of their service experience.
In creating the work, ETS has brought together LGBTQ+ and immigrant veterans, and non-veteran civilian women and men who have held roles of leadership and service in their communities. Through rehearsals, the performers explore the ways these identities have intersected their life's work. Stories are told by the performers, as well as stories sourced from the archives, personal interviews of individuals who are unable or do not wish to represent themselves in a live performance format.
The WIP showing is followed by an audience talk back and reception.
Centennial Reckoning Premiere
November 9, 10, 11, 15, 16, 17, 18 (times TBA)
For more information: contact@echotheatersuitcase.com | 415.994.6196
Performer Bios
Krista DeNio (she/her, director, non-veteran) is an interdisciplinary choreographer, director, performer, writer and educator. Artistic Director of KD>>Moving Ground, she is committed to engaging interdisciplinary collaboration that bridges performance work, education and activism toward a socially just world. Krista is a House Artist at CounterPulse and a member of the International Interdisciplinary Artist Consortium. She is currently the Manager of the Art Program and Youth Advisory Board at Larkin Street Youth Services, and has taught dance and performance making throughout the Bay Area and country. She received her BA in Dance/Dramatic Art and I.S.F. [Development and Human Rights] from UC Berkeley and her MFA in Theater: Contemporary Performance from Naropa University. www.kristadenio.com | www.echotheatersuitcase.com
Jesselito Bie (he/him, performer, non-veteran) moved to the Bay Area in 1992 to dance with the High Risk Group and has since performed with many local companies including: Scott Wells and Dancers, Stephen Pelton Dance Company, Cid Perlman/Nesting Dolls, Kulintang Arts, Erika Shuch Performance Project, Jerome Bel, Krista DeNio/ETS, Joe Landini and Kim Epifano/Epiphany Productions. He has also received awards for his choreography from the SF Bay Guardian, the 360 Award from CSUEB for all around Outstanding and Outrageous Queer Dance Work and the Tobie from Bay Area Dance Watch for Best Male Solo. He was a participant in ODC Theater's Sandbox residency program, and is currently a lead artist at Safehouse Arts.
Malia Byrne (she/her, performer, non-veteran) holds a degree in Peace and Conflict Studies and Dance minor. She is interested in the intersection of these studies, and work that examines and illuminates their connections and parallels. Originally from Santa Fe, New Mexico, she is grateful to dance with many friends and collaborators in the Bay Area and is an artist facilitator for the Tenderloin-based community art company, Skywatchers
Chloe Crotzer (She/her, performer, non-veteran) is a biologist, neuroscientist, and dancer. She graduated from the University of Colorado Boulder with a dual degree in Molecular, Cellular, and Developmental Biology and Neuroscience, and is continually curious about the body, mind, and spirit connection. She works as Administrative Director for sjDANCEco, and is Projects Coordinator for KDMG. She is a firm believer in the power of movement to help shape and transform one's existence in the world and is fascinated with the potential for neuro-sculpting through movement. Chloe also worked as Assistant Director for the Fund for The Public Interest, working specifically for the Human Rights Campaign in the Denver office. In this role she actively engaged the community in conversations and support for LGBTQ+ civilians.
Stephen Funk (he/him, performer, veteran) spent two years in the Marine Corps, during which he completed basic, combat, and landing support specialist training. He also became the first public conscientious objector to the Iraq War, came out of the closet via the New York Times, spoke out extensively around the country, and was court martialed and sentenced to time in the brig. In those two years, informed over a decade of performances and special events including "Another World" at the deYoung Museum and "Make Drag, Not War! annual benefit for Veteran Artists, a non-profit Stephen co-founded to give veterans a platform to express real stories beyond the script we are given as a society. When he graduated Stanford in International Relations, Condoleeza Rice handed him his degree, and sometimes his life feels like a conspiracy, for which he is usually grateful.
Adrian Gebhart (she/her, performer, non-veteran) is excited for her first production with ETS. She has a background in acting and has trained with the American Conservatory Theater, Berkeley Repertory Theater, Youth Musical Theater Company in the Bay Area, and Atlantic Theater Company in New York. She is currently a teaching artist with Berkeley Rep, and is passionate about working with youth through theater.
Hien Huynh (he/him, performer, non-veteran) was born in Da Nang, Vietnam. He migrated at the age of three with his family to Oakland, CA. His movement background is composed of Laban, hip-hop, somatics, and contemporary forms. He holds a B.A. in Dramatic Arts: Dance & Theater and a B.A. in Communication from UC Davis. Hien has performed in the works of Kim Epifano, Robert Moses' Kin, Kinetech Arts, PUSH Dance Company, Lenora Lee Dance, punkkiCo, John Jasperse and Qudus Onikeku. Through kinetic and communicative frequencies, Hien aims to reinforce the human to human, heart to heart connection.
Rae Raucci (she/her, performer, veteran) is an award-winning technology journalist, actress, screenwriter, and law student living in San Francisco, with a keen interest in performance, movies, games, software, and hardware. Prior to law school, Rae served as a US Navy Hospital Corpsman and for a short-time was a member of the Sisters of Perpetual Indulgence. Currently she is a San Francisco volunteer police auxiliary reserve member, a delegate to the California Congress of Bar Associations in 2018, and a reserve San Francisco Civil Grand Juror. She lives in sunny North Beach with her partner and Pyewacket The Wonder Cat.
Kristen Rulifson (she/her, performer, non-veteran) is the co-founder of FloorPlay, an Oakland based dance company that moves from the ground up intersecting contemporary dance, acrobatics, and comedy. Her work has been received in the Bay Area, Sacramento region, and the greater North West. Kristen received her BA in Neurobiology, Physiology and Behavior and Dramatic Arts from UC Davis, and continues her education in Expressive Arts Therapy at the Tamalpa Institute. She is currently a teaching artist and director of Naturally Expressive Leaders, a program that offers leadership training through expressive arts, mindfulness, and advocacy to underserved youth. In all her work, Kristen seeks integrity, and genuine connection and exchange.
JD Salinas (they/them, performer, veteran) is a DIY'er on a quest to rediscover their true self. JD is a traveler, artist, musician, teacher, tutor, and mentor. They are a US Air Force veteran who served from 2002-2008 as A-10 Avionics Maintenance & Technical Training instructor. JD received a B.A. in Psychology with a minor in Education from UC Santa Barbara and is redefining their life with a focus on creativity and connection and seeking inspiration in every moment moving forward.


This project is supported by the California Arts Council, Veterans' Initiative Grant and is being presented as part of the SFAC Galleries Sanctuary City program series, a multiyear series featuring artists exploring San Francisco's status as a Sanctuary City. ​