The San Francisco Arts Commission is an agency of the City and County of San Francisco that consists of fifteen members appointed by the Mayor for four-year terms. Our work is overseen by the Director of Cultural Affairs.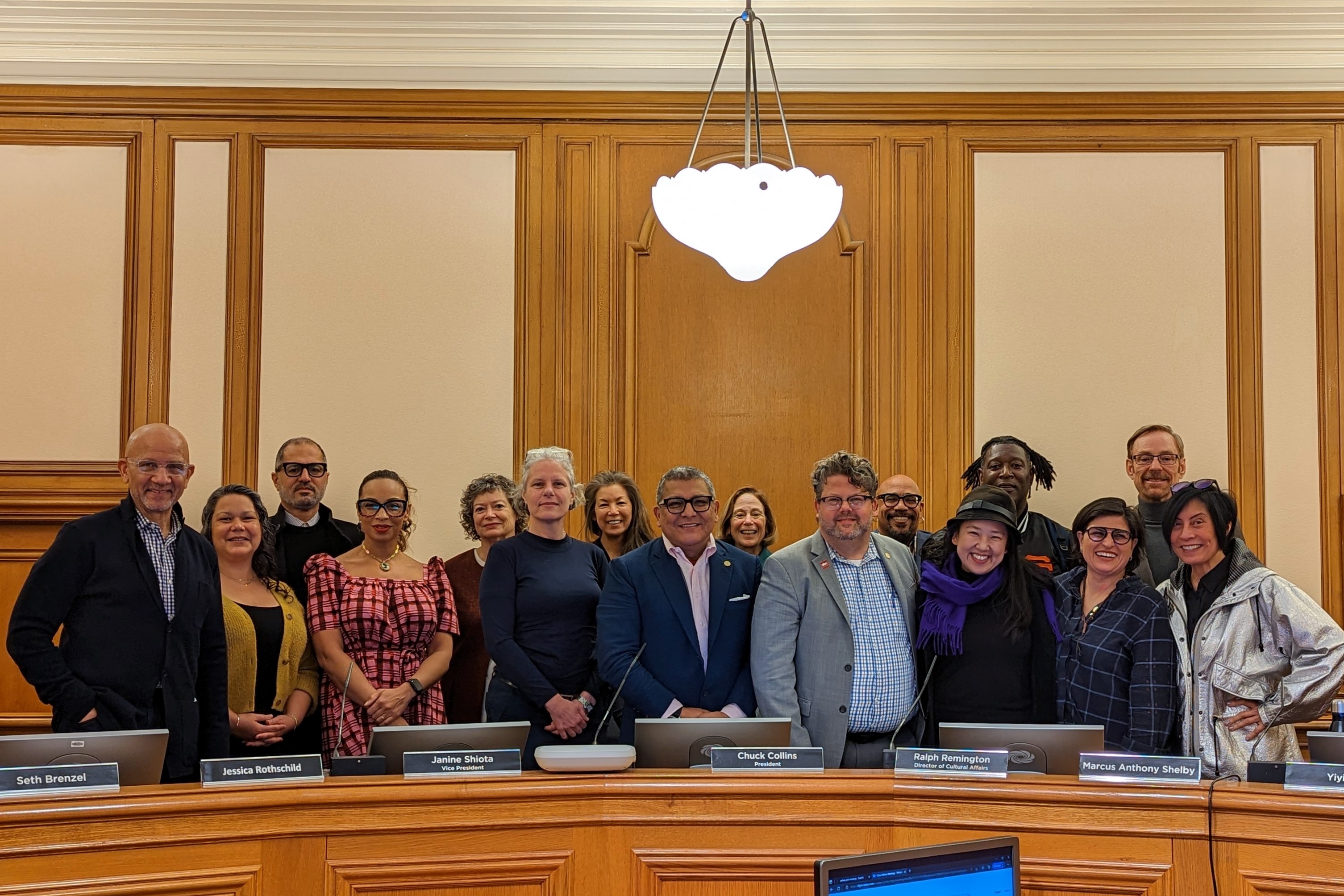 Eleven members are practicing arts professionals, including two architects, a landscape architect, and representatives of the performing, visual, literary and media arts, and four lay members. The President of the Planning Commission, or a member of the Commission designated by the Presidents, serves ex officio. (Sec. 5.103)

Charles Collins
President


Janine Shiota
Vice President


JD Beltran
Commissioner


J. Riccardo Benavides
​Commissioner

Seth Brenzel
​Commissioner

Patrick Carney
​Commissioner

Suzie Ferras
​Commissioner

Mahsa Hakimi
​Commissioner

Yiying Lu
​Commissioner

Jeanne A. McCoy
​Commissioner

Nabiel Musleh
​Commissioner

Jessica Rothschild
​Commissioner

Abby Sadin Schnair
​Commissioner

Marcus A. Shelby
​Commissioner

Kimberlee Stryker
​Commissioner

Rachael A. Tanner
​Ex. Officio, SF Planning
 
 
 
 
 


Ralph Remington
​Director of Cultural Affairs


 
 

To reach the Director of Cultural Affairs or individual commissioners directly, email Chief of Staff Alyssa Ventre or call (415) 252-2255.
Biographies:
Charles Collins, President
Janine Shiota, Vice President
JD Beltran
J. Riccardo Benavides
Seth Brenzel
Patrick Carney
Suzanne Ferras
Mahsa Hakimi
Yiying Lu
Jeanne Anyanwu McCoy
Nabiel Musleh
Jessica Rothschild
Abby Sadin Schnair
Marcus Anthony Shelby
Kimberlee Stryker
Rachael Tanner (Ex Officio, Planning Commission)
Ralph Remington, Director of Cultural Affairs
Learn About the Standing Committees of the Arts Commission