In Conversation: Marcela Pardo Ariza and Farah Al Qasimi
Moderated by Roula Seikaly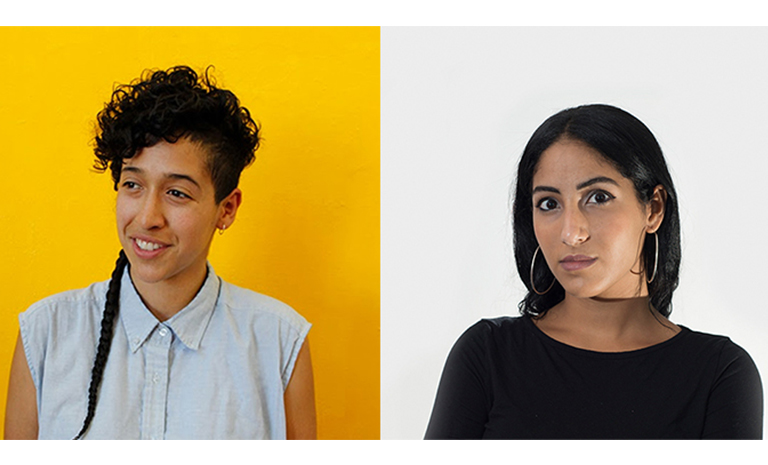 Join Conversation 7 exhibiting artists Farah Al Qasimi and Marcela Pardo Ariza in conversation about their work and the overlapping and underlying ideas informing their work. Conversation 7, on view through August 25, is the latest in an ongoing series of exhibitions that features a substantive body of work by a local artist (Pardo Ariza) alongside work by an artist based in another point on the globe (Al Qasimi, NY).
Bios
Farah Al Qasimi is an artist and musician. She received her BA from Yale University and her MFA in Photography from the Yale School of Art. Selected exhibitions include Helena Anrather (NYC), CCS Bard (Annandale-on-Hudson), The Third Line (Dubai), the first Biennial for Arab Photography at Institut du Monde Arabe (Paris), and W Barjeel Art Foundation (Sharjah). Farah has participated in residencies at the Skowhegan School of Painting and Sculpture, the Delfina Foundation, and at the Burren College of Art. Her work is housed in public collections including Grey Art Gallery at NYU, the Barjeel Art Foundation and Maraya Art Centre (both Sharjah, UAE). Farah is currently based between NYC and Dubai. Most recently, she won the 2018 NADA Artadia Prize and is a critic at the Rhode Island School of Design. farahalqasimi.com

Marcela Pardo Ariza is a visual artist and curator based in in San Francisco, CA. Pardo is the recipient of the Tosa Studio Award (2017), a Murphy & Cadogan Contemporary Art Award (2015) and a finalist for the 2017 San Francisco Artist Award. She received her BA from Earlham College, Richmond, IN in 2013 and an MFA from San Francisco Art Institute (SFAI) in 2016. Her work has been exhibited in the Bay Area at CULT exhibitions, R/SF Projects, UNTITLED Art Fair, Minnesota Street Projects, Guerrero Gallery, Alter Space, Luggage Store Gallery; and nationally at De:Formal Gallery (New York, NY); NoPlace Gallery (Columbus, OH); Pro Arts and Slide Space123 (Oakland, CA). Pardo works in the Civic Engagement department at Yerba Buena Center for the Arts and is a current member of the Curatorial Council at Southern Exposure. marcelapardo.com

Roula Seikaly (moderator) is a writer and independent curator based in San Francisco, and Senior Editor for Humble Arts Foundation. She is a regular contributor Aperture, Saint Lucy, Strange Fire Collective, SF Camerawork, and KQED Arts. She has curated exhibitions at the Utah Museum of Fine Arts, the Wattis Institute for Contemporary Arts, Triple Base Gallery, and SOMArts.

program Partner