Create a Cabinet of Wonders
Organized by Awelab in partnership with Recology San Francisco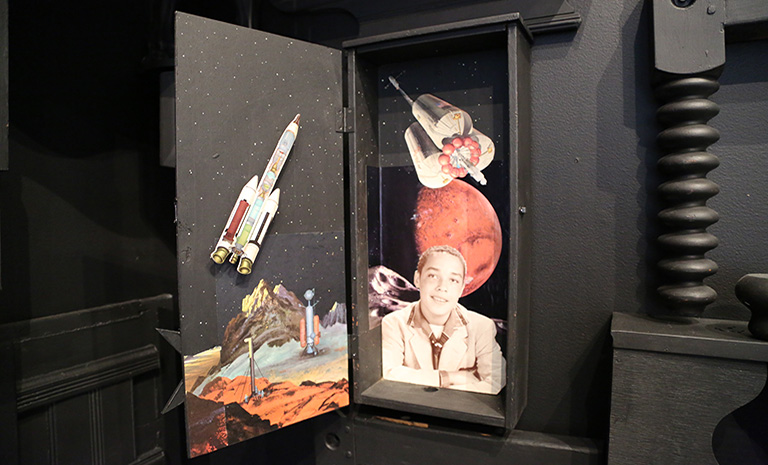 Bring your curiosity and creativity to this family-friendly, hands-on program for all ages!
Inspired by Alison Pebworth's installation Innards and Upwards, A San Francisco Wunderkammer currently on view at the SFAC Main Gallery, attendees are invited to create a small-scale cabinet of wonders. Originally created while in residence at the Recology San Francisco Artist in Residence Program, Pebworth's intricate Wunderkammer changes daily with the opening and closing of dozens of doors exposing hidden secrets.
Design a cabinet of wonders of your own using artifacts and mementos from the cultural past. For this program, Pebworth returned to Recology SF to source a sampling of recycled materials for participants to incorporate into collaged creations. The SFAC Galleries will provide ready-to-design small boxes and cabinets (i.e. shoe box size) as well as basic crafting materials like kid-friendly glue and scissors. Participants are strongly encouraged to bring collage and recycled materials such as scraps of fabric or prints, trinkets or toys, metal or wooden boxes, old photos or damaged books, etc. to incorporate into their cabinets. The afternoon will culminate in a collective Wunderkammer before everyone takes his or her own piece home.
*Please Note: Children are welcome to participate with parental supervision. Additionally, participants must take away any materials they bring to the gallery.
Create a Cabinet of Wonders is the first of three programs inspired by Pebworth's Wunderkammer presented by Awelab--Jenn Doyle Crane and Amy Ress. This series explores the ways in which artists, designers and other creative makers employ Awe as a tool for inspiration and generation, and as a community-centered approach to life. As a team, they enjoy collaborating on public programs and exhibitions.