Fourth Annual Every Day, Every Way
Arts-Focused Youth Programming Conference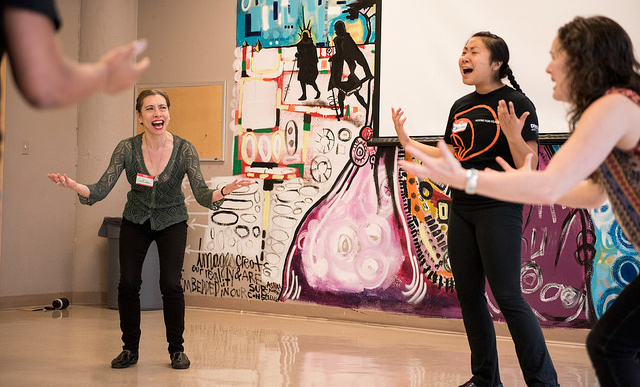 Get inspiration, experience and practical tools to integrate arts into your site's youth programming. Learn about effective models for collaborating with youth arts organizations. Share successes with youth workers, site coordinators, teaching artists and youth advocates, and share ideas about how to respond to challenges.
Participants MUST pre-register for ONE workshop.
Option 1: Writing about Place - Poetry with Tina Bartolome, Teaching Artist at Oasis For Girls
Option 2: Exploring Hometown, Culture, Roots - Visual Arts with Susa Cortez, Root Division
Option 3: Teamwork and Body Awareness - Movement with Fredrika Keefer, Dance Brigade
Option 4: Setting the Stage: Building Community - Drama with Elana Lagerquist, StageWrite
Option 5: Body Percussion - Music with Jim Santi Owen, Teaching Artist at Park Day School
Workshop Part 1 offers an opportunity to participate in a collaborative art-making experience.
Workshop Part 2 offers guidance on implementation with your group of young people, with time to plan, ask questions and get answers.
Mini-Conference Schedule
9 a.m. - 9:30 a.m. Breakfast & Networking
9:30 a.m. - 10:15 a.m. Keynote: Sarah Crowell, Artistic Director - Destiny Arts Center
10:15 a.m. - 10:30 a.m. Short Break
10:30 a.m. - 11:30 a.m. Workshop Part 1
11:30 a.m. - 11:45 a.m. Short Break / Grab a snack
11:45 a.m. - 12:30 p.m. Workshop, Part 2
12:30 p.m. - 1 p.m. Closing
Free breakfast and lunch provided.