Invincible Black Soul: Artist Talk
Mark Harris, Raymond L. Haywood and Bryan Keith Thomas with Demetri Broxton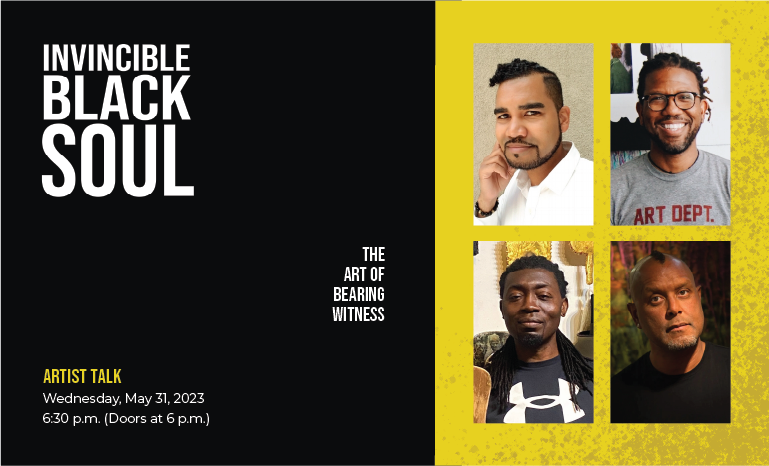 Event Details
Wednesday, May 31, 2023
6:30 p.m. (Doors at 6:00 p.m.)
Free and open to the public
Join Invincible Black Soul: The Art of Bearing Witness artists Mark Harris, Raymond L. Haywood, and Bryan Keith Thomas for a lively conversation about their work and practice. Moderated by Demetri Broxton, Senior Director of Education at the Museum of the African Diaspora (MoAD).
Mark Harris
Mark Harris is an award-winning artist, activist and educator. He has combined his passions for art making and activism to create visually compelling work that he uses to engage his audience on issues facing society today. He has established a strong independent voice and is one of the San Francisco Bay Area's most controversial artists. The Metro Silicon Valley News called his work "brilliantly subversive." His evocative, elegant and dynamic creations have caught the eye of international and domestic art collectors alike. A native of Durham, N.C. Harris grew up in Atlanta, Georgia, but he now lives and works in San Francisco, California. artofmarkharris.com
Raymond L. Haywood
Raymond L. Haywood is an Afrofuturist Abstraxct Expressionist painter and sculptor based in Berkeley, California. He received his BFA from the University of California at San Diego and his MFA from San Francisco State University and has over a decade of teaching experience from high school to community college.
Haywood is known for his abstract expressionist, mixed-media paintings that often include paper collage, drawing, and hand crafted paper stencils. His signature painting style utilizes vibrant color and patina rich surfaces and his dynamic cowrie symboled paintings from 2020 explored the African Diaspora through variegated color and texture. In 2021, Haywood became a member of the Mercury Twenty Art Collective in downtown Oakland, CA and introduced his abstract expressionist sculptures there in his 2022 exhibition ENVy of Desire . Haywood is committed to Abstract painting and sculpture and has focused on these media for the past decade exclusively. His artwork evokes ethereal landscapes which resonate with his audience through emotions archived in our physical bodies.
Bryan Keith Thomas
Born in Dyersburg, Tennessee, Bryan Keith Thomas received his Master of Fine Arts Degree from the University of Tennessee, Knoxville, in 1996. Thomas currently resides in Oakland, California, where he works as an Associate Professor within the Painting and Drawing and Critical Ethnic Studies departments at the California College of the Arts in San Francisco, CA. Thomas received the "White House Honor" as First Lady Laura Bush's guest for work with the Art in Embassies Program (Washington, DC.) His work has been exhibited locally, nationally, and internationally at Art Basel (Miami, Fl), Meridian Gallery (San Francisco, CA); the Joyce Gordon Gallery (Oakland, CA); Gallery Guichard (Chicago, IL); ArtJaz Gallery (Philadelphia, PA); E&S Gallery (Louisville, KY) the American Embassy (Dakar, Senegal); Du Sable Museum (Chicago, IL) among others. His paintings are also included in several private and public collections worldwide. bryankeiththomas.com
moderated by demetri broxton
Demetri Broxton is the Senior Director of Education at the Museum of the African Diaspora (MoAD) in San Francisco. Originally from Oakland, Broxton has over 20 years of experience working in the fields of education and the arts. Outside of his role at MoAD, Broxton is an independent curator and practicing artist. He served as a curator for the City of Berkeley (2013-2020) and is the curator for the forthcoming Excellence in Fibers exhibition at the San José Museum of Quilts & Textiles. Broxton holds an M.A. in Museum Studies from San Francisco State University and a BFA from UC Berkeley in Art Practice. His artwork has been exhibited internationally and most recently at MarinMOCA, UNTITLED Art Fair in Miami, and Patricia Sweetow Gallery in LA. Broxton's artwork is held in several private and public collections and most recently his work has been acquired by the Monterey Art Museum and the de Young Museum. He is represented by Patricia Sweetow Gallery in Los Angeles. demetribroxton.com