A two-day workshop exploring the cycle of life and ritual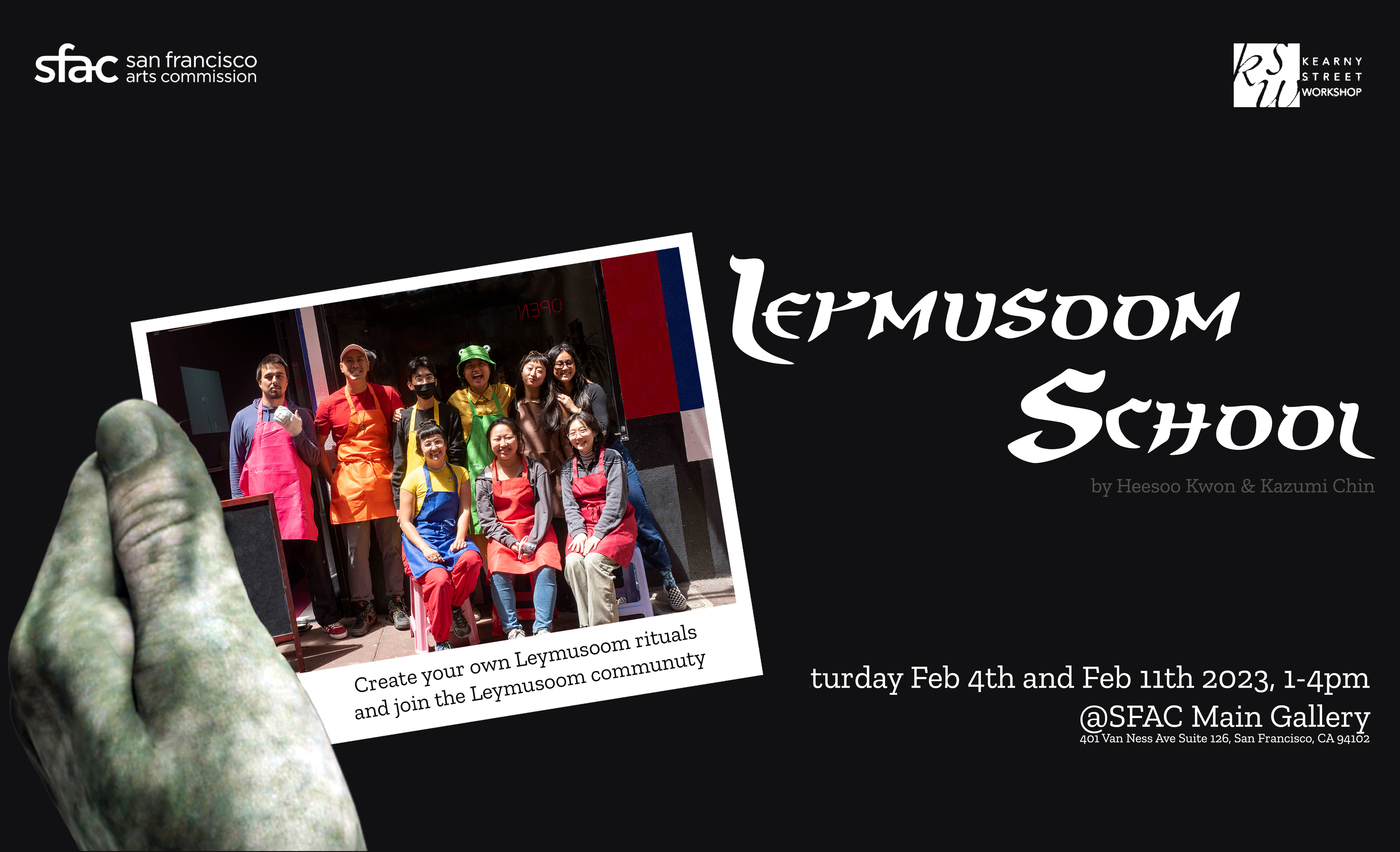 Saturday, February 4 & 11 | 1:00-4:00 p.m.
Participation in both workshop dates is requisite.
This workshop is FULL. Please join the artists and workshop participants in a presentation of their rituals on Saturday, February 11 from 3:00-4:00 p.m. as part of the closing reception for Sowing Worlds.
Leymusoom School is a series of community workshops offered by Heesoo Kwon and Kazumi Chin. Kwon is a multidisciplinary artist whose practice is centered around Leymusoom, an autobiographical feminist religion she founded in 2017 as an ever-evolving framework to explore her family histories and communal feminist liberation. Chin is a poet and teacher of Asian American and Native American studies at UC Davis whose work examines the way colonial and capitalist structures govern the possibilities of our identities.
Workshop 1: Mourning Worlds: Sense-Making in the Wake
Saturday, February 4, 2023 | 1:00-4:00pm
In the first workshop, Kwon and Chin will share poems of mourning by Mahmoud Darwish and Joy Harjo as a starting point to discuss how the colonial informs grief, how our grief continues to unfold against the violence of colonialism, and how we might yet navigate the world as artists, as writers, and as colonial subjects. Through discussion, they will share their own experiences with mourning, bear witness to the experiences of others, and connect these experiences to their practice.
Workshop 2: Ritual for Metamorphosis
Saturday, February 11, 2023 | 1:00-4:00pm (open to the public from 3:00-4:00pm)
In the second workshop, participants will return to build upon the structures created in the first workshop. Kwon and Chin will lead participants through the creation and presentation of their own rituals of birth and death. The hope here is to allow the creation of ritual to be a transformative experience--to imagine through ritual what it might take to sustain our bodies, our histories, and our ancestries together. Central to this practice is the capacity to work together as 식구, as found family, as people who are dependent upon each other and who must work to feed one another. The presentation of the rituals is open to the public.

About the Artists
Heesoo Kwon is a multidisciplinary artist from South Korea currently based in the Bay Area, California. In 2017, Kwon initiated an autobiographical feminist religion Leymusoom as an ever-evolving framework to explore her family histories and communal feminist liberation. Kwon received a business degree from Ewha Woman's University (BA, 2015) and received the Female Inventor of the Year Award from the Korean Intellectual Property Office in 2012. After realizing herself as a product of Korean patriarchal society and the misogynist commercial field, Kwon started to make art in order to shed this the burden and redesign her feminist/queer life. Kwon received her MFA from the University of California, Berkeley (MFA, 2019). Her work has been exhibited both nationally and internationally throughout the United States, Korea, and Europe including BAMPFA, Berkeley; Phoebe A. Hearst Museum of Anthropology, Berkeley; Ryan Lee Gallery, New York; 47 Canal, New York; Chinese Culture Center, San Francisco; Site Gallery, Sheffield, UK; Blinkers, Winnipeg, Canada and WMA, Hong Kong. Kwon was a finalist for the Queer|Art|Prize of recent works in 2021 and the SFMOMA SECA award in 2022.
Kazumi Chin is a writer, game designer, and teacher of Ethnic Studies. Their work is in world-making, the fabrication of many ways of being, in finding through art and activism ways to live together beyond incarceration and colonial violence.
Program Partner
Kearny Street Workshop