a day long print performance with artists Sergio De La Torre and Chris Treggiari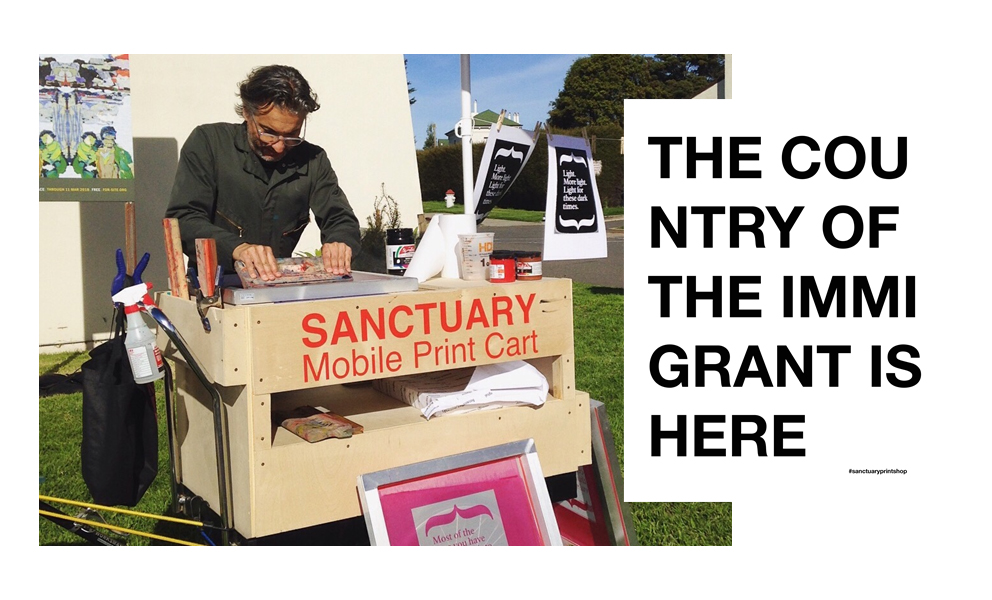 Artists Sergio de la Torre and Chris Treggiari have been investigating data and true stories of undocumented immigrants under San Francisco's Sanctuary City policy for more than a decade. Continuing this ongoing investigation, the artists will host a one-day event on Valencia St. in front of the former Mission police station turned public art wall at 1240 Valencia St where they will print and post over 400 posters with messages such as " A sanctuary is a home away from home," "Undocumented Unafraid," and "The country of the immigrant is here."
With special performances by Leticia Hernandez, Maria Loreto, DíaPa'Son, and Martha Rodríguez Salazar starting at 11:30am and a presentation by the MagnaCitizen, around 1:30pm.
About the Artists
Sergio De La Torre's work focuses on issues related to housing, immigration, and labor, to mention only a few. Working with individuals from marginalized sectors of the cities he works in--factory workers in Tijuana; shoeshine boys in Mexico City; undocumented immigrants in Los Angeles and San Francisco; and evicted families in Oakland--De La Torre tries to approach the lives of these individuals, not as victim-subjects, but in an attempt to reexamine the meaning of their actions in the context of shifting global conditions. De La Torre has exhibited nationally and internationally and has received grants from the NEA, The Rockefeller Foundation, Creative Capital, the Potrero Nuevo Fund, and the Creative Work Fund, among others. He is an Associate Professor at the University of San Francisco Art and Architecture Department.
Chris Treggiari's artistic practice strives to investigate how art can enter the public realm in a way that connects wide ranges of people, neighborhoods, and communities. He highlights diverse community identities, shared histories, and personal stories through participatory, mobile platforms that encourage exploration from the viewer. Often these platforms entail creative methods that aim to turn the passive viewer into an active art-maker who can participate in sharing a personal voice in a community dialogue. Treggiari has exhibited nationally and internationally and has received grants from the Puffin Foundation, the Creative Work Fund, the Arts Commission of San Jose, The Seattle Center Foundation, and the Zellerbach Foundation. He is currently a teaching artist-in-residence at the Center for Art and Public Life at the California College of the Arts.