Santuario / Sanctuary / Vil Sanktyè / مدينة ملاذ /圣所城市 / Santuwaryo
an evening of performances inspired by the idea of sanctuary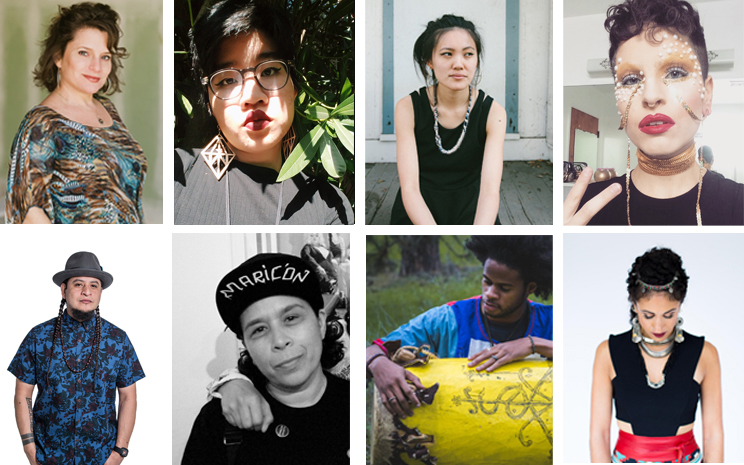 Doors open at 7:00 p.m.
Event starts at 7:30 p.m.

Hosted by poet, musician, and curator Sandra García Rivera, this evening of performances and perspectives on the theme of sanctuary features spoken word, story, video, and song in defense and protection of immigrant rights. Through their work, the artists reflect on a variety of experiences and consider the urgency of storytelling, and the creation of "sanctuary" spaces for artists, immigrants, and chosen families, in service of kinship, connection, and refuge.
Performers include Yujane Chen, Jade Cho, Deuce Eclipse, Juliana Delgado Lopera, Vero Majano, Jeff Pierre, Sandra García Rivera (host), and Naima Shalhoub.
ARTIST BIOS
Sandra García Rivera (Curator & Host) is a Nuyorican spoken word poet, singer and musician, who has captured audiences throughout the U.S., the U.K. and the Caribbean as a solo artist and alongside Latin Jazz and roots music legends. SGR is the Host & Curator of Lunada Literary Lounge at Galería de la Raza, voted the Best Literary Night in the Bay for two years (Bay Guardian). She started writing poetry in the Mission District of San Francisco inspired by local author Piri Thomas who always said "Every child is born a poet, and every poet is a child." Her writing and musical projects elevate the voices and stories of women, youth, Puerto Rican & Caribbean culture. She has penned two chapbooks: Divination of the Mistress and Shoulder High, holds an MFA in Poetry, and her writing has been published in numerous journals and anthologies. She has been a guest vocalist and musician on numerous jazz & hip hop albums with artists including John Santos, Rico Pabón, The Welfare Poets, and the afro-beat ensemble The Femm Nameless. She has been featured as a poet in the reality TV show The Chicas Project representing the Nuyorican Poets Café, and also appeared in the film Yo Soy Boricua Pa Que Tú Lo Sepa by Rosie Perez. SGR performs regularly in the Bay Area as a poet, and as a vocalist and percussionist with La Mixta Criolla. @sgrpoet

Yujane Chen (they/she) is a queer, disabled, non-binary Taiwanese im/migrant alien & child of Diaspora. They are an alum of Brave New Voices 2017 & Kearny Street Workshop's APAture 2017. A Bay Area transplant by way of southern California, they are currently working towards a B.A. in Ethnic Studies at UC Berkeley, where they are a student organizer for poets & underrepresented communities of color on campus. She serves as an Emerging Poet Mentor with Youth Speaks, and is a 2018 Winter Tangerine Fellow whose poems can be found, or are forthcoming, in Black Warrior Review, the Shade Journal, and elsewhere. @yujane_c

Jade Cho is a writer and educator from Oakland, California. The granddaughter of Toisanese immigrants, her writing explores diaspora, race, gender, ghosts, and the intersections of power and privilege that impact us all. She is the author of In the Tongue of Ghosts (First Word Press, 2016). Her writing has appeared in Namjai: A Tribute to Bay Area API Poets, Third Woman Pulse, and The Offing. She has been on two nationally-competing slam teams, representing the Bay Area at Brave New Voices 2010 and UC Berkeley at College Unions Poetry Slam 2013, where she was awarded "Best Political Poem" and "Best Writing as a Team." She has performed and facilitated workshops at venues across the nation, from Davies Symphony Hall and Nourse Theater in San Francisco, to Occidental College and Wesleyan University. As a teaching artist, Jade has worked as a poet mentor at Youth Speaks, a Student Teacher Poet in June Jordan's Poetry for the People at UC Berkeley, and a coach of UC Berkeley's slam team. A Berkeley alumna with a B.A. in Ethnic Studies, she currently serves full-time as Writing Program Co-coordinator at the Student Learning Center, where she supports Cal undergraduates in their growth as writers and scholars. She is also a founding member of Ghostlines, a Bay Area collective of artists and educators, and an organizer of The Root Slam, a bimonthly open mic & slam venue in Oakland. @_baysian

Juliana Delgado Lopera is an award-winning Colombian writer, historian based in San Francisco. The recipient of the 2014 Jackson Literary award, and a finalist of the Clark-Gross Novel award, she's the author of ¡Cuéntamelo! an illustrated bilingual collection of oral histories by LGBT Latinx immigrants (Aunt Lute 2017) and Quiéreme (Nomadic Press 2017). She's received fellowships from Brush Creek Foundation of the Arts, Lambda Literary Foundation, Yerba Buena Center for the Arts and The SF Grotto, and an individual artist grant from the SF Arts Commission. Her work has been nominated for a Pushcart Prize and published in various publications. She's the executive director of RADAR Productions. Follow her on Instagram @julianadlopera

Emcee Deuce Eclipse is driven by a desire to express himself through music. His goal is to create an open universal sound, which he describes as "Freedom Style" or "Indigenous Noise." Deuce spent his childhood immersed in music and has been rapping, beat-boxing and singing since he was nine. He draws influence from both his Nicaraguan heritage as well as the culture of Hip-Hop he grew up with. It is Deuce's creative openness that enables him to create a unique sound that breaks the conventional bonds of culture and style. And though he has far exceeded those conventional bonds, his vision is deeply rooted in both the traditional Nicaraguan music his father would play on his guitar and the rhythmic expressive style of American Hip-Hop. Deuce's true talent lies in his ability to paint a vivid picture of where we are as a society by weaving compelling personal stories into his rhymes. "Music has always been with me. As I change, it changes. I learned how to grasp the concept of songwriting by rapping, watching and feeling. Using it to speak of the things I go through or see, things people have taught me or showed me in my life. I just try to express what is around me and inside me. Nurture that piece of myself that is for the world." @DeuceEclipse

Vero Majano is a queer Latina artist born and raised in San Francisco's Mission District. Her works are steeped in film, performance, visual culture, and storytelling. She works to archive, curate, reinterpret, and re-historicize Latino culture in San Francisco's Mission District for broad audiences, to stake out complex stories of the Mission in the city's memory and history. Her multimedia projects often include archival footage, photographs, interviews, storytelling and film through which she aims to preserve, disseminate, and reinterpret. She is part of The Caca Colectiva, co-founded with Angela Reginato and Dolissa Medina, out of a shared interest in the intersection between found films, personal memory, and collective consciousness. They maintain an ever-growing film archive of 16mm, Super-8, 8mm, and home movies. Majano is also co-founder of Mission Media Archives, which collects and preserves audio and films shot in San Francisco's Mission district during the 1970s and '80s. @gordofacesf

For Jeff Pierre, music is an element of happiness and healing, and when he touches the drum he feels alive and harmonious with the universe. Born and raised in Haiti, Jeff has been playing traditional Haitian percussion since the age of three with the most eminent drummers of the Jaka Institute de Danse in Haiti. JAKA is a traditional dance and drumming company founded by his mother Florencia Pierre, known for her beautiful work in the art community in Haiti. At the age of 15 Jeff became the lead drummer of his mother's dance company where he played for dance classes and for performances in Haiti and overseas. When he moved to the U.S, he studied at the School of the Arts for two years and was a member of the Jazz and Latin bands. He became the lead drummer of Afoutayi, the Haitian traditional arts, music and dance com pany, performing at schools and public events. He teaches private percussion lessons, in summer camps with children and teenagers, and adult workshops throughout the Bay Area of San Francisco. Besides his love of drumming, Jeff produces electronic music, which he started in high school in Haiti. He always wondered how people made these sounds that he would hear on the radio and then one day a high school friend gave him a demo of Fruity Loop software and since then he continues to create electronic music. @jeffpierremusic

Naima Shalhoub is a Lebanese American artist who uses music as a tool for transformation, liberation, education and self-expression. Her dimensional work as a vocalist, composer, performing artist, and educator focuses on the expansive quality of the voice and its power for redemption and social justice. After receiving her MA in Postcolonial and Cultural Anthropology in 2008, she turned her focus to creation and performance in the Bay Area. In May of 2014, Naima combined her passion for music, social justice, and education by facilitating weekly "Music and Freedom" sessions with incarcerated women at the San Francisco County Jail, where she recorded her debut album, Live in San Francisco County Jail. Naima is currently teaching Voice and Music to middle schoolers at a public charter school in Richmond, California, while she continues to work on her project "Borderlands," music sessions that are expressive, educational, and ultimately connect with the larger movement of transformative justice on a local and an international scale. In October 2017 Naima toured Beirut, Lebanon with a project titled NAMENA, which in Arabic means "to grow, to nurture, communally." This project built partnerships with local organizations and people co-producing events to discuss and share creative responses to various forms of struggle. She released her EP titled "Borderlands" in Lebanon with a series of videos forthcoming about the project and music. You can hear Naima's EP now on Anghami. @NaimaShalhoub