TIME CHANGE! Reading The Dispossessed
A two-part program centered on Ursula K. Le Guin's seminal novel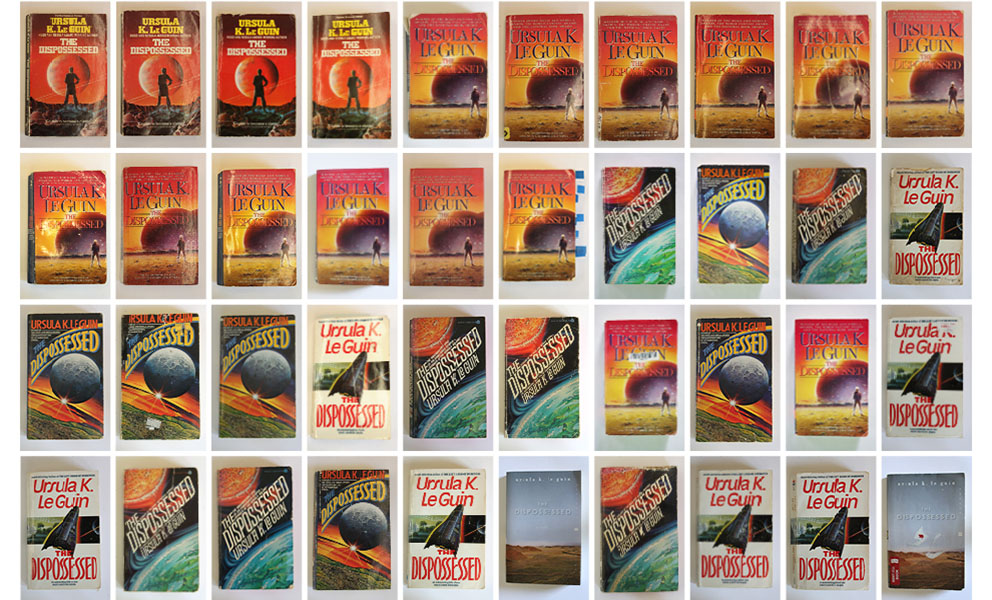 Friday, January 19, 6-8 p.m. | Pt. 1: Performance and Closing Reception​
Saturday, January 20, 12-2 p.m. | Pt. 2: Reading and Recording The Dispossessed
Join the SFAC and Detroit based artist Danielle Aubert for a two-part program centered on Ursula K. Le Guin's utopian science fiction novel The Dispossessed (1974). Often subtitled "An Ambiguous Utopia," The Dispossessed follows a physicist named Shevek as he travels between the twin worlds of Anarres and Urras. After her first reading of the book in 2009, Aubert was so moved by its ideas and the possibility for a different social order that she began collecting used copies of the book for a project that would later become a book of her own. In 2015, Aubert published Marking the Dispossessed, a compilation of marks, comments, and underlines made by readers in over one hundred used copies of Le Guin's seminal novel.
Friday, January 19​, 6-8 p.m. | Pt. 1: Performance and Closing Reception​
Doubling as a closing reception for the SFAC's current exhibition An idea of a boundary (taken from the first paragraph of Le Guin's The Dispossessed), this first part of the program will consist of an introduction to the project by Aubert, followed by a participatory reading of The Dispossessed and a moderated Q&A session with artist, sci fi fan, KQED visual arts editor Sarah Hotchkiss. Used copies of The Dispossessed will be provided. Gallery visitors are encouraged to participate but are not required.

Saturday, January 20, 12-2 p.m. | Pt. 2: Reading and Recording The Dispossessed
Aubert and a select group of local sci fi enthusiasts will read from The Dispossessed with an emphasis on the marks found in over one hundred used copies. Gallery visitors are welcome to sit and listen to the reading and to follow along with a used copy. This reading will be recorded. Guest Readers: Sofia Cordova, Liz Hillie, Courtney Johnson, and Dorothy Santos

To learn more about Marking the Dispossessed by Danielle Aubert click here.
Danielle Aubert is a graphic designer and researcher whose work examines materials, methods of production, machines and labor. She is currently working on a book about the work of Fredy Perlman and the Detroit Printing Co-op, forthcoming from Inventory Press in 2019. She is the author of Marking the Dispossessed (2015: Passenger Books) and 16 Months Worth of Drawings in Microsoft Excel (2006: Various Projects). She is co-author, with Lana Cavar and Natasha Chandani, of Thanks for the View, Mr. Mies (2012: Metropolis Books). She is a part of the design group CLANADA. From 2013-15 she was an Arts Fellow at Princeton University. She is an Associate Professor of Graphic Design at Wayne State University, in Detroit.