Twenty Years of Designing for the SFAC
Graphic Design Conversation and Showcase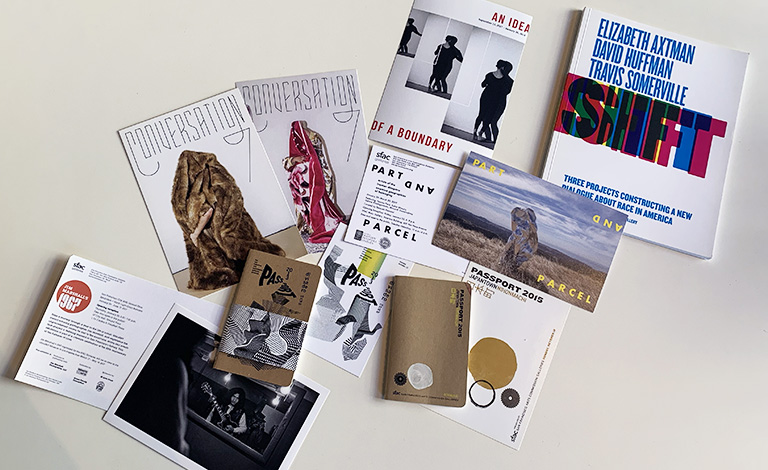 Join us for a conversation with some of the Bay Area's top graphic designers to discuss how design has changed and adapted over time and in response to time. Wander around the SFAC Galleries' archive exhibition, The Capricorn Chronicles, where we have pulled examples of graphic design work from the past twenty years. Each designer will talk about the collateral they created for the SFAC, how this work fits into their practice, graphic design trends, and what it's like to design for an arts venue.
Participating Designers:
David Kasprzak of Colpa (SFAC: 2017-present). COLPA is the collaborative art practice of Luca Antonucci and David Kasprzak. COLPA PRESS publishes art books, limited edition prints and art objects, often working with artists on unique projects. COLPA has grown to include international events and exhibitions. With exhibitions at SFMOMA at the FOG Design + Art Fair, The NY Art Book Fair at PS1 MoMa, The LA Art Book Fair at the Geffen Contemporary MOCA, the Kadist Foundation and the Headlands Center for the Arts. In 2016, COLPA co-founded the San Francisco Art Book Fair.
Brian Singer of Altitude (SFAC: 2010-present). Singer is a San Francisco-based fine artist and accomplished graphic designer. He has designed for Apple, Adidas, SFMOMA, Facebook, Chronicle Books and many others. In addition to being recognized with numerous awards and publications, he has served as the president of the San Francisco chapter of AIGA, the professional association for design and taught at Academy of Art University.
Joshua Singer of Atomtan Design (SFAC: 2006-present). Singer is a graphic designer, teacher and writer. His work examines and explores intersections of design practice, design research, theories of design, the urban landscape, and experimental and critical methodologies. He is the principal of Atomtan Design creating editorial and identity for arts institutions and non-profits. He is a tenured professor in the School of Design at SF State.
Michi Toki of Toki Design (SFAC: 2003-2005). Toki is a design director and book and editorial designer based in San Francisco. Clients have included: Abrams, BAMO, The Book Club of California, Cal Alumni Association, Center for Creative Photography, Chronicle Books, The Friends of Photography, Heyday, Museum of Photographic Arts, Rockport, San Francisco Arts Commission Galleries, San Francisco Camerawork, SFMOMA, Sonoma Valley Art Museum, Steidl, University of California Berkeley, and William Stout Publishers.
Martin Venezky of Appetite Engineers (SFAC: 2013). Martin Venezky is the master designer behind Appetite Engineers, an internationally recognized, San Francisco-based design firm founded in 1997. In addition to corporate clients, Appetite Engineers has designed for the Sundance Film Festival and created catalogs for the Wattis Institute, San Francisco Museum of Modern Art, the Whitney Museum of American Art, the International Center of Photography and more. Venezky's work manifests in a variety of media including drawing, collage, photography, sculpture. In 1997, Venezky was listed among I.D. magazine's "ID40" list of influential designers. A monograph of Venezky's work, It Is Beautiful…Then Gone, was published by Princeton Architectural Press.