Woven Voices / Voces Entretejidas
A collective textile workshop with Georgina Reskala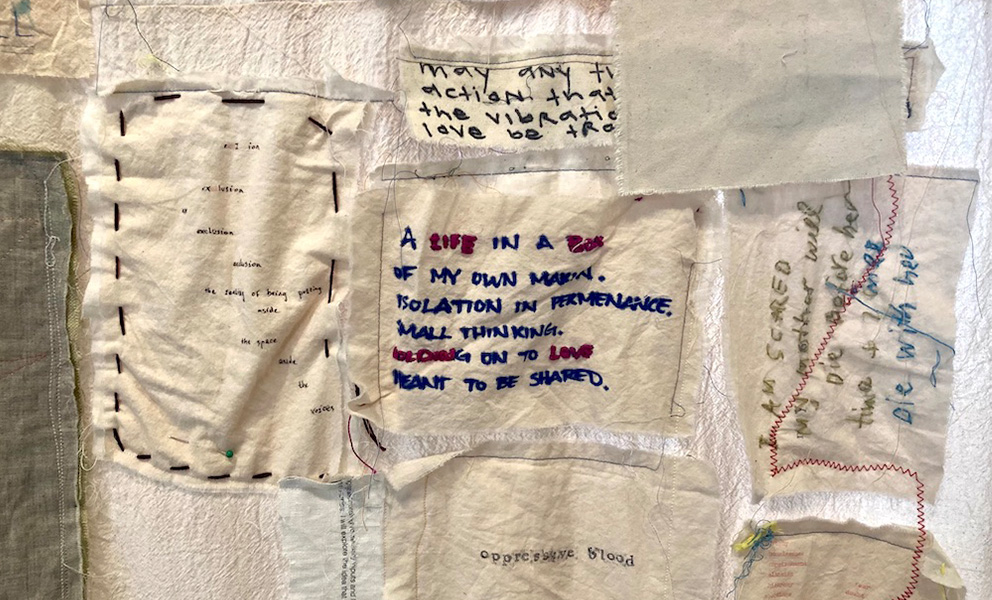 RSVP recommended but not required.
Join Crossing Lines artist Georgina Reskala for a workshop that brings people together to create a collective textile work. In her work, Reskala deals with ideas of memory, history, and the power of narrative. For this workshop, participants are invited to share their stories and write their fears, troubles, heartaches, and wishes on a piece of fabric and attach them to a larger textile work on view in the gallery. By joining in community and engaging in the act of sewing we can begin to mend ourselves and our world. Reskala invites you to 'leave' your troubles and wishes on the tapestry where she will hold space for them and for you.
Reskala started this project three years ago at the beginning of the COVID-19 pandemic as a way to stay connected with her loved ones. After seeing how impactful this simple gesture of holding space for others was, Reskala grew the project to include women's voices from places far and wide. With this workshop, she continues to hold space and heal together with newfound community.
Materials will be provided by the artist however participants are invited to bring fabric of their own. Refreshments also provided.

About the Artist
Georgina Reskala is a Mexican-Lebanese artist living and working in Santa Monica, CA. She was born and raised in Mexico City and moved to San Francisco to receive her BFA and MFA from the California College of the Arts (CCA).
Her work has been shown nationally and internationally including at Zona Maco (Mexico City), Seattle Art Fair, Photo LA, Pulse Miami, Photo Festival Yixian, China, and Venice Institute of Contemporary Art amongst others. In 2017, she was shortlisted for the Hariban Award in Kyoto, Japan. Reskala's work is held in the public collections of the Portland Art Museum, the Frye Art Museum (Seattle, WA), the Jordan Schnizter Museum of Art (University of Oregon), Cassilhaus Collection (Chapel Hill, NC) and Museo Comunitario de Arte (Zacatecas, Mexico).
She is represented by PDX CONTEMPORARY ART in Portland, OR and is currently an adjunct professor at CCA and a textiles teacher at L'Ecole Claire Fontaine in Venice CA.