Arts Education Resources
The San Francisco Arts Commission is committed to providing access to high-quality arts experiences in and out-of-school time for San Francisco youth, families, residents, and stakeholders across San Francisco neighborhood communities through Arts Education.
For additional information about Arts Education Programming, please contact Program Officer Jonell T. Molina at jonell.molina@sfgov.org or call 415-212-2218.

Please sign up for our newsletter to stay informed about our grants program.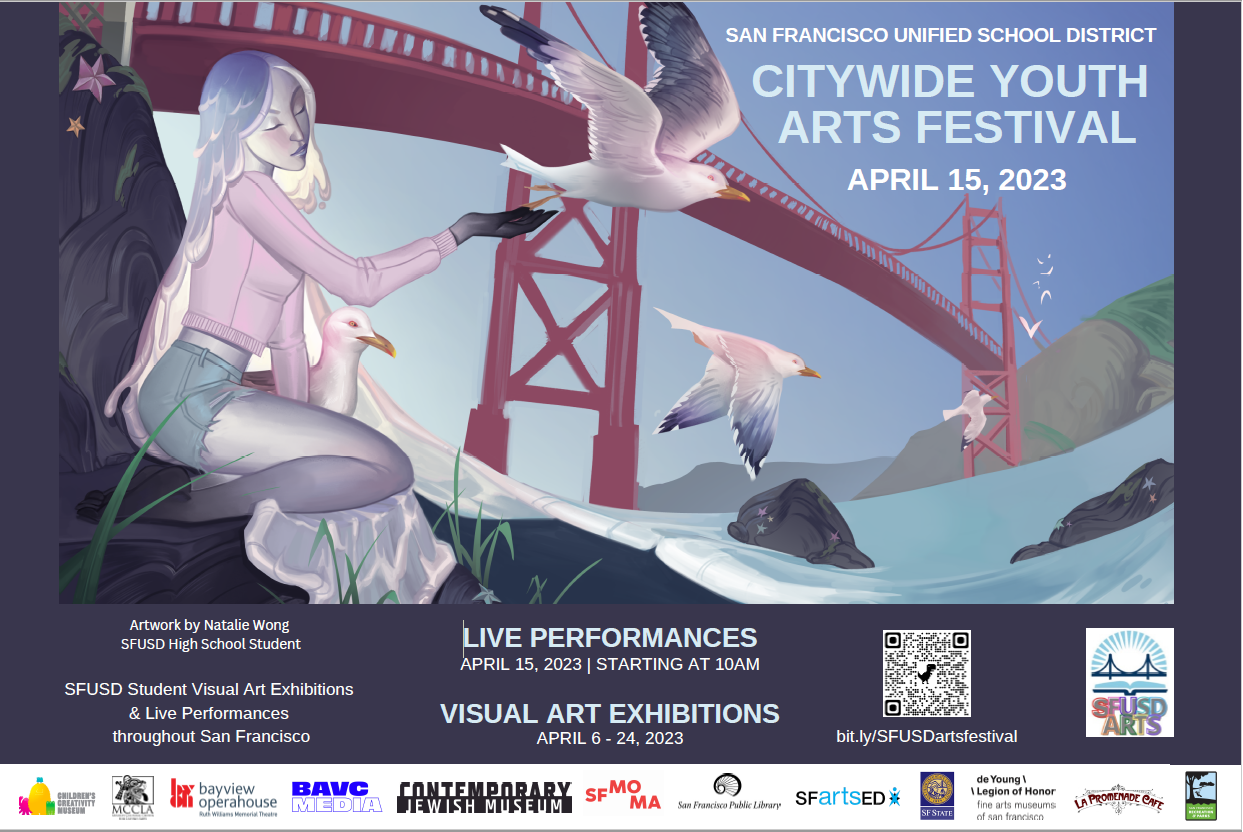 Arts Education Community Events Dates
Please Note: For links and detailed information about these events and more, go to "Arts Education Categories: Arts Education Upcoming Activities and Events" below. This section and the Upcoming Arts Education Activities and Events will be updated on a monthly basis.
Afrolatinidad en la Bahia de San Francisco ¡PRESENTE!  AND Heart-Speak Dichos de Mi Padre at Mission Cultural Center for Latino Arts (MCCLA)

 
Now through Sunday March 12, 2023 
Closing Reception: Sunday March 12, 2023 | 2 -5pm
ChiChai "Reroot" at The Ramp Gallery/SOMArts
Now through Sunday April 9, 2023
Muni Raised Me at SOMArts
Now through Sunday April 9, 2023
We Are Bruce Lee: Under the Sky, One Family  at Chinese Historical Society of America
Now through Saturday July 1, 2023
How I Keep Looking Up/ Como Sigo Mirando Hacia Arriba / 仰望  at Chinese Cultural Center
Now through Friday August 4, 2023 | Tuesday - Saturday | 10am - 4pm
Art with Elders: The Power of Creativity and Community
 
Now through Friday August 25, 2023 | Monday - Friday 8am - 6pm 
City Hall North Light Court & Ground Floor, 1. Dr. Carlton B. Goodlett Pl.
Domingos Familiares at MCCLA
Every Sunday | 11am - 5 pm
Wong Kim Ark Day - Celebrating the 125th Anniversary of the Superme Court's landmark birthright citizenship decision at Chinese Historical Society of America
Saturday March 25, 2023 | 10:30am - 1pm
RSVP HERE

Expressions Challenge | 13-18 year Old High School Students
Express What Matters Through The Arts
YouTube Video: About Expressions Challenge
Expressions Challenge Entry Details

Deadline to Submit  Entry Friday March 31st, 2023 @ 9:59 pm Pacific Time

See Arts Education News & Resources Below for Link & More Details
2023 SFUSD Citywide Youth Arts Festival
Visual Arts Exhibitions | Thursday April 6, 2023 - Monday April 24, 2023

Live Performance &  Visual Art Exhibitions
Saturday, April 15, , 2023 10 a.m-4 p.m.

*FREE | EVENTBRITE RSVP HERE
About Arts Education
As part of the Community Investments Program, Arts Education at the SFAC engages with the SF Arts Community through
Grantmaking
Arts Education Activities
Arts Education Conveners and Funder Collaboratives, and
Arts Education Resources.
Grantmaking 
The Community Investments program supports San Francisco-based artists, arts organizations, and communities with an equity lens through grants, technical assistance, arts education initiatives, and community-based Cultural Centers. Arts Education. 
Artivist-in-Residence (AIR) Grant

The Artivist-in-Residence (AIR) is a grant program for a nonprofit arts organization to hire teaching artists as part-time hourly employees to design and implement socially responsive art and creative exploration learning experiences (e.g. in-person, hybrid, remote) as a means to heal and build community. In turn, teaching artists are provided equitable compensation and opportunities to further their artistic practices and professional development as educators in a three-year cohort.

Grants for Youth Programming
Arts Education Activities | Special Project Grants
The Arts Education program partners with teaching artists, and arts organizations at schools and after school sites for youth programming .The Arts Education program partners with community stakeholders to provide opportunities for youth programming, networking, highlighting the impact of the work, and discuss trends in the field.
Arts Education Conveners and Funder Collaboratives
Arts Education Conveners and Funder Collaboratives are strategic networking spaces to better understand the impact of the work and better understand the issues in the trends of the Arts Ecosystem (locally, state, and federal); cohort learning, professional development, and Arts Education Policy Advocacy in our communities.
Bay Area Arts Education Funder (BAEFF) Collaborative
Creative Youth Development (CYD) Funders Forum 
SFUSD Arts Community Collaborative
Arts Education Resources
Providing and sharing access to the community resources, services,  and programming to youth, artists, families, and community stakeholders.