49 South Van Ness Video Wall Public Art Project
The San Francisco Arts Commission acknowledges that we are on the unceded ancestral homeland of the Ramaytush Ohlone. We affirm the sovereign rights of their community as First Peoples and are committed to supporting the traditional and contemporary evolution of the American Indian community and uplifting contemporary indigenous voices and culture.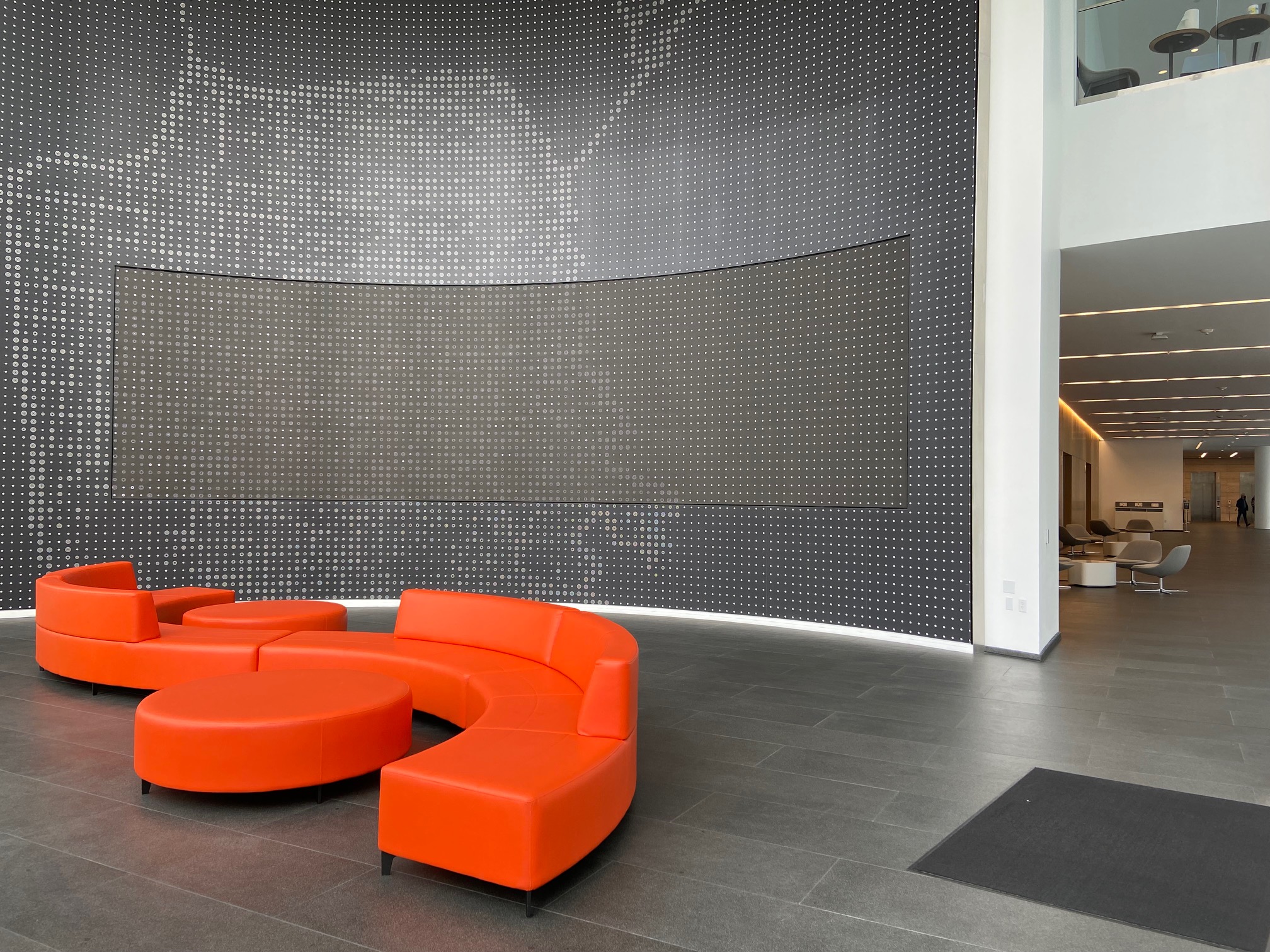 Project Overview
The San Francisco Arts Commission invites artists and artist teams residing in the United States to submit qualifications for the 49 South Van Ness Video Wall public art project.

PROJECT BUDGET
$10,000 per video commission, inclusive of artist fee, production costs, and file preparation.
ELIGIBILITY
Eligibility is open to Professional Practicing Artists with video art experience residing in the United States. Entries not meeting eligibility guidelines will be withdrawn from consideration.
Project Description
49 South Van Ness is the new permit center and administrative office space occupied by several City departments including Building Inspection, Planning and Public Works. This new City building is a 16-story tower located on South Van Ness between Market and Mission Streets. There is a private development next to the new City building that is a 39-story mixed-use residential and retail development located at the corner of Mission Street and South Van Ness Avenue. The development site features a publicly accessible concourse separating the residential and retail components from the City office development with pedestrian connectivity midway through the site from South Van Ness Avenue to 11th Street.
PROJECT DETAILS
The Arts Commission seeks to commission up to 10 new video artworks that will rotate on an LED screen located in the Pavilion Gallery space, which is located immediately on the inside of the building glazing façade fronting South Van Ness Avenue, and next to the entry into the pedestrian open plaza.
The screen measures approximately 25' x 8', or two screens, each at an aspect ratio of (16:9). The control system will be a BrightSign XD1034 expanded I/O player or similar. Videos will be non-narrative, without sound and 1-3 minutes long. They will share screen time with content from the various City Departments occupying the building, but will screen once an hour during public hours. Up to 3 videos will be shown consecutively.
Selection Process
Arts Commission staff will review applications and select a shortlist of artists for further consideration by an Artist Review Panel. The Review Panel will consist of three arts professionals, one community member, an Arts Commissioner, one representative of the client agency, and one representative of the design team. The Review Panel will directly select up to 10 artists for the project based on past work.
The Review Panel's recommendation will be submitted first to the Visual Arts Committee, a subcommittee of the Arts Commission and then to the full Arts Commission for approval.
All Arts Commission meetings and Artist Review Panels meetings are open to the public and are posted on the Arts Commission website at least 72 hours in advance of the meeting. To check the meeting schedule for public art projects, please go to our calendar.
How To Apply
Applications are available through SlideRoom, an online application system for calls for entry. There is no charge to artists for using SlideRoom. Please be sure to allow adequate time to submit your application as technical difficulties can occur. Applications that are mailed, emailed, faxed or hand-delivered will not be considered.

Applications will not be accepted after the March 28, 2022, 11:59 p.m. (PDT) deadline.

Application materials include:
1. Letter of Interest Questions
Provide a description of your artistic focus, career highlights and qualifications, and particular interest in this project.
2. Resume
If you are applying as a team, please include your team/studio resume. If that is not available, please combine the individual resumes (one right after the other) of each team member into one document.
3. Up to 5 Videos of Previous Work
Acceptable file types include m4v, .mov, .mp4, .wmv, .flv, .asf, .mpeg, .mpg, .mkv.
Videos must be less than 250 MB in size.
Please limit video submissions to 1 minute maximum per project.
Videos longer than the maximum, will not be viewed past the 1 minute mark.
For more information on working with media, please click here.
4. Video Descriptions
When you upload your videos, SlideRoom will prompt you to fill out video descriptions. Please include the title and year for each work. You may also include a brief statement (2 sentences maximum) about each work.
Check out our How to Apply to Calls for helpful tips on how to submit the most competitive application.
Please note that Arts Commission staff will be available to answer questions about this call until 5 p.m. (PDT or PST) on the deadline date, March 28, 2022. Please contact Craig Corpora at craig.corpora@sfgov.org, or 415-252-2249.
SlideRoom technical support is available Monday – Saturday by email, 7:00 AM – 7:00 PM (PST) support@slideroom.com.
Project Timeline
| | |
| --- | --- |
| RFQ Deadline | March 28, 2022 |
| Review Panel Meeting | Early April 2022 |
| Approval of recommended artists by Visual Arts Committee | April 20, 2022 |
| Approval of recommended artists by Full Commission | May 2, 2022 |
| Artists under contract | September 2022 |
| Anticipated completion of videos | Arts Commission staff will work with selected artists on project specific timelines. Deadlines start March 2023 and continue throughout the year. |
Eligibility
Eligibility is open to Professional Practicing Artists with video art experience residing in the United States. Entries not meeting eligibility guidelines will be withdrawn from consideration.