Request for Qualifications
Moscone Expansion: West Bridge Project Art Enrichment
Short descirptive text here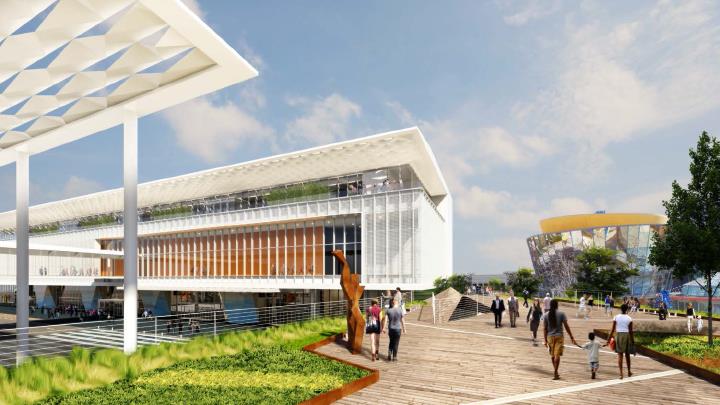 Project Overview
Applications are available through SlideRoom (https://sfgov.slideroom.com), an online application system for calls for entry. There is no charge to artists for using SlideRoom. Please be sure to allow adequate time to submit your application as technical difficulties can occur. Applications that are mailed, emailed, faxed, or hand-delivered will not be considered. Applications will not be accepted after the April 29, 2016, 11:59 p.m. (PDT) deadline.
Please note that Arts Commission staff will be available to answer questions about this call until 5 p.m. (PDT) on the deadline date, April 29, 2016.
SlideRoom technical support is available Monday – Saturday by email until 8 p.m. (CDT). support@slideroom.com.
Project Description
Moscone Expansion Background
Moscone Center, San Francisco's premier meeting and exhibition facility, is located in the city's arts and culture district. Nearby institutions include the San Francisco Museum of Modern Art, Yerba Buena Center for the Arts, Museum of the African Diaspora, the Contemporary Jewish Museum, and the future Mexican Museum. The area is also a dense residential neighborhood. The Moscone and Yerba Buena complex features two large gardens connected by a raised pedestrian bridge across Howard Street, the busy thoroughfare bisecting the convention campus. Both Moscone Center and Yerba Buena Gardens house a large collection of public art, including works by Keith Haring, Stephen deStaebler, Viola Frey, Jim Dine, Terry Allen, and John Roloff, and will include future work by Roxy Paine, Leo Villareal and Christine Corday.
The expansion project seeks to create an iconic public realm that increases Moscone's civic presence, connecting it to the surrounding parks and neighborhood. As such, the project will replace the existing pedestrian bridge across Howard Street at Fourth Street with an expanded Park Bridge that will include landscaping and sculpture. The improvements will include an opportunity for a highly visible sculpture or series of sculptures located on the Park Bridge.
Project Goal
The San Francisco Arts Commission's goal is to promote enjoyment of Moscone's public space through the permanent display of sculptures of the highest aesthetic quality. The artwork will also be made of durable materials suitable to an outdoor, urban location.
Art Opportunity
Several sculptures may be sited along the length of the Park Bridge spanning Howard Street and connecting Yerba Buena Gardens' Esplanade to its Children's Garden. The sculpture(s) can be a singular or serial experience and may consist of distinct artworks acquired from different artists or a series of related work by a single artist. The project team will work with the artist(s) to finalize the bridge's landscape and hardscape elements once the sculptures are selected.
Funding
Project Budget
$400,000
Finalist Honoraria
Finalists selected on the basis of an available artwork will be paid an honorarium of $2,000 (travel included) for participation in the selection process and panel interview. Finalists selected to develop proposals for a single sculpture will be paid an honorarium of $3,000 (travel included). Finalists selected to develop a proposal for a series of sculptures will be paid an honorarium of $5,000 (travel included)
Selection Process
RFQ/RFP Issued
Artist Selection Considerations

Complete application submitted prior to the application deadline.
Artwork examples submitted represent the artist's own original creative work.
The artist's work reflects artistic excellence, innovation and originality, as evidenced by professional quality of craftsmanship and mastery of skills, techniques; professional approaches to processes and presentation, and/or communicate a unique vision or perspective.
The artist's work is judged to be appropriate to the project.
The artist's professional experience is adequate to meet the demands of the project. Qualifying activities would include some combination of the following: education and training as an artist, an exhibition record in museums and commercial art galleries, previous public or private commissions; participation in artist-in-residency programs, or other related activities indicative of a professional art practice.
The artist is available to participate in the design, approval and implementation of the project as required, with a minimum of 4 in-person visits with the San Francisco Arts Commission and project team.
Assessed ability to meet project deadlines and to perform work in a timely and professional manner.
Results of reference checks for project finalists.
Artist Selection Process
Professional, practicing artists residing in the United States are eligible to apply by submitting documentation (images and price) of available sculpture or a portfolio of past work representative of the scale and price of a new sculpture to be considered for this opportunity. Artists' agents or galleries may submit on an artist's behalf upon agreement by the artist.
Artist Qualification Panel: After the application deadline the applications will be reviewed by an Artist Qualification Panel to select a short list of qualified candidates to forward to the Artist Selection Panel for further review.
Artist Selection Panel: The list of qualified candidates will be presented to a selection panel. The panel will identify finalists (up to three finalists) who will be invited to propose available artwork for sale or to develop a conceptual proposal specific to the site. Finalists will be asked to participate in an orientation session with the project team and key stakeholders.
Proposal Development Display: The finalists' proposals will be on display for public comment near the project site and on the SFAC website prior to the final selection panel meeting.
Final Selection: The Moscone Expansion Project selection panel will reconvene to consider the finalists' proposals in an interview format and will select the artwork or proposals for the project for recommendation to the Arts Commission.
Arts Commission Approval: The Artist Selection Panel's recommendation will be submitted first to the Visual Arts Committee (VAC), a subcommittee of the Arts Commission, and then to the full Arts Commission for approval. Public Meetings: All Arts Commission meetings and Public Art Selection Panel meetings are open to the public and are posted on the Arts Commission website at least 72 hours in advance of the meeting. To check the meeting schedule for public art projects, please go to our website at:http://www.sfartscommission.org/pubartcollection/category/public-meetings/
Project Timeline
RFP/RFP Issued
March 29, 2016
RFQ/RFP Deadline
April 29, 2016
Qualification Panel
Early May, 2016
First Artist Selection Panel
May, 2016
Finalists' Site Visit/Orientation
June, 2016
Finalists' Proposals due
July, 2016
Public Display of Proposals
July, 2016
Final Artist Selection Panel
July, 2016
VAC Approval of Artists/Proposals
August 17, 2016
Arts Commission Approval
September 6, 2016
Artist under Contract
September 6, 2016
Dates subject to change
How To Apply
All application materials must be submitted online via SlideRoom (https://sfgov.slideroom.com) by Friday, April 29, 2016, 11:59 p.m. Pacific Daylight Time. Applications sent via email or post will not be considered. Application materials include:
Resume
* If you are applying as a team, please include your team/studio resume. If that is not available, please combine the individual resumes (one right after the other) of each team member into one document.
Letter of Interest
* This should be a summary of your artistic focus and professional career, especially as your background relates to your qualifications for this project. Do not make a specific proposal for a new commission.
10 images of previous work
* SlideRoom accepts jpg, png, and gif files up to 5MB. Images should at least 72 dpi and no larger than 1500 x 1500 pixels
* For a team application, please indicate the lead artist for each project.
Image descriptions
* When you upload your images, SlideRoom will prompt you to fill out image descriptions. Please include the title, medium, dimensions, year, if the work is available for purchase, and the purchase price ( if applicable) for each work. You may also include a brief statement (2 sentences maximum) about each work.
There is no application fee to apply or to use the SlideRoom online application system. To view the application, go to https://sfgov.slideroom.com/ (no "www") and sign up for an account.
Questions & Answers
A.
For questions regarding the Moscone Expansion Project Art Enrichment RFQ, contact Zoë Taleporos, Public Art Program Associate by email at zoe.taleporos@sfgov.org, or by phone at (415) 252-3215.
Eligibility
Eligibility is open to professional, practicing artists who reside in the United States. Artists not residing in the United States are eligible for purchase of existing artwork if represented by a gallery located within the United States. Entries not meeting eligibility guidelines will be withdrawn from consideration.