San Francisco International Airport Harvey Milk Terminal 1 Atrium Public Art Project
San Francisco International Airport is currently carrying out a replacement terminal and concourse for Terminal 1 (T1). In 2019, the San Francisco Board of Supervisors passed an ordinance re-naming the terminal as Harvey Milk Terminal 1 in honor of San Francisco Supervisor Harvey Milk (1930 – 1978). Supervisor Milk was the first openly gay official elected in California. Tragically, he and Mayor George Moscone, were assassinated while in office. In 2009, the Presidential Medal of Freedom was posthumously awarded to Milk.
In addition to naming of the terminal in Milk's honor, three art installations are planned that will celebrate Harvey Milk's legacy. Two of these are already underway: a neon artwork by Andrea Bowers at the Arrivals underpass that incorporates quotes from Harvey Milk, and a photo gallery documenting the life and times of Harvey Milk curated by SFO Museums. This RFQ is for the third major opportunity in Harvey Milk Terminal 1 to create an artwork inspired by Harvey Milk's legacy.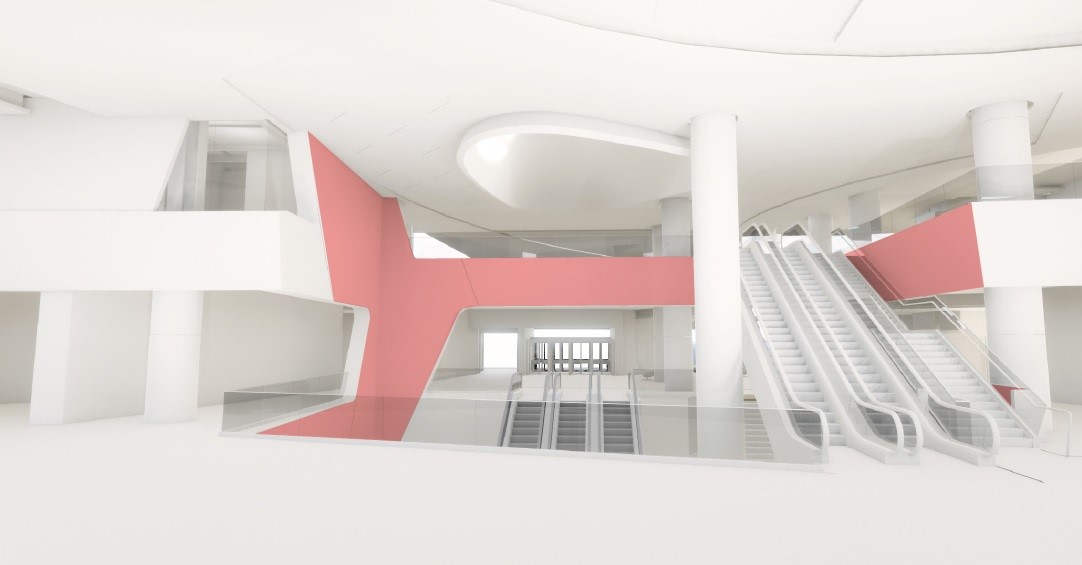 Project Overview
The San Francisco Arts Commission invites artists and artist teams residing in the United States to submit qualifications for the San Francisco International Airport Harvey Milk Terminal 1 Atrium Public Art Project.
Project Description
As passengers off board flights and exit the terminal at the Arrivals level, there is a three-story atrium with escalators to baggage claim and ground transportation. This area is pre-security and is primarily used by passengers exiting the terminal, and those coming to meet them.
The artwork at this site will be a mural treatment of the walls that traverse the two-level atrium (approximately 2,370 square feet of wall space), with the possibility of extending the artwork to the columns and other surrounding areas.
PROJECT BUDGET
The total budget for the Terminal 1 Atrium Artwork is $200,000. This is inclusive of the artist fee, as well as associated expenses for design, insurance, materials and installation.
PROJECT GOAL
The goal of the artwork is to create an artwork that is inspired by the lasting impact of Harvey Milk's legacy. While the other two art experiences in the terminal deal directly with Milk's life, this artwork may find its inspiration in Milk's ongoing legacy on the LGBTQ community and society at large.
The location of the artwork is in the center of the northern end of the terminal pre-security lobby. As such, it will be a landmark that will assist in way-finding and establishing a visual identity for the lobby,
Selection Process
Artist Qualification Panel: The applications will be reviewed by an Artist Qualification Panel consisting of representatives from Arts Commission staff and outside arts professionals to identify a shortlist of qualified artists to be considered for the project opportunities. Select artists from the Arts Commission's 2019/2020 Prequalified Pool of Artists whose work is appropriate for the commission may also be presented to the Artist Qualification Panel to be considered for inclusion on the shortlist.
First Artist Review Panel: The shortlist of artists will be presented to an Artist Review Panel consisting of three arts professionals, an Arts Commissioner, Stewart Milk, one representative of the client agency, and one representative of the design team. After considering the artists' qualifications, the panel will identify three finalists for recommendation to the Arts Commission for approval. The finalists will be invited to develop conceptual proposals after attending an orientation session with the project team and key stakeholders.
Finalist Honorarium:
Finalists will be paid a $1,000 honorarium for development of a conceptual design proposal, plus the reimbursement of reasonable travel expenses, approved by the Arts Commission prior to travel arrangements being made for the orientation and panel interview.
Final Artist Review Panel:
The Artist Review Panel will reconvene to consider the finalists' concepts in an interview format and will select one artist for recommendation to the Arts Commission.
Arts Commission Approval: The Artist Review Panel's recommendation will be submitted first to the Visual Arts Committee, a subcommittee of the Arts Commission and then to the full Arts Commission for approval.
Airport Commission Approval: The design approved by the Arts Commission must also be approved by Resolution by the Airport Commission.
All Arts Commission meetings and Public Art Review Panel meetings are open to the public and are posted on the Arts Commission website at least 72 hours in advance of the meeting. To check the meeting schedule for public art projects, please go to our calendar.
ARTIST SELECTION CONSIDERATIONS
Complete application submitted prior to the application deadline.

Artwork examples submitted represent the artist's own original creative work.
The artist's work reflects artistic excellence, innovation and originality, as evidenced by professional quality of craftsmanship and mastery of skills, techniques; professional approaches to processes and presentation, and/or communicate a unique vision or perspective.
The artist's work is judged to be appropriate to the goals of the project.

The artist's professional experience is adequate to meet the demands of the project. Qualifying activities would include some combination of the following: education and training as an artist, an exhibition record in museums, commercial art galleries, and/or non-profit art spaces, previous public or private commissions; participation in artist-in-residency programs, or other related activities indicative of a professional art practice.

The artist is available to participate in the design, approval and implementation of the project as required.

Assessed ability to meet project deadlines and to perform work in a timely and professional manner.

Results of reference checks for project finalists.
Project Timeline
| | |
| --- | --- |
| Application Deadline | June 1, 2020 |
| Qualification Panel Meeting | Week of June 8, 2020 |
| Review Panel 1st Meeting | Week of June 15, 2020  |
| Approval of recommended finalists by Visual Arts Committee | June 17, 2020 |
| Applicant notification of finalist stage via email | Week of June 20, 2020  |
| Review Panel 2nd Meeting | August 2020 |
| Approval of recommended artist by Visual Arts Committee | August 19, 2020 |
| Approval of recommended artist by Full Commission | September 7, 2020 |
| Artist under contract | September 7, 2020 |
| Anticipated completion | Spring 2022 |
How To Apply
Applications are available through SlideRoom, an online application system for calls for entry. There is no charge to artists for using SlideRoom. Please be sure to allow adequate time to submit your application as technical difficulties can occur. Applications that are mailed, emailed, faxed or hand-delivered will not be considered. Applications will not be accepted after the June 1, 2020, 11:59 p.m. (PST) deadline. Application materials include:
1. Letter of Interest
One page maximum.
This should be a summary of your artistic focus and professional career, especially as your background relates to this project. Do not make a specific proposal for a new commission.
2. Resume
If you are applying as a team, please include your team/studio resume. If that is not available, please combine the individual resumes (one right after the other) of each team member into one document.
3. Ten images of previous work
SlideRoom

accepts all image file types up to 5MB. Images should at least 72 dpi and no larger than 1280 x 1280 pixels
For team application, please indicate the lead artist for each project.
4. Image Descriptions
When you upload your images,

SlideRoom

will prompt you to fill out image descriptions. Please include the title, medium, dimensions, and year for each work. You may also include a brief statement (2 sentences maximum) about each work.
Check out our How to Apply to Calls for helpful tips on how to submit the most competitive application.
Please note that Arts Commission staff will be available to answer questions about this call until 5 p.m. (PDT or PST) on the deadline date, June 1, 2020. Please contact Craig Corpora at craig.corpora@sfgov.org, or 415-252-2249.
SlideRoom technical support is available Monday – Saturday by email, 7:00 AM – 7:00 PM (PST) support@slideroom.com.
Eligibility
Eligibility is open to professional, practicing artists who reside in the United States. Entries not meeting eligibility guidelines will be withdrawn from consideration.