San Francisco International Airport: Terminal 3 West Public Art Projects (RFQ)
The San Francisco Arts Commission's public art program at San Francisco International Airport (SFO), offers a collection of permanent site-specific artworks, as well as a discrete art program that reflects the Bay Area's vibrant and diverse culture. The collection comprises over 100 works of art in a variety of styles and media by artists of local, national and international acclaim.
Project Overview
The San Francisco Arts Commission invites artists and artist teams residing in the United States to submit qualifications for two large-scale public artworks for the substantial remodeling of the west end of Terminal 3 at SFO. The project area is located between the secure connector to International Terminal Boarding Area G and Terminal 3 Boarding Area E.
Project Description
The F-Connector Wall Artwork is located adjacent to the new moving walkway connecting the F Plaza and Boarding Area F. The wall measures 16 ft. high x 150 ft. long and is elevated above the walkway so that the bottom of the artwork is at 8 ft, from floor finish. The artwork will be highly visible from the Connector walkway and the new Gate Room directly across from it. The location is able to accommodate a weight Uniform Load of 20PSF or 300 PLF.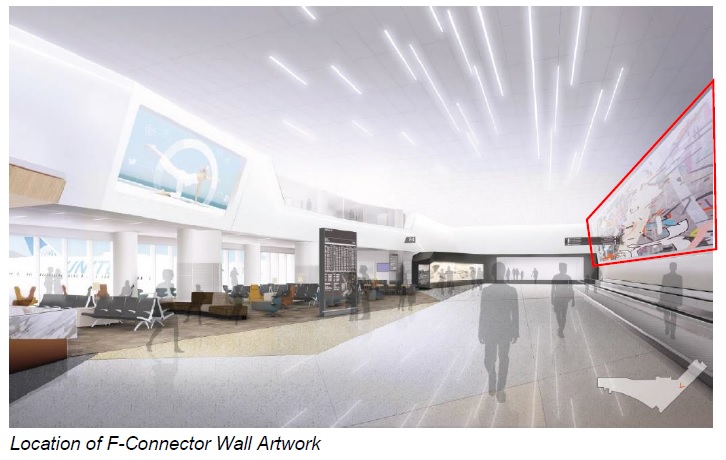 The F-Plaza Suspended Artwork is located at the main intersection of Boarding Areas F and Terminal 3 East. This is a highly trafficked area anticipated to serve 7 million people a year that offers excellent visibility from multiple vantage points. The artwork will be suspended within a 172 square foot triangular shaped area with a 25 ft. 6 in. high ceiling. The location is able to accommodate the following weight bearing capacity: Uniform Load 20psf, Point Load 1,600 LBS, Max Total Load 10,000 LBS.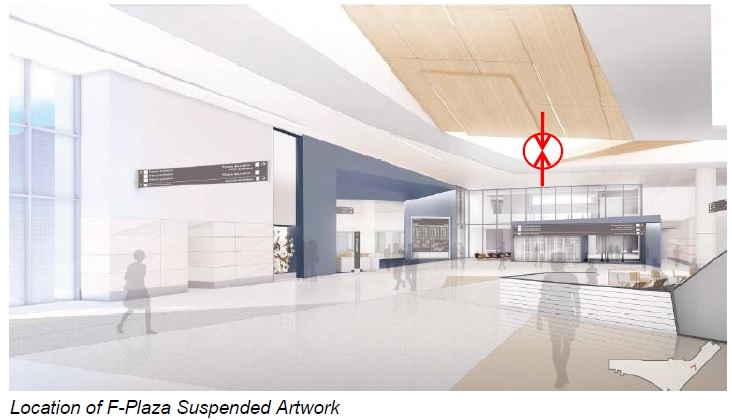 OTHER OPPORTUNITIES
SFO will have additional opportunities for public art projects with budgets under $500,000. Applicants to this RFQ, as well as Artists currently in the 2019/2020 Prequalified Artist Pool may be considered for those opportunities. If an artist is being considered for an additional opportunity, they will be contacted by the Arts Commission to determine interest and availability.

PROJECT BUDGET

The total budget for the F-Connector Wall Artwork is $1,000,000.
The total budget for the F-Plaza Suspended Artwork is $900,000.

All artwork budgets are inclusive of all artist's fees, as well as associated expenses for design, fabrication, insurance, transportation, and installation consultation. Installation contractor will managed by the Arts Commission under a separate budget.

PROJECT GOALS
Our objective for commissioning artworks for Terminal 3 West is to align with the goals of the Civic Art Collection and SFO's Revenue Enhancements and Customer Hospitality (REACH) guidelines:
Artworks are to reflect the highest aesthetic standards

The City's collection should be diverse in its representation of artists and artistic styles and be reflective of the ethnic diversity of the local population

The City's collection should emphasize Bay Area artists, styles and movements, but also seek to include the work of artists nationally and internationally so that local culture may be seen within a global context

Artwork should be appropriate in scale, media and context with its intended display location, and be relevant within the cultural, historical, social/political and environmental context of San Francisco and the Bay Area

Artwork should integrate a local sense of place and reflect a truly authentic experience of the Bay Area, while also maintaining dialog within a global art context

Artwork should create a sense of wellbeing, reduce stress, enhance wayfinding, and enrich the experience of SFO for the passenger.
Selection Process
Artist Qualification Panel: The applications will be reviewed by an Artist Qualification Panel consisting of representatives from Arts Commission staff and outside arts professionals to identify a shortlist of qualified artists to be considered for the project opportunities. Select artists from the Arts Commission's 2019/2020 Prequalified Pool of Artists whose work is appropriate for these commissions may also be presented to the Artist Qualification Panel to be considered for inclusion on the shortlist.

First Artist Selection Panel: The shortlist of artists will be presented to an Artist Selection Panel consisting of three arts professionals, an Arts Commissioner, one representative of the client agency, and one representative of the design team. After considering the artists' qualifications, the panel will identify three finalists for each of the project opportunities for recommendation to the Arts Commission for approval. The finalists will be invited to develop conceptual proposals after attending an orientation session with the project team and key stakeholders.

Finalist Honorarium:
Finalists will be paid a $5,000 honorarium for development of a conceptual design proposal, plus the reimbursement of reasonable travel expenses, approved by the Arts Commission prior to travel arrangements being made for the orientation and panel interview.

Final Artist Selection Panel:
The Artist Selection Panel will reconvene to consider the finalists' concepts in an interview format and will select one artist for each project opportunity for recommendation to the Arts Commission.

Arts Commission Approval: The Artist Selection Panel's recommendation will be submitted first to the Visual Arts Committee, a subcommittee of the Arts Commission and then to the full Arts Commission for approval.

All Arts Commission meetings and Public Art Selection Panel meetings are open to the public and are posted on the Arts Commission website at least 72 hours in advance of the meeting. To check the meeting schedule for public art projects, please go to our calendar.

ARTIST SELECTION CONSIDERATIONS
Complete application submitted prior to the application deadline.

Artwork examples submitted represent the artist's own original creative work.
The artist's work reflects artistic excellence, innovation and originality, as evidenced by professional quality of craftsmanship and mastery of skills, techniques; professional approaches to processes and presentation, and/or communicate a unique vision or perspective.

The artist's work is judged to be appropriate to the goals of the project.

The artist's professional experience is adequate to meet the demands of the project. Qualifying activities would include some combination of the following: education and training as an artist, an exhibition record in museums, commercial art galleries, and/or non-profit art spaces, previous public or private commissions; participation in artist-in-residency programs, or other related activities indicative of a professional art practice.

The artist is available to participate in the design, approval and implementation of the project as required.

Assessed ability to meet project deadlines and to perform work in a timely and professional manner.

Results of reference checks for project finalists.
Project Timeline
| | |
| --- | --- |
| Application Deadline | January 21, 2020 |
| Qualification Panel Meeting | Week of January 27th, 2020 |
| Selection Panel 1st Meeting | Week of February 3, 2020  |
| Approval of selected finalists by Visual Arts Committee | February 19, 2019 |
| Applicant notification of finalists stage via email | Week of February 19, 2020  |
| Selection Panel 2nd Meeting | Week of April 13, 2020 |
| Approval of selected artist by Visual Arts Committee | April 15, 2020 |
| Approval of selected artist by Full Commission | May 4, 2020 |
| Artist under contract | May 2020 |
| Anticipated completion | Spring 2023 |
How To Apply
Applications are available through SlideRoom, an online application system for calls for entry. There is no charge to artists for using SlideRoom. Please be sure to allow adequate time to submit your application as technical difficulties can occur. Applications that are mailed, emailed, faxed or hand-delivered will not be considered.

Applications will not be accepted after the January 21, 2020, 11:59 p.m. (PST) deadline.

Application materials include:
1. Letter of Interest
One page maximum (5000 character limit)
This should be a summary of your artistic focus and professional career, especially as your background relates to your qualifications for this project. Do not make a specific proposal for a new commission
Please indicate which artwork opportunity(s) you are interested in being considered for. Artists may be considered for more than one project during the selection review
2. Resume
If you are applying as a team, please include your team/studio resume. If that is not available, please combine the individual resumes (one right after the other) of each team member into one document
3. Ten images of previous work
SlideRoom accepts all image file types under 5MB
For team application, please indicate the lead artist for each project
For more information on File Size and Types, please click here
4. Image Descriptions
When you upload your images, SlideRoom will prompt you to fill out image descriptions. Please include the title, medium, dimensions, and year for each work. You may also include a brief statement (2 sentences maximum) about each work
Check out our How to Apply to Calls for helpful tips on how to submit the most competitive application.
Please note that Arts Commission staff will be available to answer questions about this call until 5:00 PM (PST) on January 21, 2020. For questions, you can contact Program Associate Craig Corpora at craig.corpora@sfgov.org or 415-252-2249.

SlideRoom technical support is available Monday – Saturday by email, 7:00 AM – 7:00 PM (PST) support@slideroom.com.
Eligibility
Eligibility is open to professional, practicing artists who reside in the United States, or have representation from a US based gallery willing to contract with the Arts Commission on the artist's behalf. Entries not meeting eligibility guidelines will be withdrawn from consideration.