SFAC Galleries & San Francisco Public Library: 2023 Artist In Residence
Announcing a Request for Qualifications to identify four artists to engage with the San Francisco Public Library (SFPL) staff and their distinct programs and then use that research to develop new work(s).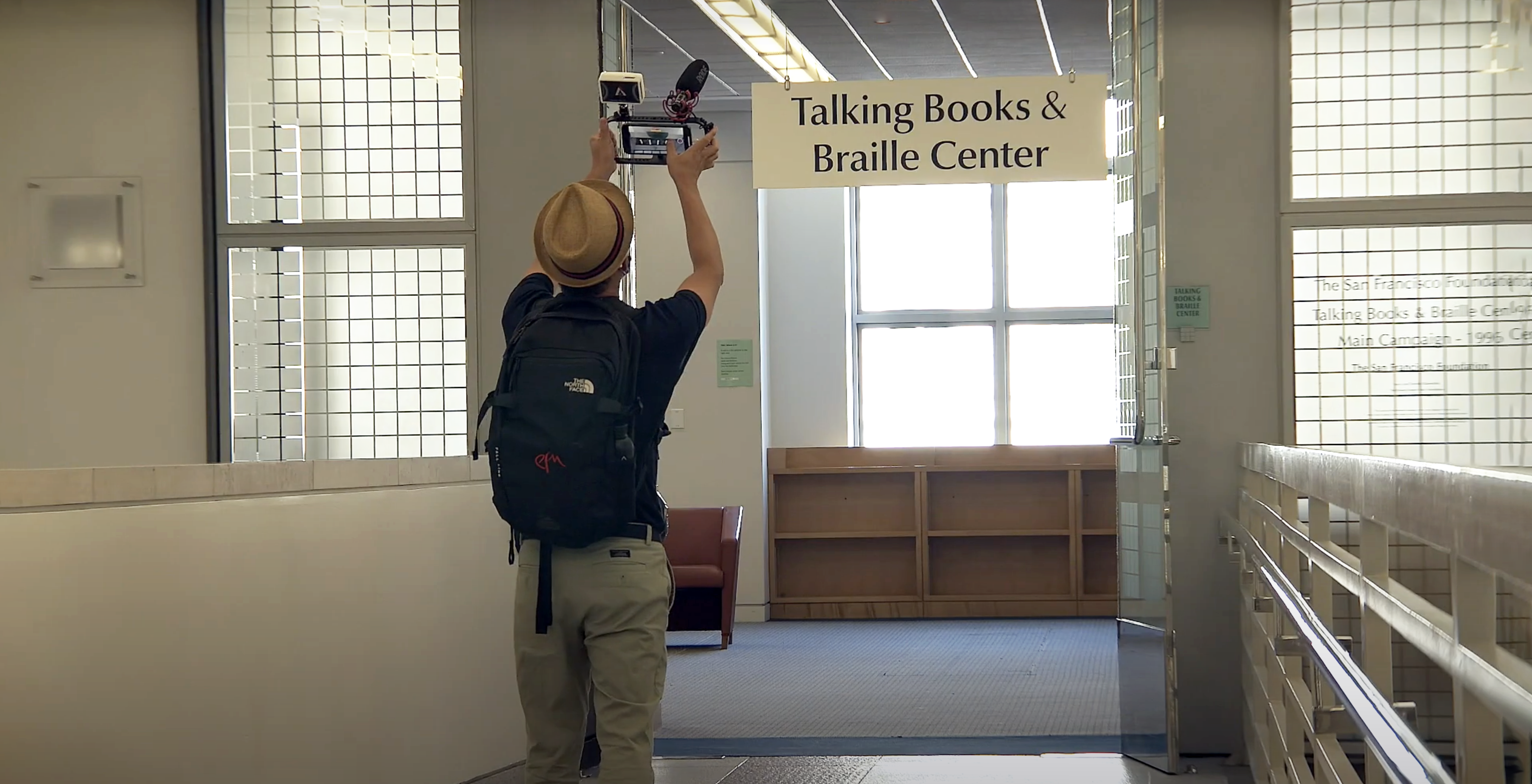 Project Overview
The San Francisco Arts Commission (SFAC) Galleries is pleased to announce an Artist in Residence (AIR) opportunity in partnership with the San Francisco Public Library (SFPL). The purpose of this RFQ is to identify four artists to engage with the SFPL staff and their distinct programs and then use that research to develop new work(s).
Project Description
Launched in 2015, the SFAC Artist in Residence Program builds partnerships with City Departments in order to provide unique artist residencies that result in strengthening the value of artists participating in and responding to the advancement of civic dialogue.

The selected four artists will spend 10-weeks in residence at the San Francisco Public Library (SFPL) conducting research around its history, programs, services, and inner workings. Each residency will culminate in the creation of a new project that is responsive to the artist's experience at the SFPL. Final project location will be determined based on proposal needs and availability of location.

SFPL is dedicated to the sharing of library resources, knowledge, services, and experiences in order to foster a more connected community and a more resilient city. The library system includes the architecturally significant Main Library in the City's Civic Center, 27 neighborhood branches, and four bookmobiles. SFPL has a collection of more than 3.7 million items and a circulation exceeding 11 million materials annually.

San Francisco Arts Commission: http://www.sfartscommission.org
San Francisco Public Library: https://sfpl.org
SFAC RACIAL EQUITY STATEMENT
The San Francisco Arts Commission is committed to creating a city where all artists and cultural workers have the freedom, resources and platform to share their stories, art and culture and where race does not predetermine one's success in life. We also acknowledge that we occupy traditional and unceded Ohlone land. Fueled by these beliefs, we commit to addressing the systemic inequities within our agency, the City and County of San Francisco and the broader arts and culture sector. This work requires that we focus on race as we confront inequities of the past, reveal inequities of the present and develop effective strategies to move all of us towards an equitable future.
Eligibility
CRITERIA
The RFQ is open to professional, practicing individual artists of all backgrounds working in all disciplines with five or more years of experience
​Artists must reside in San Francisco, CA
Artists must be able to work in an SFPL branch or administrative office, work collaboratively with key staff, and research subjects that fall under the purview of the department.
Applicants are to submit their qualifications for consideration.
Any application proposing a specific project will be disqualified.
The artist's professional experience is adequate and meets the demands of the project. Examples would include the execution of past projects or residencies of a similar scale and/or experience working collaboratively with nonprofit organizations or businesses.
Artist must demonstrate the ability to communicate clearly about their practice and the perceived benefit of this residency.
Application must be completed and submitted by the application deadline. Late submissions will NOT be considered. Incomplete applications or applications that do not follow the guidelines will be disqualified.
RESIDENCY TERMS AND EXPECTATIONS
The artist must be available for a residency period of 10 consecutive weeks.
Note: There will be two cohorts of two artists each that will start the residency at different times. Please see the Project Timeline for details.
During the residency period, the artist must be able to work on-site at the SFPL for a minimum of 5 hours a week during SFPL business hours, which vary by site.
The artist will create a project proposal that focuses on the artist's experience during the residency and utilizes SFPL resources.
The artist must manage the allocated budget for the resulting project as needed.
The artist must meet all project deadlines and perform work in a timely and professional manner.
The artist must communicate clearly with SFAC and SFPL staff on a regular basis.
FINANCIAL AND LEGAL REQUIREMENTS
The artist must become an approved City Supplier in order to receive any payments. If the artist is unwilling or unable to become a City Supplier after selection, they are ineligible for participation in the AIR program.
The Artist is expected to sign a legal contract outlining their participation in this program and must provide proof of general liability insurance for the entire duration of the project.
Funding
The total budget for the Artist in Residence Program is $20,000 per artist:
$10,000 artist fee for the residency
$10,000 for the creation and presentation of a substantial new work
Payment will be issued in multiple stages based on set deliverables outlined in contract.
Project Timeline
RFQ Issued
March 10, 2023
RFQ Deadline
March 24, 2023 by 11:59 p.m.
Artist Selection Panel
April 2023
Artist Notification
April 2023
Contracting Period
May 2023
Artist in Residence at SFPL
Cohort 1: June–August 2023
Cohort 2: July-September 2023
Project Proposals Due
Cohort 1: August 2023
Cohort 2: September 2023
Artist Presentation to Departments
Cohort 1: September 2023
Cohort 2: October 2023
Deadline for Resulting Artwork
Cohort 1: February 2024
Cohort 2: March 2024
Selection Process
All artists are selected through a competitive, transparent process. Initially, SFAC staff will screen all applications to make sure they meet the minimum qualifications:
Application is complete and submitted on time
The artist is a San Francisco resident
The artist has submitted their qualifications and not a specific project
The artist's resume demonstrates professional competence (education, exhibition history, past projects and residencies of similar scale, and/or experience working collaboratively with nonprofit organizations.)
Then a Selection Panel made up of SFAC and SFPL staff and one former artist in residence, will review the applications that meet the minimum qualifications and score them on the following criteria: artistic excellence, appropriate for partnership with SFPL, ability to clearly communicate, and demonstrated professional experience. Priority will be given to artists who show a significant or direct relationship with distinct racial or cultural communities.
How To Apply
Applications are available through SlideRoom, an online application system for calls for entry. There is no charge to artists for using SlideRoom. Please be sure to allow adequate time to submit your application as technical difficulties can occur. Applications that are mailed, emailed, faxed or hand-delivered will not be considered. Applications will not be accepted after the deadline. Application materials include:
1. Application Questions
These questions allow the applicant to write about their artistic focus and professional experience and how it relates to this opportunity. Do not make a specific proposal for a new commission.
2. Resume
Please include exhibitions, performances, publications, fellowships, awards, teaching and all former residencies on your resume.
3. Previous Work Samples
This RFQ is open to artists working in all disciplines. Please see specific medium based guidelines below.
Images
Applicant may submit up to 10 images (up to 5MB per file)
Image files must be at least 72 dpi and no larger than 1280 x 1280 pixels
Jpg, jpeg, png, gif, and tiff file formats accepted
Video
Applicant may submit up to 2 videos (up to 250 MB per file)
Video files must not exceed 5 minutes total
Do not submit a highlight reel. Excerpts are fine.
m4v, mp4, and mov file formats accepted
You may also submit links to video as long as the files have been edited to the exact excerpt(s).
Audio
Applicant may submit up to 3 audio files (up to 30 MB per file)
mp3 and wma file formats accepted
Writing
Applicants may submit up to 7 pages total (up to 10 MB per PDF)
Pages must be double spaced and no less than 12pt font size
PDF file format only
Combined Submission
For any combined medium submission, applicant may submit up to 1 video (3-minute max), 5 images, 1 audio file, and 4 pages of writing. Please see above for file formats and maximum file size.
4. Checklist
When you upload your work samples, SlideRoom will prompt you to fill out image descriptions. Please include the title, medium, dimensions, and year for each work. You may also include a brief statement about each work.

Arts Commission staff will be available to answer questions about this call until 5:00 PM (PST) on the deadline date, March 24, 2023. Please contact Maysoun Wazwaz, Manager of Education and Public Programs, with questions at sfac.galleries@sfgov.org.

SlideRoom technical support is available Monday – Saturday by email, 7:00 AM – 7:00 PM (PST) support@slideroom.com.
Partners