Category:
Performance
Professional Development
Program Description:
The San Francisco Symphony provides music education experiences for children, families, and schools throughout San Francisco and the Greater Bay Area. All San Francisco Unified School District elementary schools grades 1-5 participate, free of charge, in the Adventures in Music program. Instrument Training and Support provides free professional coaching to bands and orchestras in San Francisco public middle and high schools. Youth Orchestra is a tuition free pre-professional training program serving talented young instrumentalists ages 12-21.
Grade Level:
Grades K-5
Grades 6-8
High School
Post High School
Subject:
History
Language Arts
Science
Upload picture: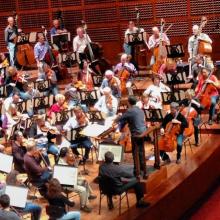 Professional Development Type: