Category:
Performance
Workshop
Residency
Professional Development
Program Description:
StageWrite uses theatre to build literacy skills, community, and self-esteem with elementary school children. Through classroom residencies, StageWrite engages and inspires student learning. The program employs dramatic activities to involve young people in reading, writing, speaking, and listening as a holistic, meaningful communication process. Pogramming includes: creative drama, stories on stage, playwriting, and the ADAPTS residency for students with autism.
Upload picture: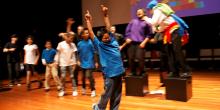 Professional Development Type:
Arts Integration
Deepening Disciplinary Knowledge
Organization Type:
Arts Education Organization