Street Artists Screenings
take place the first Tuesday each month, 1:00 PM–4:30 PM unless otherwise noted on the
calendar
. Meetings take place at 401 Van Ness, Ste. 125, San Francisco, CA. See Important Dates for upcoming meeting times. Agendas and Minutes can be found
here
.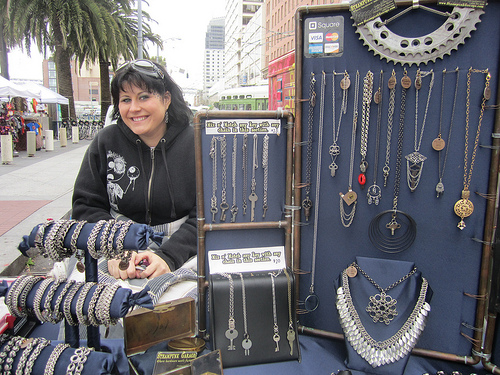 Screening process

Use code SFACSAP to enter the system. You may also download a pdf application form using the button below.
Applications must be submitted with a $20 non-refundable fee. Payment must be made by check or money order only; we do not accept cash. Credit cards or debit cards can be processed in-person at the program office or online. Checks and/or money orders may be made payable to "San Francisco Arts Commission."
You MUST make your artwork yourself. If you outsource the design or have an employee who assembles your craft, you are ineligible for a Street Artist License. All artists' work must be verified by the Advisory Committee of Street Artists and Crafts Examiners.
The screenings are held on the first Tuesday of every month unless otherwise noted due to holidays. The cutoff date to be reviewed at the meeting is five (5) business days before the next screening date. For example, if the next screening meeting is scheduled for March 6, you must submit your completed application by February 28.
The artist may submit only two (2) kinds of arts or crafts per screening. The artist must bring twelve (12) completed samples of each craft and six (6) incomplete samples for all categories except jewelry and beaded items. Jewelry and beaded items require 24 completed items in each category (for example, 24 necklaces, 24 bracelets, 24 pair of earrings, etc.) and six (6) incomplete samples of each category of the jewelry items. At the screening, the examiners will observe the applicants creating or making their arts and craft wares in order to verify that the artworks are of the applicants' own creation, and not commercially manufactured, nor made by someone else. Artists will also be asked to bring their raw materials, tools and receipts for all of the aforementioned items. If your tools are not portable, you may submit video or still photos of you making your work.
Some items for which certificates are not issued
Food items, incense, perfumes, body oils, soaps, or other cosmetic products which come in contact with the human body or skin.
Other Permit Options
If you do not make what you sell, or if your product does not comply with program criteria, you may be able to be licensed through the Police Department's Permit Office. Contact the Police Department at the Hall of Justice, (415) 553-1115, to inquire about a Peddler Permit or other permit option.
If you are seeking a license to perform (music, dancing, etc) on the street, please contact the Entertainment Commission. If you would like to be licensed for Fisherman's Warf or another waterfront area, please contact the Port.
Applying as "family unit" partnerships
The Street Artist Ordinance (Police Code Section 2400) defines a "family unit" as "two or more persons jointly engaged in the creation or production of an art or craft item, no one of whom stands in an employer-employee relationship to any of the other members thereof, or, two or more physically or mentally handicapped persons participating in a formal rehabilitation program, a part of which includes activities for the creation of arts and crafts by said persons."
If the art or craft is created by a partnership, each partner must submit an application, and list the other family unit member(s) in the "family unit" section. Each family unit member must pay the $20 application fee; and each family unit member must pay a separate license fee. All family unit members will be screened together and must show the screening committee their significant contribution in the making of the item they are going to sell.
Once your artwork is approved for sale by the Advisory Committee, follow and complete the steps below.
Register your business with the City
Obtain a Business Tax Registration Certificate either online or in person at the Tax Collector's office, City Hall, 1 Dr. Carlton B. Goodlett Place, Room 140 (first floor), San Francisco. Phone (415) 554-4400. The fee is $91 per fiscal year (July 1-June 30).

You'll also need a Seller's Permit
This may be obtained from the State Board of Equalization. There is no fee for this permit and you can obtain one in person at 121 Spear Street, Suite 460, San Francisco, (415) 356-6600 or online.

And finally, obtain your Street Artist Certificate
This is the last step! You can purchase your Street Artist Certificate by paying $191 (3 month certificate fee) or $764 (1 year certificate fee) to the "San Francisco Arts Commission" by check or money order. You can also pay by credit card online or at the Street Artist Licensing Program Office, 401 Van Ness, Ste. 325, San Francisco. Our office is open by appointment only. Please call or email in advance for an appointment.