Artist Lukaza Branfman-Verissimo Renders the Unheard Stories of Market Street
The San Francisco Arts Commission's 2019 Market Street Poster Series examines 24/7 life on the city's largest and most colorful boulevard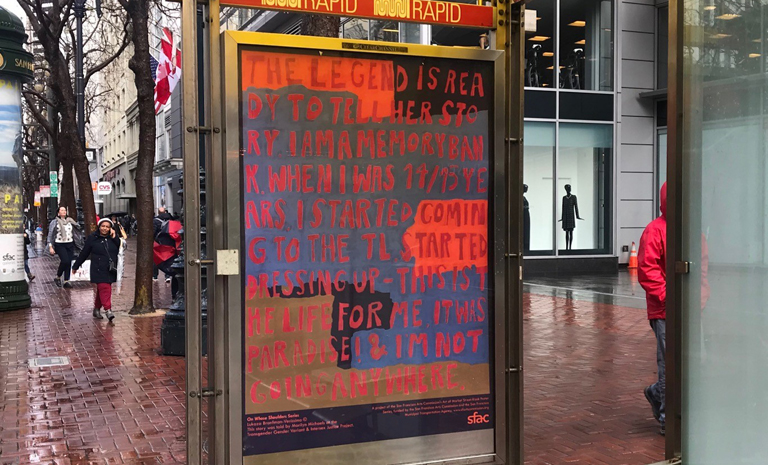 For its 2019 Art on Market Street Poster Series, the San Francisco Arts Commission (SFAC) asked artists to respond to the idea of the Market Street corridor as a location of constant action, where businesses, arts, and culture intermingle among a diverse population of locals and visitors. Oakland-based Lukaza Branfman-Verissimo commences the series with On Whose Shoulders, in which the artist gives voice to marginalized populations along Market Street.
"Lukaza Branfman-Verissimo's deeply moving and beautiful poster series visualizes the personal struggles and successes of the communities who call Mid-Market and the Tenderloin home. It's clear that the artist had an authentic connection with the community and her posters truly honor their experiences," says Director of Cultural Affairs Tom DeCaigny.
For her posters, Branfman-Verissimo interviewed individuals at Transgender Variant & Intersex Justice Project, Skywatchers Project, Hospitality House, and Compton's Transgender Cultural District. As a product of these conversations, she created nine text-based posters to tell the stories of the communities that are being impacted by change. Each poster features part of a narrative told by different storytellers in the community with a background of colors chosen by community members and the artist. Through her work, the artist aims to honor the resilience and presence of the struggling communities on Market Street.
"I see this project as a powerful way of making space to shine light on this collision of past and present, around and through the experience of storytelling. The resulting posters will be a way for the community to interact with, and remember, the history upon which they are living, and for visitors to better understand the many layers of the past, present and future that the Market Street Corridor holds," says Branfman-Verissimo.
On Whose Shoulders will be displayed in the bus kiosks along Market Street between the Embarcadero and 8th Street through April 30 2019.
Other Online Resources