Artists Explore What it Means to Be a Sanctuary City
Miguel Arzabe kicks off the San Francisco Arts Commission's Sanctuary City-themed Art on Market Street Poster Series with work that celebrates La Raza Screen Print Center and Mission Gráfica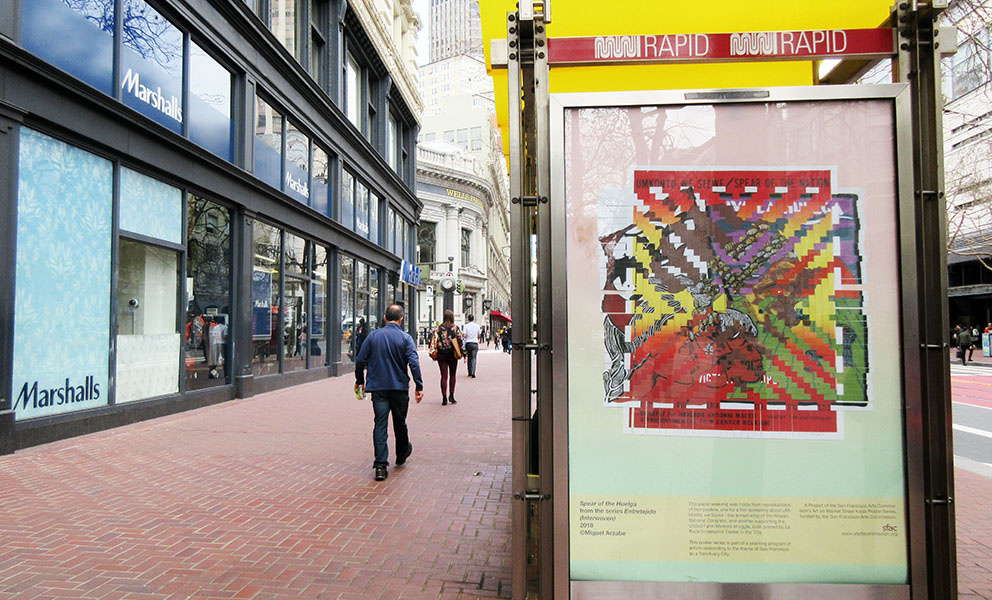 SAN FRANCISCO – For its 2018 Art on Market Street Poster Series, the San Francisco Arts Commission (SFAC) invited artists to respond to "what it means to be a Sanctuary City in today's political climate". Miguel Arzabe kicks off the series with
Entretejido
(Interwoven), an homage to La Raza Screenprint Center and Mission Gráfica, two venerable institutions that have acted as important communications and artistic platforms for San Francisco's marginalized communities since the 70s and 80s.

"What is beautiful about Miguel Arzabe's poster series is that it celebrates the rich artistic legacy and activism of San Francisco's historically underrepresented communities," says Director of Cultural Affairs Tom DeCaigny. "This visual culture is a reflection of our long-held values as a city and implores us stay focused on combating discrimination and ensuring a safe and inclusive city for everyone."
For Arzabe, who lives in the Mission, the La Raza Screen Print Center and Mission Cultural Center for Latino Arts, the home of Mission Gáfica, are a source of pride. The artist sourced historical posters from their archives that reflect the City's inclusivity. After reproducing the images, he cut them into strips and wove them together by hand.
"As a son of Bolivian immigrants, I am inspired by the weaving tradition of my Andean heritage and use the technique to show the power in intersectionality possible when we embrace our shared humanity," says Arzabe.
The artist created six weavings for the series, each of which combines two historic posters. Some of the unique couplings include a poster for a dance benefiting Guatemala combined with a reproduction of a Folsom Street Fair poster; a Native American Health Center and International Women's Week; and a celebration for Black History Week and an illustration of an anti-imperialist poem by Victor Líma. The weavings are each reproduced six times with a detailed description of their source material. The 36 posters are on view in the bus kiosks between the Embarcadero and 8th street.
The Office of Community Engagement and Immigrant Affairs (OCEIA) provided valuable insight throughout the development of this series.
"Art is such a powerful tool to articulate the hopes, dreams, fears and concerns of all people, especially those who are underserved, invisible and in need," said Adrienne Pon, OCEIA Executive Director. "Being Sanctuary is core to our roots and values. We hope this important series helps the public understand that immigrants contribute so much to San Francisco's success and that our policies must be fair, inclusive and ensure the safety of all."
The San Francisco Arts Commission is the City agency that champions the arts as essential to daily life by investing in a vibrant arts community, enlivening the urban environment and shaping innovative cultural policy. Our programs include: Civic Art Collection, Civic Design Review, Community Investments, Public Art, SFAC Galleries and Street Artist Licensing. To learn more visit, sfartscommission.org.
Other Online Resources