Founder of Feminist Publishing House Wins Award from the San Francisco Arts Commission
Co-founder of Aunt Lute Books, Joan Pinkvoss, to receive Artistic Legacy Award on September 12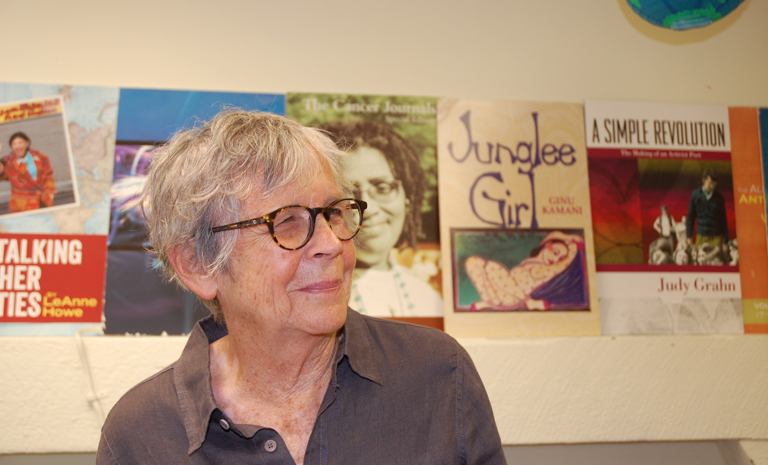 SAN FRANCISCO - The San Francisco Arts Commission (SFAC) will honor the founder of one of the nation's first and oldest publishing houses dedicated to literature by women. Co-founded in 1982 by Joan Pinkvoss, Aunt Lute is a nonprofit, multicultural press, located in the Mission District that is committed to publishing women writers whose voices and visions are underrepresented in mainstream presses by virtue of race, ethnicity, sexuality, socio-economic background and or age. Aunt Lute has published such acclaimed authors as Alice Walker, Audre Lorde, and Gloria Anzaldúa as well as the first U.S. collections of Filipina/Filipina American women writers, Babaylan, and of Southeast Asian women writers, Our Feet Walk on Sky.
"There is no greater honor for me than to be recognized by the San Francisco arts community. We at Aunt Lute Books, along with other committed artists and art organizations, have strived to make the Bay Area a more inclusive place for all its peoples. For that work, and my part in it, to not only be seen but celebrated is an unexpected delight," says Pinkvoss.
On September 12, Pinkvoss will receive the Artistic Legacy Award at the Arts Commission's annual grantee convening from 5-7 p.m. at the Herbst Theater. The Award acknowledges the impact of an executive or artistic director that has served a vital San Francisco organization for 25 years or more and has a history of working to educate the broader community on the importance of their culture and/or artistic genre. Aunt Lute will use their $40,000 grant to help with succession planning as Pinkvoss starts to slowly decrease her role at the organization.
"Joan Pinkvoss embodies the artistic energy and vision that has made San Francisco what it is today—a city that embraces difference and pioneers social change," says Director of Cultural Affairs Tom DeCaigny. "The fact that Aunt Lute continues to thrive in San Francisco's Mission District after 36 years is a testament to Pinkvoss's leadership. She is most deserving of this Artistic Legacy Award."
"Aunt Lute lives by the edict of bringing people and books together, for making consensus, and for symbolically connecting one thing to another in San Francisco and around the country. I thank the universe for Aunt Lute Books, it is so important to the writing world that they survive and thrive in San Francisco." - author LeAnne Howe (Shell Shaker, Miko Kings, an Indian Baseball Sotry, Choctalking on Other Realities...)
"Aunt Lute has a 35+ year history of publishing multicultural women's voices, but what most impresses me about them is that they have always been willing to take on unprecedented, unorthodox and difficult-to-categorize projects." – author Ire'ne Lara Silva (flesh to bone)
"The women who run Aunt Lute Books are warriors…I still get invited to college campuses and bookstores across the country to read from my book and share my stories. At these readings, I rarely leave without groups of women coming up to me in tears, telling me that they've never felt so seen or heard. That is what Aunt Lute Books does, and it is work that deserves to be supported in any possible way." – author Piyali Bhattacharya (Good Girls Marry Doctors: South Asian American Daughters on Obedience and Rebellion.)
The public is invited to attend the 5th Annual San Francisco Arts Commission Grantee Convening in the Herbst Theatre on September 12, 5-7 p.m.. Join SFAC's grantees, Arts Commissioners and staff for this community gathering. The City's Director of Cultural Affairs Tom DeCaigny and Director of Community Investments Barbara Mumby will present an update on the work of the San Francisco Arts Commission, focusing on the 2018 grant cycle and other SFAC milestones.
In addition to presenting the 2019 Artistic Legacy Grant, the Arts Commission will present the 2019 Ebony McKinney Arts Leadership Award to a local emerging arts leader. There will also be a special announcement about the SFAC's American Indian Initiative, a panel on accessibility in the arts, and a pop-up art market in the War Memorial Veterans Building Lobby (401 Van Ness Avenue).
The event is free and open to the public. The Herbst Theatre is accessible to persons using wheelchairs and others with disabilities. Assistive listening devices, ASL interpreters, and real-time captioning will be provided. Other accommodations will be made available upon request. Please contact sfac.grants@sfgov.org. Providing at least 72 hours' notice will help ensure availability.
Following the program, everyone is invited to an after party at Jolene's Bar & Restaurant (2700 16th Street at Harrison, San Francisco, CA 94103) from 7:30 p.m.- 9 p.m. to celebrate the biggest win for the arts community—the 2018 Prop. E Ballot Initiative and to further honor the night's awardees. No host bar and full menu available.
ABOUT AUNT LUTE
Aunt Lute Books is dedicated to publishing literature by women, both transgender and cisgender, whose voices have been traditionally underrepresented in mainstream and small press publishing. Since 1982, Aunt Lute Books has published books that incorporate the histories and lives of women whose stories often go untold, from dramatic works and poetry to memoirs and historical documents. Our aim is to distribute literature that expresses the true complexity of women's lives and the possibilities for personal and social change.
Aunt Lute Books was started in 1982 in Iowa City by Barb Wieser and Joan Pinkvoss, who believed that neither mainstream publishing nor the feminist movement of that time was promoting the voices of lesbians, especially lesbians and women of color. In 1986, Aunt Lute Books moved to San Francisco to partner with the small lesbian press Spinsters Ink, and did business under the name Spinsters/Aunt Lute. In 1990, Aunt Lute became a separate nonprofit under the umbrella of the Aunt Lute Foundation with the intention of creating a culturally diverse collective of staff, interns, and board members to address the lack of presses run by women of color. From 1990 onwards, Aunt Lute has created a place for the voices of women from many different cultures and helped to foster their careers.