Local Artist Weston Teruya Explores the Importance of Reslience in Sanctuary Cities
The San Francisco Arts Commission's latest Art on Market Street Poster series, Sanctuary is a Practice, reflects on the struggles and alliances of the immigrant community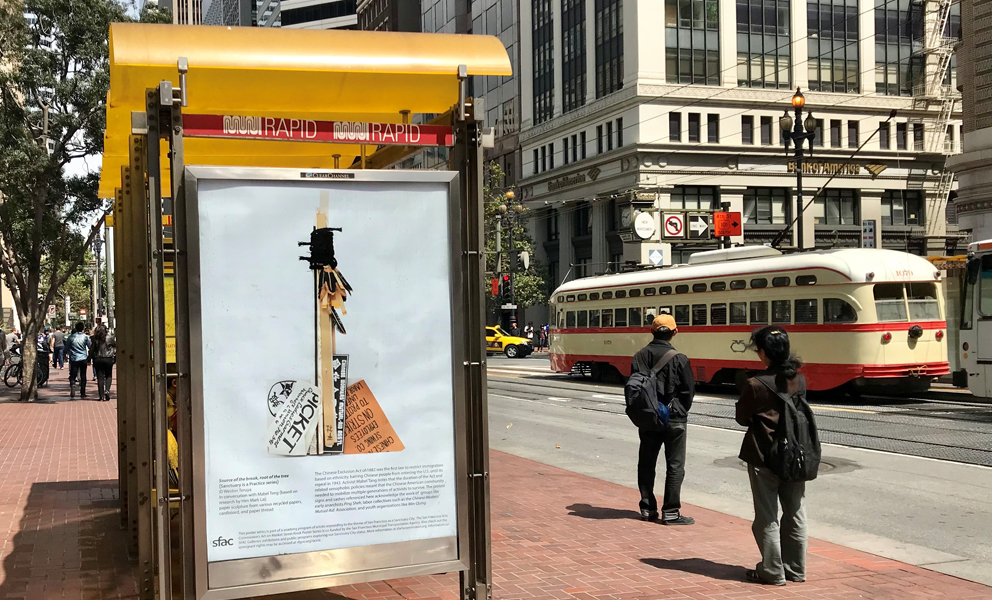 SAN FRANCISCO— ­For the third installment of the San Francisco Arts Commission's (SFAC) Sanctuary City Art on Market Street Posters, Oakland-based artist Weston Teruya created a series of objects to explore the alliances and self-organization of communities that have faced injustices, xenophobia and gross disenfranchisement. The posters will be located in the bus kiosks along Market Street between the Embarcadero and 8th Street.
"San Francisco is at the center of the Sanctuary City debate, and the Market Street Poster Series is an important platform for local artists to contribute to this dialogue," says Director of the Public Art Program Susan Pontious. "Weston Teruya's posters connect the present with the past by reminding us of some of our country's shameful acts against immigrants and people of color—crimes against humanity that should never be repeated."
For its 2018 Art on Market Street Poster Series, the SFAC invited artists to respond to "what it means to be a Sanctuary City in today's political climate". For his series, Sanctuary is a Practice, Teruya created six amulets, some of them in collaboration with other artists. The amulets were crafted with symbolic artifacts representing different groups and people.
According to the artist, "These pieces take the form of imagined talismans that invoke a sense of protection and resistance to adverse forces by combining cultural references and archival materials to tell a story about the practice of collective survival."
Through his work, Teruya explores the complexity of social dynamics throughout history and the present. Each amulet is presented in a poster with a short explanation of the story it means to portray. Some of the talismans refer to the protests of the Chinese American community against the Chinese Exclusion Act of 1882, the support of the O'odham people to the Japanese Americans incarcerated during WWII, among others.