New Temporary Mural for Chinatown's Future Central Subway Stop
San Francisco-based artist Jason Jägel brings a lively parade of colorful characters to the Stockton streetscape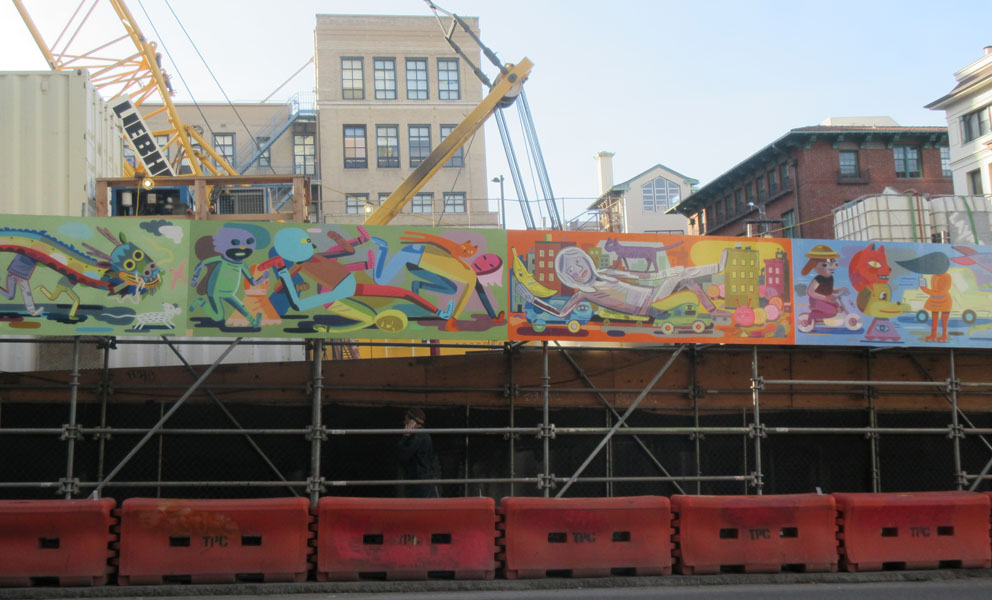 SAN FRANCISCO – Since major construction began on the new Central Subway station in Chinatown in 2014, the San Francisco Arts Commission has engaged local artists in beautifying the building site barricades. Jason Jägel is the latest local artist to contribute to this rotating exhibition of murals. On view for one year on Stockton at Washington, Procession, features a lively parade of colorful cartoon-like characters engaged in a variety of urban transportation.
"Jason Jägel's new Chinatown mural is imaginative and just plain fun," said Director of Cultural Affairs Tom DeCaigny. "We hope that these temporary mural projects bring an element of joy to the community during the construction phase, and also a little bit of excitement about the incredible artworks that will be a permanent fixture of this new public transportation hub."
Jägel's work is often derived from his daily practice of drawing in his sketchbook where loose, improvisational ideas become the foundations for larger projects. His art draws inspiration from a variety of sources including comic books, his expansive record collection, family life, and books to create non-linear narratives that are fictional yet familiar.
According to the artist, "I love to observe the endless and layered stories of San Francisco. In Procession, I wanted to depict a suggestive panoply of city-dwellers that are playful, approachable, ambiguous and perhaps just a little bit weird. Stockton Street inspires my imagination and I hope my imagination inspires everyone who passes by."
"This mural demonstrates our respect for the neighborhood by adding a bit of beauty to the area while we work to minimize construction impacts and complete the project as quickly as possible," said John Funghi, Director of the Central Subway Project. "When Central Subway is complete it will provide a direct north-south connection through some of the most heavily populated areas of the city. It would help provide more quality transportation options for thousands of transit riders, daily."
Other Online Resources