SFAC GALLERIES ANNOUNCES 2020 ARTIST IN RESIDENCE AT SF PLANNING
San Francisco-based artist Mansur Nurullah selected for a spring 2020 residency at the San Francisco Planning Department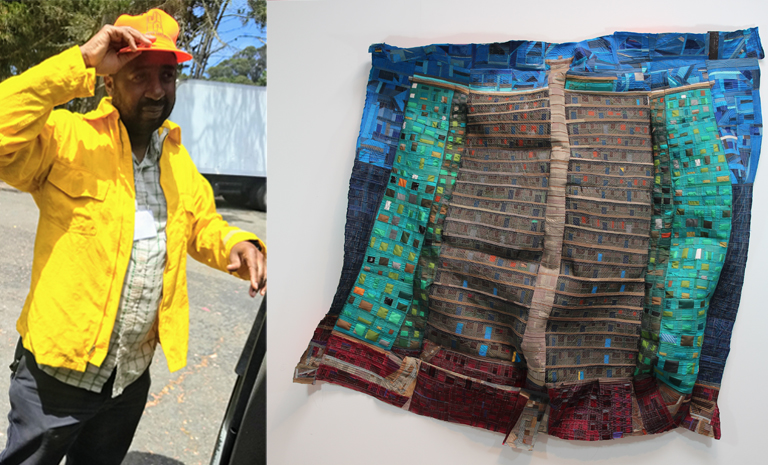 SAN FRANCISCO, February 22, 2020 – The San Francisco Arts Commission (SFAC) Galleries, in partnership with San Francisco Planning, is pleased to announce the selection of San Francisco-based artist Mansur Nurullah for the SFAC's Artist in Residence (AIR) program. Nurullah was selected from a competitive field of regional artists who responded to an open RFQ.
SFAC Galleries Director Meg Shiffler explains, "In 2015, Jeremy Fish was our first artist in residence, and his post-residency project, O Glorious City, celebrated the 100th anniversary of City Hall. In 2018, Jenny Odell completed an SFAC Galleries residency at San Francisco Planning and produced a book about her experience discovering and organizing an archive of snapshots. We're thrilled to continue our AIR program because it fosters interdepartmental partnerships and allows visionary artists to participate in, and respond to, City processes. We believe in the power of artists, like Jeremy, Jenny and our incredible 2020 AIR artist Mansur Nurullah, to envision change, reveal truths, and influence thought throughout various aspects of urban life."
"Culture and creativity are an integral part of what people love about the spaces around us," said John Rahaim, Director of San Francisco Planning. "Artists have a unique perspective into how things work and create new introductions to viewing the world. Bringing artistic creativity to the planning process offers exciting opportunities to engage in wide ranging discussions and will serve to promote a greater understanding of the issues at hand. We're looking forward to working with Mansur Nurullah and exploring new forms of communication through our work."
Mansur Nurullah is an experienced artist whose practice involves creating topographical textile sculptures and wall-work from discarded fabrics. Born in Chicago, Nurullah grew up understanding the city through public transportation and walking, a habit he continued in his previous work as a taxi driver and today, as he travels through San Francisco on his bicycle. His intricate works recall these travels and navigations, referencing both his own physical paths through the City, as well his life journey as an artist and counselor. Nurullah has previously been an artist in residence at Recology SF and has exhibited at Guerrero Gallery, Incline Gallery, Dependable Letterpress, and The Mending Collective.
"I am excited for the opportunity to be in residence at SF Planning," Nurullah states. "My work revolves around storytelling and place. I am interested in the story of San Francisco and how San Francisco Planning helps to influence our stories through neighborhood development, public space, and environmental impact."
Nurullah will be in residence in the Planning Department offices for a ten-week period beginning in late February. During that time, he will conduct research and work closely with members of the Planning Department staff, pursuing a line of inquiry that will culminate in the creation of a new body of work and a public program at the San Francisco Arts Commission Galleries later in 2020.
SFAC AIR
Launched in September 2017, the AIR initiative is overseen by the San Francisco Arts Commission Galleries, and is an ongoing program that seeks to build partnerships with a variety of City Departments in order to provide unique residency opportunities that result in strengthening the value of artists participating in the advancement of civic dialogue.


Media Contacts:
Tal Quetone
Director of Communications, SFAC
T: 415-252-2229 E: Tal.Quetone@sfgov.org
Meg Shiffler
Director, SFAC Galleries
T: 415-252-2234 E: Meg.Shiffler@sfgov.org
Gina Simi
Director of Communications, Planning Department
T: 415-575-9119 E: Gina.Simi@sfgov.org
Other Online Resources