The SFAC Galleries Celebrates Their Golden Anniversary in 2020 with a Golden Capricorn Season
The SFAC Galleries begins their anniversary season by opening their extensive exhibitions archive and inviting visitors to explore 50-years of groundbreaking culture in the making.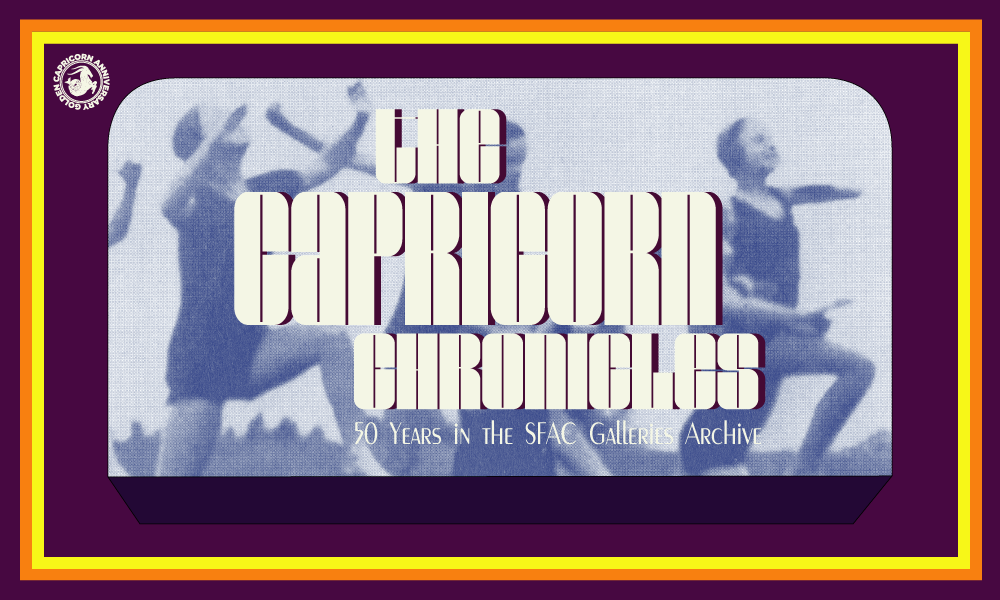 SAN FRANCISCO – The San Francisco Arts Commission Galleries' Golden Capricorn Season kicks off with a special exhibition that opens their 50-year archive to the public.
The San Francisco Arts Commission (SFAC) Galleries is celebrating its 50th Anniversary, their golden anniversary, with exhibitions that celebrate the past, present and future. Founded in 1970 as Capricorn Asunder, the Galleries has adopted the Capricorn as its anniversary season mascot, acknowledging the Galleries' longevity with a Golden Capricorn Season.
"Since its founding in 1970, the San Francisco Arts Commission Galleries has been an influential force in the regional arts landscape, working with thousands of local, national and international artists in exhibitions that have expanded civic dialogue about issues of the day including censorship, identity politics, gentrification, immigration, social justice and more," said Galleries Director Meg Shiffler. "We continue to drive culture forward by championing innovative and thought-provoking artists, curators and community partners. Celebrate our long and vibrant history with us this year!"
Opening February 12, The Capricorn Chronicles invites viewers to the SFAC Main Gallery in the Veterans Building to spend time looking through the Galleries' 50-year archive of exhibitions that include catalogues and correspondences, slides of past exhibitions, and video documentation of public programs and openings throughout the Galleries' history. The Gallery will be set up as a library while staff situate their desks in the gallery and continue organizing, updating, and cataloging historical documents, promotional materials, and other interesting pieces from the Galleries' past.
Saturday Time Warp
Every Saturday afternoon from 3 – 5 p.m., the SFAC Galleries will host a variety of events that invite the public to join featured curators, past directors, artists and others that were influential in the history of the gallery. We'll spend the afternoon sharing memories and conversations about the SFAC Galleries and the ever-changing San Francisco arts landscape. Watch our website and social media pages for event particulars.

Help us fill in the gaps!
During the run of The Capricorn Chronicles, SFAC Galleries will be accepting materials that will help fill out the archive and help us learn more about the Galleries' history. Visitors can email the Galleries at sfac.archive@sfgov.org with snapshots of what they have, and an appointment can be made where visitors can either donate their items or have it scanned and returned. Visitors may also drop by with materials during our special gallery hours, Wednesday – Saturday, 12 – 5 p.m. or during our Saturday afternoon programs.

Exhibition in Café Valor
Works from the SFAC Galleries print collection will be on view and are for sale. In the early 2000s the SFAC Galleries hosted an annual auction of original works and limited edition prints by regional artists. The prints that did not sell at the events are available for purchase at any time. This small exhibition brings prints from the collection into the public eye once again, and features works by John Bankston, Jona Frank, Anna Von Mertens, Tino Rodriguez, and more.
2020 Golden Capricorn Season
SFAC Main Gallery, Veterans Building. 401 Van Ness, Suite 126
Winter Gallery Hours: Wednesday – Saturday, 12 – 5 p.m.

February 12 – March 28
The Capricorn Chronicles
An exhibition and public programs that open up the SFAC Galleries 50-year archive.
April 17 – June 20
Conversation 8: Harry Dodge & Alicia McCarthy
Curated by Nancy Lim
Continuing our ongoing Conversations series, local artist Alicia McCarthy shows alongside LA-based artist Harry Dodge.
July 10 – September 12
Golden Capricorn Award: Juana Alicia
Curated by Meg Shiffler
Celebrating the contributions and accomplishments of Bay Area icon Juana Alicia in an exhibition highlighting new and past works about women, water and power.
October 2 – December 12
This is not the only possible world
Curated by Jackie Im
An exhibition that explores the speculative and looks to speculative fictions that can excavate our past and present, and present new possibilities of our futures.
SF City Hall
May 7 – December 18
50th Anniversary of PRIDE
The SFAC Galleries shares a 50th anniversary with PRIDE in this exhibition looking back at the LGBTQ community and San Francisco's iconic parade. Presented in partnership with the GLBT Historical Society.
Traveling Exhibition
June 13 – September 6
Jim Marshall's 1967
Curated by Amelia Davis and Meg Shiffler
Stadtgalerie Kiel
The Stadgalerie Kiel, in San Francisco's Sister City Kiel, Germany, presents the SFAC Galleries' exhibition Jim Marshall's 1967. This exhibition was originally presented at SF City Hall in 2017 conjunction with the 50th anniversary of the Summer of Love.