San Francisco Arts Commission Announces Two New Deputy Directors
Sarah Hollenbeck and Lex Leifheit Joins the San Francisco Arts Commission staff as Deputy Director of Finance and Administration and Deputy Director of Programs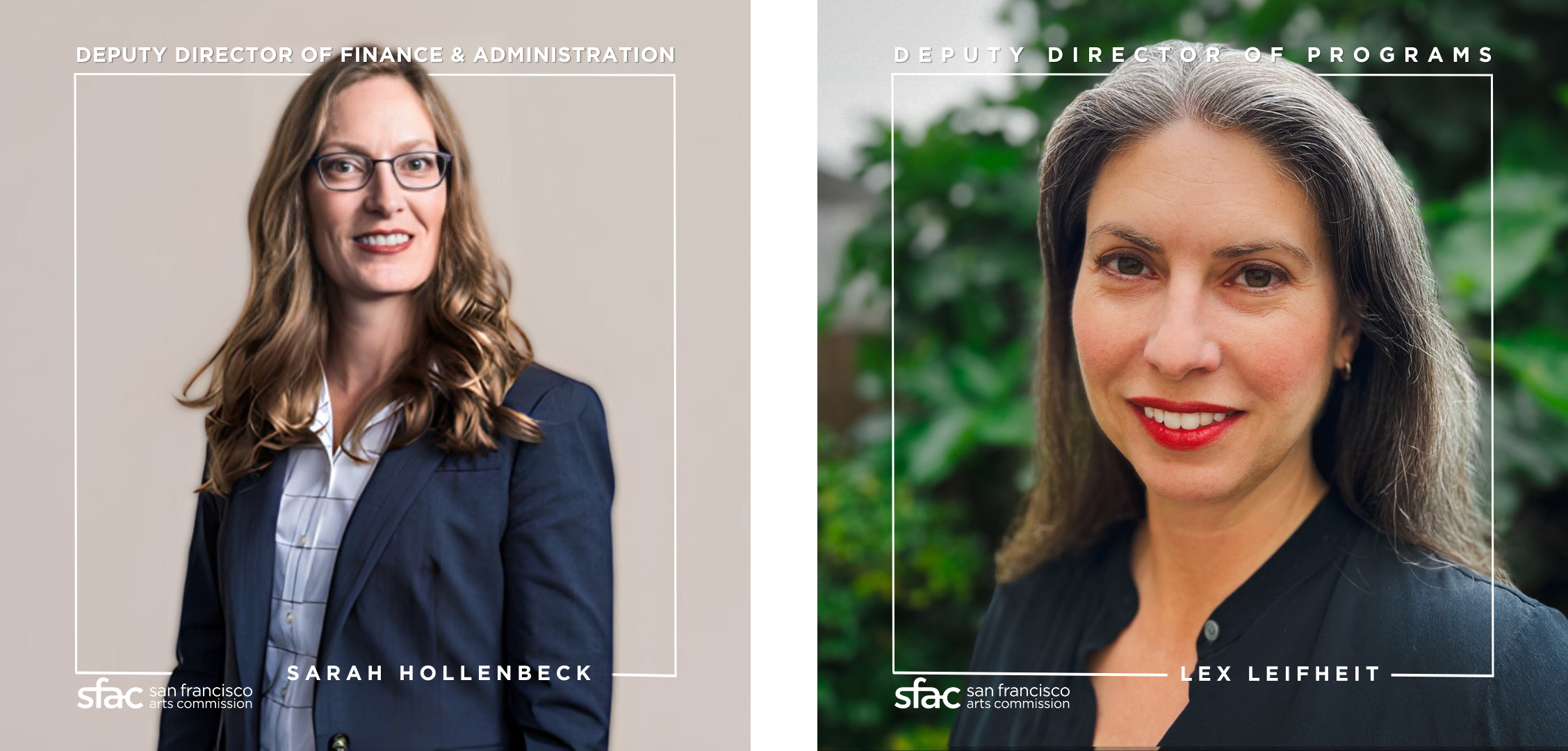 SAN FRANCISCO, August 29, 2023 – The San Francisco Arts Commission (SFAC) is thrilled to announce that Sarah Hollenbeck and Lex Leifheit have joined the Arts Commission as the agency's new Deputy Director of Finance & Administration, and Deputy Director of Programs, respectively.
The Deputy Directors will begin their new roles with the Arts Commission on September 8, 2023 and will report to Ralph Remington, Director of Cultural Affairs.
"I'm excited to welcome Sarah Hollenbeck and Lex Leifheit to the Arts Commission as our two new Deputy Directors," said Ralph Remington, Director of Cultural Affairs. "Their combined experience working with the City and County of San Francisco, along with their deep connections to San Francisco's Arts community will help us continue our agency's mission of championing the arts, reimagining our vision and steering our agency forward as we work on the next iteration of the Arts Commission's new strategic plan that will begin later this year."
As Deputy Director of Finance and Administration, Sarah Hollenbeck will manage the Human Resources, IT, finance and policy duties at the Arts Commission.
Hollenbeck comes to the Arts Commission from PFM Financial Advisors LLC, where since 2001, she has served as a Municipal Advisor and Managing Director and head of PFM's San Francisco office. At PFM, she has managed financial consulting engagements for governmental agencies throughout California, overseeing complex analyses and debt issuances for cities, counties, special districts, and transportation agencies. Hollenbeck started her professional career in the City and County of San Francisco Mayor's Office, where she served for five years in various positions including Budget Analyst and Public Finance Manager. Since 2018 Sarah has served as a board member of the San Francisco Girls Chorus, a local non-profit arts organization dedicated to providing empowering music education to young singers from diverse backgrounds.
Hollenbeck holds a Bachelor of Arts in History from Yale University and a Master of Public Policy from the UC Berkeley. 
As Deputy Director of Programs, Lex Leifheit (pronounced: "Life-Height") will be responsible for public-facing arts programs including civic design, community grantmaking, cultural centers, public art program and exhibitions in the main gallery and at City Hall and will assist in the stewardship of partnership, accountability and alignment with the Arts Commission's stakeholders.
Leifheit comes to the Arts Commission from One Nation / One Project, a national arts and wellbeing initiative, where she served as the Executive Director. From 2015 to 2023, Leifheit worked in San Francisco's Office of Economic and Workforce Development (OEWD), where she supported the City's efforts for a healthy and equitable business climate. Prior to OEWD, Leifheit was executive director of SOMArts, where she established the curatorial residency program, expanded support services and substantially grew the organization's creative programming and budget through a recession. In 2014, she co-founded Arts for a Better Bay Area with Ebony McKinney to broadly engage artists and arts workers around issues such as space, artist housing, and cultural equity.
Leifheit holds a Bachelor of Fine Arts in Theater Performance from Drake University, and a Master of Arts in Liberal Studies from Wesleyan University.
About the San Francisco Arts Commission
The San Francisco Arts Commission is the City agency that champions the arts as essential to daily life by investing in a vibrant arts community, enlivening the urban environment and shaping innovative cultural policy. Our programs include: Civic Art Collection, Civic Design Review, Community Investments, Public Art, SFAC Galleries, and Art Vendor Licensing. To learn more, visit sfartscommission.org.