side by side/in the world
An exhibition featuring California artists whose work reflects on sanctuary­­--how we make it, where it can be found, and what happens when it is out of reach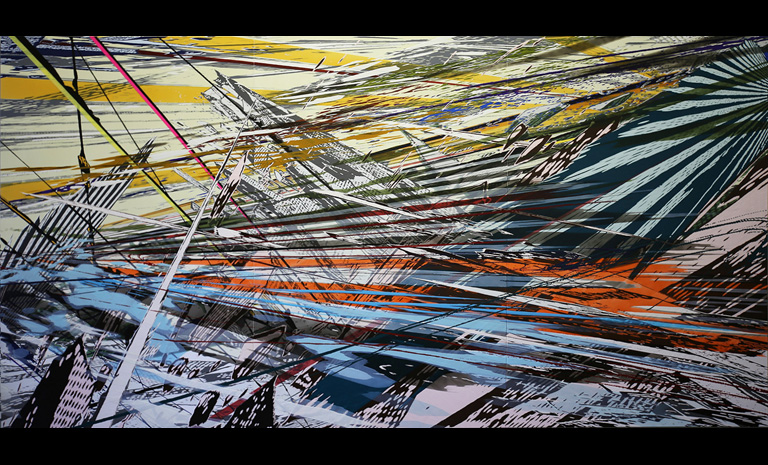 SAN FRANCISCO, May 21, 2019 - The concept of "sanctuary city" has figured significantly in recent discussions about immigration, whereby sanctuary cities are framed as "pro-migrant," particularly in opposition to federal policies that seek to limit asylum seeking. San Francisco became a Sanctuary City in 1990, joining a growing movement. The San Francisco Arts Commission (SFAC) Galleries' new exhibition, side by side/in the world, takes inspiration from this history, and considers sanctuary relationally, both in the places we find it and the ways we make it.
"For many, 'sanctuary' might suggest a fresh start," says SFAC Galleries Director Meg Shiffler, "But it is far from a tabula rasa brought about by shift in space and place. This exhibition is the culmination of a two-year exploration of San Francisco's Sanctuary City status, and through our work we have shared many perspectives on the concept of sanctuary, which we have learned is complex and layered, and often refers to the search for safety."
On view in the SFAC Main Gallery (401 Van Ness), side by side/in the world, takes its title from Jimmy Santiago Baca's poem Sanctuary, which starts with a line that speaks to our shared responsibility in cultivating sanctuary: "I could not disengage myself from the rest of the world." The poem frames sanctuary in the small acts of kindness that reflect an attitude of engagement. The artists in side by side/in the world give mark-making new life as a metaphor for renewal, revision and recollecting. In works that investigate histories of exclusion and migration, artists employ processes and materials that suggest healing and mending. Others approach the genre of landscape by transforming it into a poetic, otherworldly space of the imagination that nonetheless maintain a connection to the lived world. The unique formal approaches in the exhibition can therefore be read as metaphors for cultivating sanctuary.
side by side/in the world concludes the SFAC Galleries two-year exhibition and public program series featuring artists exploring San Francisco's status as a Sanctuary City and related subject matter. Shiffler further explains, "Exhibitions often burdened by an unreasonable expectation to capture all sides of a complicated subject matter. We took a different approach and worked for two years, often in partnership with the SF Office of Civic Engagement and Immigrant Affairs, to enliven a critical dialogue around what our sanctuary city status means."
"The Office of Civic Engagement & Immigrant Affairs (OCEIA) is proud to partner with SFAC Galleries on the Sanctuary City series over the last two years," states OCEIA Executive Director Adrienne Pon. "Reflecting on sanctuary helps us deepen our understanding of how San Francisco can be a beacon of welcome and inclusion for all. Sanctuary can and continues to take on many shapes, and our City will continue to seek avenues toward the meaningful participation of all our residents."
Prior Sanctuary City public programs included an evening of performance at The Stud about a complex queer Muslim future and post-utopian world, dancer Stephanie Hewitt and music duo XUXA SANTAMARIA performed a new score inspired by music from various diasporas in the Rotunda of City Hall, Sergio De La Torre and Chris Treggiari's Sanctuary Print Cart was situated in the Mission for a weekend, former SF Mayor Art Agnos and early leaders of our local sanctuary movement addressed a crowd at the SF Main Public Library, and much more.
EXHIBITION DETAILS:
side by side/in the world
An exhibition featuring California artists whose work reflects on sanctuary – how we make it, where it can be found, and what happens when it is out of reach.
July 12 – September 14, 2019
Opening Night Reception: Friday, July 12, 6 – 8 p.m.
Featuring: Eddie Aparicio, Esther Elia, Sheila Ghidini, Asma Kazmi, Yoon Lee, Crystal Liu, Lisa Solomon, Lauren Toomer, Alberto Toscano, Pamela Z
Curated by Jacqueline Francis and Kathy Zarur
SFAC Mail Gallery, Veterans Building, 401 Van Ness Avenue, Suite 126
Free and open to the public
Regular Gallery hours: Tuesday – Saturday, 11 a.m. – 6 p.m.
Other Online Resources