Skywatchers' Opulence Project Invites Tenderloin Community Members to Embody Their Boldest Visions
The Opulence Project gives space for underrepresented city residents to imagine and then create portraits of their most lavish, opulent selves.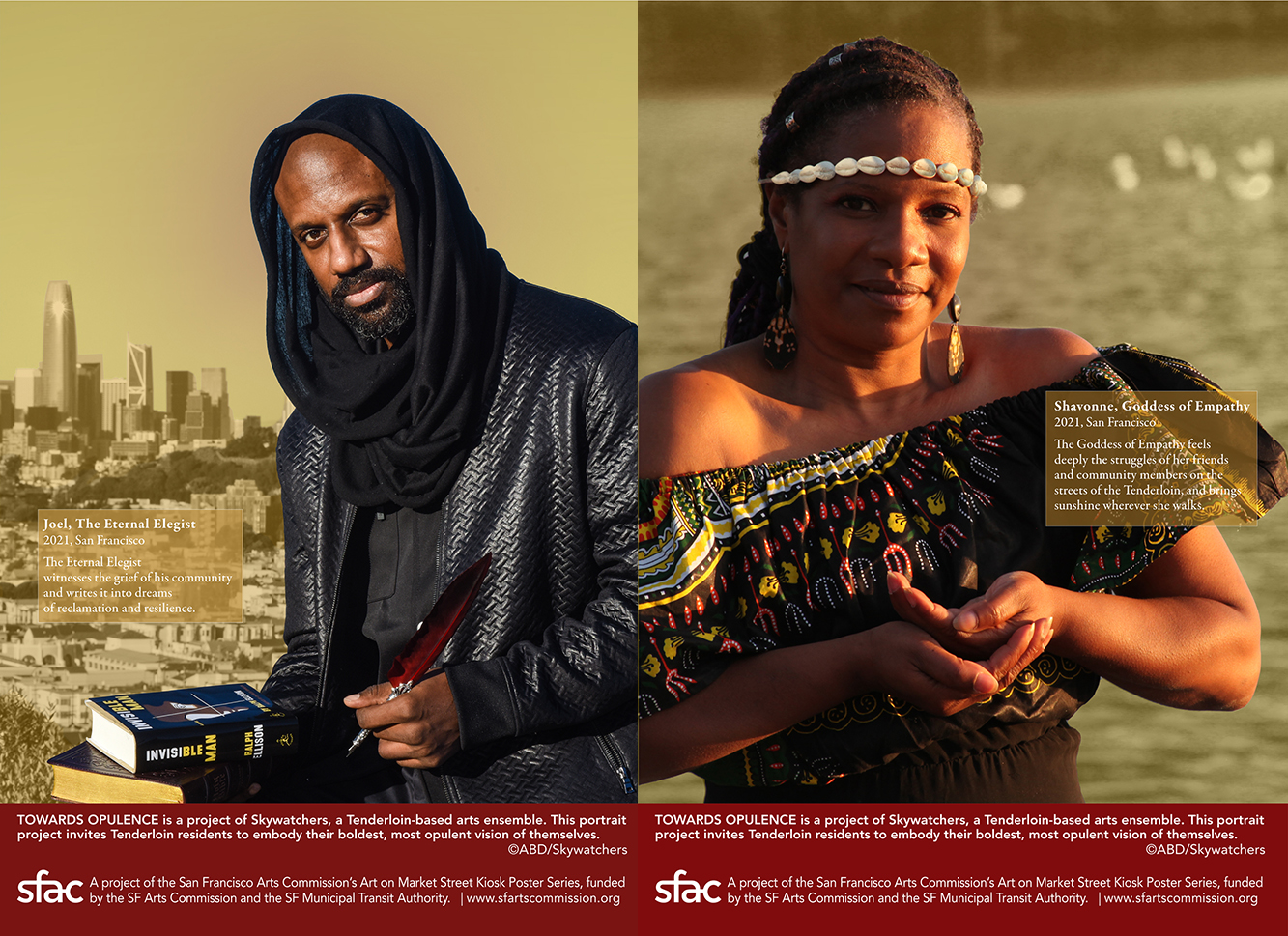 SAN FRANCISCO, July 22, 2021 – For its 2021 Art on Market Street Poster Series, the San Francisco Arts Commission (SFAC) invited artists to reconsider, respond to and reimagine the idea of a public monument. For the second installment of the series, Skywatchers ensemble members took part in The Opulence Project. Participants were invited to envision their boldest dreams for themselves and materialize those images in striking photographic portraits that bridge past and present, the real and the imagined.
It caused me to immerse myself for hours in an unrealized space. The journey towards portrayal took me out of frustration to a pocket of peace.
~Joel Yates, Skywatcher

Skywatchers, the principal program of ABD Productions, is a collaborative, multi-disciplinary ensemble that includes professional artists and formerly unhoused residents of San Francisco's Tenderloin district. For their Art on Market Street Poster Series, Skywatchers decided to expand The Opulence Project, using the highly visible posters to extend their mission to amplify neighborhood voices and challenge the kinds of stories traditionally memorialized in monuments. In these performative portraits, Wanda is the Goddess of Food generously feeding her community; Dr. Dreame is SuperTrans, a superhero fighting transphobia on our streets; and Joel is The Eternal Elegist, writing the grief of his community into dreams of resilience. Each of the nine portraits in this series uplifts the participant's desires, strengths and joys. Portrait subjects collaborated closely with Skywatchers creative leads, Gabriel Christian and Deirdre Visser, from conceptualization to the design of their image, crafting intricate stories alongside the portraits.
The Skywatchers project narrative states: "The Opulence Project is an expression of the latent magnificence and vivid power of our community members. We believe the people of the Tenderloin—neighbors who are largely low-income, disenfranchised, and marginally or un-housed—are the Cassandras of our present day, truth-tellers we are invited to listen to. The Coronavirus pandemic has laid bare the ways our existing systems and stories have proven unable to protect us or provide for our communities; the need for new narratives is urgent, as old monuments and methodologies fall and fail."
"The Skywatchers poster series is a powerful expression of a community that is often marginalized, grouped together as statistics, and denied their individuality," said Ralph Remington, Director of Cultural Affairs. "The portraits give voice to each individual's dreams and vision of who they are by manifesting their heroic image and by having a hand in creating it, crafting the look and the story of who they are. It's a reminder that every person deserves to be venerated and to have their story hold space."
About the Arts Commission
The San Francisco Arts Commission is the City agency that champions the arts as essential to daily life by investing in a vibrant arts community, enlivening the urban environment and shaping innovative cultural policy. Our programs include: Civic Art Collection, Civic Design Review, Community Investments, Public Art, SFAC Galleries and Art Vendor Licensing. To learn more, visit sfartscommission.org.
The San Francisco Arts Commission is committed to creating a city where all artists and cultural workers have the freedom, resources and platform to share their stories, art and culture and where race does not predetermine one's success in life. We also acknowledge that we occupy traditional and unceded Ohlone land. Fueled by these beliefs, we commit to addressing the systemic inequities within our agency, the City and County of San Francisco and the broader arts and culture sector. This work requires that we focus on race as we confront inequities of the past, reveal inequities of the present and develop effective strategies to move all of us towards an equitable future.
####
Other Online Resources