Temporary Sculptures Light Up Hayes Valley
The San Francisco Arts Commission and Recreation & Park Department place two large-scale sculptures in Patricia's Green for one year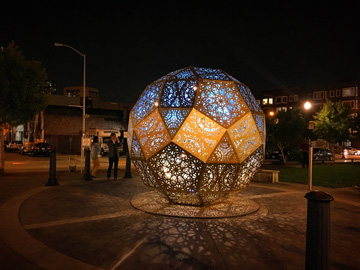 SAN FRANCISCO - The San Francisco Arts Commission in partnership with the Recreation & Park Department installs two temporary light sculptures in Patricia's Green, a small park located in the heart of San Francisco's Hayes Valley neighborhood. The sculptures, created by Yelena Filipchuk and Serge Beaulieu of the artist team HYBYCOZO, will be on view for a year starting November 9, 2016.
"We are thrilled to present these incredible light sculptures by HYBCOZO in Patricia's Green," said Director of Cultural Affairs Tom DeCaigny, "The artists have taken a complex mathematical concept and made it accessible through art. They are a wonderful temporary addition to the neighborhood that can be experienced day and night."
The two sculptures were inspired by Sir Roger Penrose's mathematical formula based upon a field of geometry known as tessellation, which is the covering of a surface with multiple tiles of a prescribed shape. Dodi, a 6 foot-tall dodecahedron is a 12-sided shape comprised of repeating pentagons, and Trillian, a 10 foot-tall rhombicosidodecahedron, features a combination of 62 triangular, square and pentagonal faces. Both sculptures are illuminated from within with colored LED lights that produce intricate patterns on the ground surrounding the works.
According to Filipchuk "The Penrose Tiling pattern carries a deep significance for our artwork. It represents the eternal and relentless search for a connecting thread in the universe. It is this quest which ties all of humanity together."
This project is supported with funds from the Market Octavia Development Impact fees.
The artworks will be included in the annual Illuminate the Arts Festival of Light organized by San Francisco Travel, the City's convention and visitor's bureau. Each year the festival shines a spotlight on light art throughout the city. For more information visit: http://illuminatesf.com.