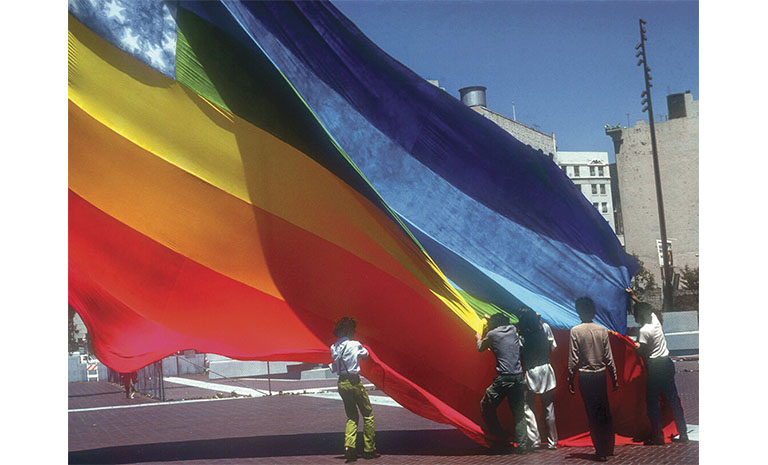 This event will take place ONLINE.
Register here: https://bit.ly/2ZscB5C (you will receive a confirmation email with a link and instructions on how to join the Zoom event)
ASL interpretation provided upon request. Email leigh@glbthistory.org three days in advance.   
The GLBT Historical Society currently has three Pride-related exhibitions mounted on its website: Performance, Protest & Politics: The Art of Gilbert Baker, 50 Years of Pride, and, starting June 15, Labor of Love: The Birth of San Francisco Pride, 1970–1980. This panel discussion brings together all of the curators of the three exhibitions to discuss their curatorial approaches and decisions. Using different sections of the online exhibitions as a guide, they will outline the themes they selected, discuss the curatorial lenses that informed their work and consider both the history and the future of Pride.
CURATORS
Lenore Chinn is a painter, photographer and cultural activist who works to create structures of personal and institutional support that both sustain critical artistic production and advance movements for social justice. Portraiture, both in painting and photography, is at the core of her visual art practice. Her current street photography chronicles a rapidly changing sociopolitical landscape. A San Francisco native, she was a founding member of Lesbians in the Visual Arts, a co-founder of the Queer Cultural Center and has been active in the Asian American Women Artists Association since the group was founded.
Gerard Koskovich is a San Francisco historian and rare book dealer. A founding member of the GLBT Historical Society, he has been active in the movement to create LGBTQ archives and museums for nearly four decades and has curated numerous exhibitions. Koskovich has presented widely, including talks at the Ecole du Louvre, Kyoto University and Oxford University, and has published extensively in English and French. Most recently he has focused on the work of Dr. Magnus Hirschfeld (1868–1935); the history of queer history in the United States; and LGBTQ place-based history.
Jeremy Prince is the collections specialist at the San Diego History Center. He began volunteering at the newly opened GLBT Historical Society Museum in 2011. From 2014 to 2019, he served as the society's director of exhibitions and museum operations. Prince holds an M.A. in early modern European history and museum studies from San Francisco State University.
Don Romesburg is professor of women's and gender studies at Sonoma State University and a co-founder of the GLBT Historical Society Museum. He is editor of the Routledge History of Queer America (2018) and has published queer takes on public history, histories of adolescence, sex work, transracial adoption and queer/trans performers. He was the lead scholar working to bring LGBTQ content into California's K–12 History-Social Science Framework and textbooks and now trains educators on implementation. For these efforts, he is the namesake of the Committee on LGBT History's Don Romesburg Prize for K–12 Curriculum.
Amy Sueyoshi is dean of the College of Ethnic Studies at San Francisco State University. A historian by training, her research lies at the intersection of Asian American studies and sexuality studies. She has authored two books: Queer Compulsions: Race, Nation, and Sexuality in the Affairs of Yone Noguchi (2012) and Discriminating Sex: White Leisure and the Making of the American "Oriental" (2018). Sueyoshi is a founding co-curator of the GLBT Historical Society Museum and served as co-chair of the inaugural Queer History Conference 2019 hosted by the Committee on LGBT History.ADMISSION
This event will also be live streamed, and then archived, on our YouTube page at https://bit.ly/2UyGVbG.