Tomorrow We Inherit the Earth: Revealing Queer Muslim Futures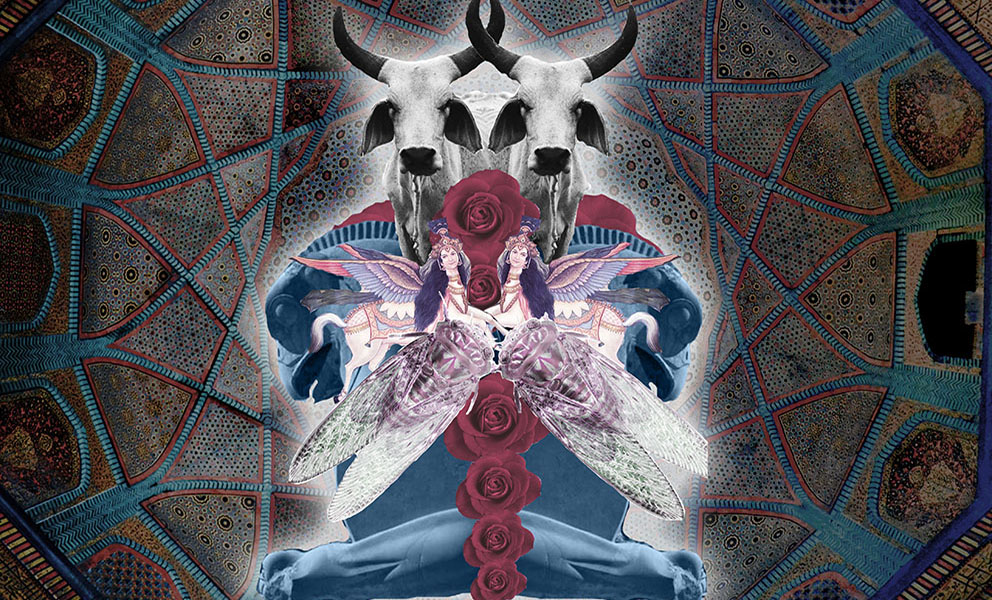 Please note: This event will take place at The Stud not at the SFAC Galleries.
Must be 21+ to enter.

Performances by Faluda Islam, Luke Arroyo Mendoza, Maryam Rostami, and Saba Taj. Followed by DJ Arshia Haq and Discostan.

The Muslim body has become one of the most contested spaces in the United States and is both a site of violence and inquiry. In response to the West's oversimplified understanding of Islam, this futurist evening uses fashion, performance, video, sound art, and music to explore and challenge the histories of violence, colonialism, and imperialism enacted on Muslim bodies. Organized by artist and performer Zulfikar Ali Bhutto (aka Faluda Islam) in collaboration with Arshia Haq, Hushidar Mortezaie, Laylatul Qadr, and Saba Taj, Tomorrow We Inherit the Earth presents a complex queer Muslim future and post-utopian world in which 'monsters'-- Queer creatures evolved to fight Western Imperialism and survive in a toxic world ravaged by apocalypse—reveal themselves and the messages received from intergalactic refugees waiting to inherit a better earth.

Stay for the after party with DJ Arshia Haq and Discostan, a party that merges together art and musical narratives from Beirut to Bangkok via Bombay.

This program is part of SFAC Galleries program series Sanctuary City, a multiyear series of exhibitions and public programs featuring artists exploring San Francisco's statues as a Sanctuary City.
About the Artists
Zulfikar Ali Bhutto//Faluda Islam is an artist, performer, zombie drag queen and curator of mixed Pakistani and Lebanese descent. His work explores complex identies formed by centuries of colonialism and exacerbated by contemporary international politics. Bhutto explores queerness, its intersections with Islam and how it exists in a constant liminal and non-aligned space. Bhutto is based in the Bay Area from where he received his MFA at the San Francisco Art Institute in the summer of 2016. Today he works as a teaching artist, community arts facilitator and part time unicorn in San Francisco.

Arshia Haq works across various mediums including film, visual art, performance, and sound, and is currently exploring themes of embodiment and mysticism particularly within the Islamic Sufi context. She is the founder of Discostan, a collaborative decolonial project working with cultural production from the Southwest Asian and North African (SWANA) region. Narrative threads include migration, celebration, warfare, nostalgia, homeland, and borders often within the realms of Islamic influence and through the lens of traditional forms and kaleidoscopic reinventions of pop culture. Haq's work has been featured at the Broad Museum, Toronto International Film Festival, MOMA New York, Hammer Museum, LAX Art, UC Irvine's Global Visions Program, Centre Georges Pompidou, and the Pacific Film Archive. She currently hosts and produces monthly radio shows on Dublab and NTS and recently released an album of Sufi field recordings from Pakistan on the Sublime Frequencies label.

Hushidar Mortezaie was born in Tehran and immigrated to the Bay Area in 1975. He moved to NYC in 1994 for 10 years and now resides in California, living between Los Angeles and the Bay Area. Mortezaie's discourse is a mixed media of collage, painting, illustration, installation art, and primarily fashion, which together fabricates a head to toe cultural critique that negates and celebrates branding along with the satire of pop culture and mass consumption.

Laila Nur [Laylatul Qadr] is a musician, videographer, composer, and visual artist based in Durham, NC. Scoring visual narratives with Islamic and Afrofuturist punk nasheeds, Qadr blends satire, hope, and rage into a submerging exploration of the Black & Brown Muslim experience. He is the lead guitarist and vocalist for The Muslims, a POC Muslim punk band recently featured in both Scalawag and Unsweetened Magazine.

Nur is a well known singer/songwriter, community organizer, and southern trouble maker. She is the lead guitarist and vocalist for the folk-rock-indie-soul ensemble, Laila Nur & The Love Riot. Nur has been featured on NPR, AfroPunk, GLAAD, and Huffington Post, and an invited guest for The Women's March on Raleigh, NPR, SisterSong, HPU, Moogfest, and many others for both musical and political contributions.

Maryam Farnaz Rostami is a San Francisco based drag queen and contemporary performance artist from Texas. Her work deals with the complexities of the modern condition through the lens of the child of model minorities. Maryam is dedicated to artistic engagement as an invitation for thinking about, looking at and talking to one another differently. Mona G. Hawd, Maryam's drag/nightlife persona, uses lipsync, movement, narrative, dance and an exaggerated high femme medium to question ownership of images in our culture.

Saba Taj is an interdisciplinary visual artist based in Durham, North Carolina. Heavily inspired by Islamic stories and speculative fiction, Taj remixes cultural and religious references to explore themes of hybridity, the gaze and apocalypse. Saba is a 2011 graduate of North Carolina Central University, and earned an MFA in Studio Art from the University of North Carolina at Chapel Hill in 2016.

Event Partners