Announcing First Artist in Residence at San Francisco Planning
Bay Area artist Jenny Odell has been selected for a spring 2018 residency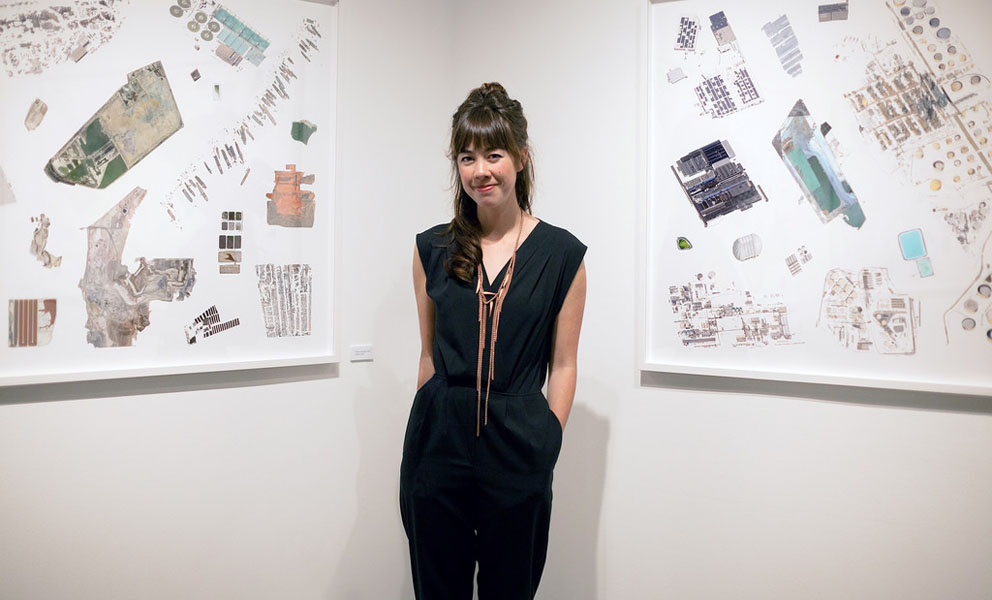 SAN FRANCISCO, January 10, 2018 – The San Francisco Arts Commission (SFAC), in partnership with San Francisco Planning, is pleased to announce the selection of local artist Jenny Odell for the SFAC's new Artist in Residence (AIR) program. Odell was selected from a competitive field of regional artists who responded to an open Request for Qualifications.
"I want to thank San Francisco Planning for being open to the idea of allowing an artist access to their inner workings," states Director of Cultural Affairs Tom DeCaigny. "We are thrilled to see what Jenny Odell will create during her residency, and we hope that this is just the beginning of more exciting collaborations with other City departments."

San Francisco Arts Commission Galleries Director Meg Shiffler says, "In 2015, the SFAC Galleries produced O Glorious City, a multifaceted project that required Jeremy Fish to be in residence at City Hall. That experience proved so successful that we have spent the past two years building a new program that places artists in various City Departments in order to foster interdepartmental partnerships and allow visionary artists to participate in, and respond to, City processes. We believe in the power of artists to envision change, reveal truths, and influence thought throughout various aspects of urban life."

Odell will be in residence in the offices of the Planning Department for a ten-week period beginning at the end of February. During that time, she will conduct research and work closely with members of the Planning Department staff, pursuing a line of inquiry that will culminates in the creation of a new body of work and a public program at the SFAC Galleries.

"I'm thrilled at the opportunity to spend a significant amount of time embedding into San Francisco Planning," Odell states. "In my practice, I truly enjoy researching and sifting through vast amounts of information, then creating an interface for the public that often illuminates strategies, information sets and human interventions within large datasets or systems. The work Planning does impacts everyone who lives in or visits San Francisco, and I can't wait to learn from the staff and participate in conversations about the future of our city."

Odell is an experienced multi-disciplinary artist and Stanford University educator whose work relies heavily on research and careful observation. Odell's project-based work often centers on personal archives and collections, dovetailing with her interest in taxonomies. The resulting works often take a bureaucratic form while also bringing attention to the absurdity in these systems. Odell has previously been an artist in residence at Recology SF, Yerba Buena Center for the Arts, the New York Public Library, and the Internet Archive.

"Now, more than ever, social engagement is crucial to strengthening communities and advancing civic dialogue," said John Rahaim, director of San Francisco Planning. "Integrating artistic creativity into the process offers a new perspective and exciting opportunities to engage in wide ranging discussions, and will serve to promote a greater awareness and understanding of the issues at hand. We're looking forward to working with Jenny Odell and exploring new forms of communication through our work."

The San Francisco Arts Commission is the City agency that champions the arts as essential to daily life by investing in a vibrant arts community, enlivening the urban environment and shaping innovative cultural policy. Our programs include: Civic Art Collection, Civic Design Review, Community Investments, Public Art, SFAC Galleries and Street Artist Licensing. To learn more visit, sfartscommission.org.

SFAC AIR
Launched in September 2017, the AIR Initiative is overseen by the San Francisco Arts Commission Galleries and is an ongoing program that seeks to build partnerships with a variety of City Departments in order to provide unique residency opportunities that result in strengthening the value of artists participating in the advancement of civic dialogue.

The San Francisco Planning Department, under the direction of the Planning Commission, plays a central role in shaping the future of our City by generating an extraordinary vision for the General Plan and in neighborhood plans; fostering exemplary design through planning controls; improving our surroundings through environmental analysis; preserving our unique heritage; encouraging a broad range of housing and a diverse job base; and enforcing the Planning Code. For more information about San Francisco Planning, visit sf-planning.org.
Media Contacts:
Kate Patterson
Director of Communications, San Francisco Arts Commission
T: 415-252-2229 E: Kate.Patterson@sfgov.org
Meg Shiffler
Director, SFAC Galleries
T: 415-252-2234 E: Meg.Shiffler@sfgov.org
Gina Simi
Director of Communications, Planning Department
T: 415-575-9119 E: Gina.Simi@sfgov.org
Other Online Resources