Artists Interpret San Francisco's COVID Emergency Response Through One-of-a-Kind Residency
SF COVID Command Center's Artist-in-Residence program provides local artists unprecedented access to the City's relief efforts with the goal of creating narrative documentation for future generations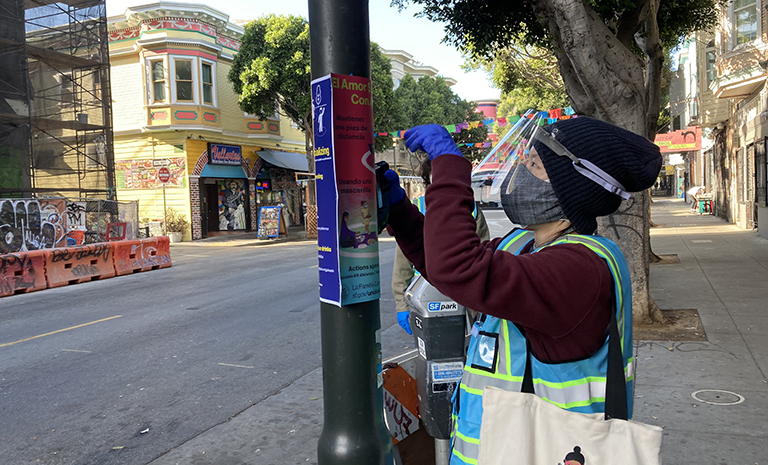 SAN FRANCISCO, February 4, 2021 – Four regional artists have reported for duty inside of San Francisco's COVID Command Center (CCC), the City's centralized emergency operations hub located at the Moscone Convention Center. Wearing blue vests emblazoned with "CCC Artist in Residence," two photographers, Mabel Jimenez and S. Renee Jones, and two comic artists, Bo Rittapa and Ajuan Mance, document and interpret the City's response to the COVID-19 pandemic. The CCC residency program, produced by the San Francisco Arts Commission (SFAC) in partnership with the Public Library and the CCC, gives these four artists unprecedented access to the Command Center and the hundreds of City employees deployed as Disaster Service Workers. The artists embed one day a week for twelve weeks, both inside the CCC and in the community, and then create photo essays and illustrations reflecting on their experiences.
This project is spearheaded by Meg Shiffler, SFAC Galleries Director currently deployed at COVID Command as the City's Arts Recovery Liaison. Early in her deployment, Shiffler noticed that no one was recording the internal workings of the City's vast COVID prevention and response efforts. Shiffler says, "The way the City is working hand in hand with community leaders and nonprofit organizations to prevent and eradicate COVID-19 is a story that should be recorded. Artists are master storytellers and bring valuable and unique perspectives outside of what is generally reported by news outlets. In addition to providing access to governmental operations, this residency supports four racially and culturally diverse artists at a time when our arts economy is devastated."
Comic artist Rittapa explains, "I value the opportunity to create a new narrative about the COVID crisis. I'm excited to use visual storytelling as a medium to create memories of collective struggle and resilience, as well as pushing the boundaries of what counts as history."
With the creation of a historical record in mind, the COVID Command residency has teamed up with Susan Goldstein, City Archivist at the San Francisco Public Library, to ensure that the artists' final portfolios are entered into the City's COVID Community Time Capsule, to that future generations can better understand the pandemic and San Francisco's strength and resilience through various visual storytelling strategies.
"We often don't fully grasp the significance of the current events, but when we look back at images and documents, we get a sense of what we lived through and its historic legacy," says Goldstein. "The COVID Community Time Capsule preserves this history, which is critical for our understanding of our city and of ourselves."
San Francisco's new Director of Cultural Affairs, Ralph Remington states, "San Francisco views artists as essential participants in the recovery process. In order for a city to regain its footing and persevere after the painful challenges of 2020, the work of artists is key to helping us interpret this unprecedented time and move us into a vibrant, healthy future. This residency program engages four BIPOC artists whose responses to the pandemic will be part of our official City records, expanding the canon of who gets to write and record history for future generations."
Jimenez, a former staff photographer of San Francisco's bilingual newspaper El Tecolote says, "Anyone being called on to use their skills and creativity to fulfill their civic duty during a national crisis should feel honored. Knowing that the photographs I take will be forever part of the COVID archive is one of the highest honors of my career."
Three of the artists will execute their residencies at Moscone South/SF COVID Command and in communities, while Ajuan Mance will enact her residency from home, connecting remotely with dozens of the City's employees that are deployed as disaster service workers. Ms. Mance's residency mimics the circumstances of many individuals that require expansive workplace digital access in order to protect vulnerable members of the household from potential coronavirus exposure.
Artist biographical information can be found on the SFAC Galleries Artist in Residence portal: https://www.sfartscommission.org/content/covid-command-artists-residence
The San Francisco Arts Commission is the City agency that champions the arts as essential to daily life by investing in a vibrant arts community, enlivening the urban environment and shaping innovative cultural policy. Our programs include: Civic Art Collection, Civic Design Review, Community Investments, Public Art, SFAC Galleries and Art Vendor Licensing. To learn more, visit sfartscommission.org
San Francisco Public Library is dedicated to free and equal access to information, knowledge, independent learning and the joys of reading for our diverse community. The library system is made up of 27 neighborhood branches, the San Francisco Main Library at Civic Center and four bookmobiles. To learn more, please visit sfpl.org and follow on Twitter @SFPublicLibrary and on Instagram @sfpubliclibrary
Images:
Due to security concerns, the press will have limited access to images that the artists in residence create. Contact Meg Shiffler for clarification and the timeline for available images.