The Arts Commission Launches Major American Indian Initiative
The Continuous Thread: Celebrating Our Interwoven Histories, Identities and Contributions includes over 14 public programs celebrating local Indigenous Peoples and highlighting significant cultural moments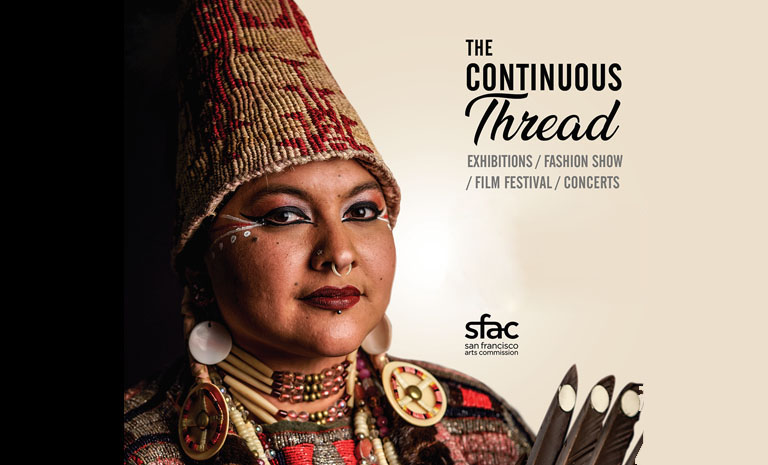 On October 4, the San Francisco Arts Commission will open a new exhibition and temporary photo projection project on Civic Center buildings featuring the local Indigenous community
SAN FRANCISCO – The San Francisco Arts Commission announces a new, ambitious American Indian Initiative that celebrates the culture and contributions of local Indigenous Peoples. Spanning three months, The Continuous Thread: Celebrating Our Interwoven Histories, Identities and Contributions will include over 14 public events including exhibitions, a temporary light-art project, community celebrations, concerts, a film festival, a fashion show and more.
According to San Francisco Poet Laureate Kim Shuck, "Although Indigenous Peoples make appearances in public art in San Francisco, contemporary Native people are rarely visible in this city. The San Francisco Bay Area has one of the largest and most varied Western Hemispherian populations and yet we still hear ignorant and miseducated comments about 'looking Indian' or our low numbers making us inconsequential. Public programs like these are part of the solution, a more visible community is part of the solution. Our neighbors need to see us as more than remnants, more than visual shorthand for the past."

The Initiative is presented in partnership with the San Francisco Public Library, San Francisco Airport Museum, San Francisco Municipal Transportation Agency, Yerba Buena Gardens Festival, Kua'aina Associates, the American Indian Film Institute, the International Indian Treaty Council, American Indian Contemporary Arts, the National Parks Service, Indians of All Tribes, Sewam American Indian Dance, the Native American Health Center, Urban Native Era, the American Indian Cultural Center and the Consulate General of Canada.
"The Continuous Thread Initiative builds on over 50 years of activism to reclaim space for the original stewards of this land. We are excited for the public to participate in the incredible array of programming developed in partnership with over a dozen local organizations and community representatives, which we hope will engender a greater awareness of and respect for Indigenous Peoples. I want to thank all of our partners for jumping in and making this notable year exceptional," says Director of Cultural Affairs Tom DeCaigny.
The Initiative kicks off on October 4 with the opening of the San Francisco Arts Commission (SFAC) Main Gallery's new exhibition, The Continuous Thread: Celebrating Our Interwoven Histories, Identities and Contributions. Curated by Carolyn Kuali'i, the exhibition brings to the forefront a photographic representation of the diverse identities of the SF Bay Area's Indigenous Peoples who are deeply rooted in the complexities of a collective history, interwoven in spirit, tradition, culture and community. The Continuous Thread will feature photographs of members of the American Indian community by Hulleah Tsinhnahjinnie, Jean Melesaine, and Britt Bradley that were taken in April 2019 centered around the Pioneer Monument, specifically the empty plinth where the Early Days sculptural grouping once stood. In September 2018, after unanimous votes by the Board of Supervisors, San Francisco Arts Commission, Historic Preservation Committee and Board of Appeals, the Early Days sculpture was removed in response to community objections to its racist and historically inaccurate depiction of an American Indian. The photo shoot, which included portraits taken on the empty plinth, studio headshots and glass plate portraits, aimed to recast the Native American community in a contemporary light and overturn representations rooted in historical oppression and racism.
"To bring a photographic story of a community deeply rooted in the complexities of a collective history and ancestral traditions into San Francisco's municipal gallery is incredibly exciting for the artists and the viewing public, and personally very humbling. It is a responsibility I take to heart," says Kuali'i.
The Continuous Thread is further complemented by a temporary public art project, Reclaiming Space: Portraits of the American Indian Community, in which some of the images from the spring photoshoot will be projected onto the San Francisco Main Library and Asian Art Museum, both of which flank the Pioneer Monument. The light show will open the same evening as the SFAC Galleries' exhibition and will run for one week. Images from the shoot will also go on display at San Francisco International Airport Museum in Terminal 3 from November 1-30.
On October 16, the SFAC is proud to partner with the San Francisco Public Library (SFPL) on a special evening featuring award-winning novelist Tommy Orange in conversation with San Francisco Poet Laureate Kim Shuck at the Koret Auditorium at the Main Library. Later in the month on October 26, the SFPL will commence Native American Heritage Month with an exhibition on its 6th floor and a series events lead by Shuck.
"We are honored to be part of this initiative that is connecting our city's rich heritage and cultural resources. At San Francisco Public Library, we are encouraging all to read this year's One City One Book, There There by Tommy Orange. Within its pages is a beautiful story that explores the compelling, heartbreaking and urgently real landscape of the Native experience in the Bay Area, and a fitting complement to the citywide American Indian initiative," said City Librarian Michael Lambert.
Coinciding with the Native American Heritage Month kick off, the SFAC will present its first fashion show featuring three Indigenous fashion designers: Sho Sho Esquiro (Kaska Dene, Cree), the first Indigenous designer to show at Paris Fashion Week, Project Runway alumna Patricia Michaels (Taos Pueblo), and Leah Mata is a member of the yak tityu tityu (the people) Northern Chumash Tribe.
On November 22, acclaimed recording artist Buffy St. Marie will help honor Native American activists who have led various movements over the last 50 years. The event will include an honoring of activists that have led resistance movements from 1969's reclamation of Alcatraz to present day.
See calendar of all 2019 American Indian Initiative programs and events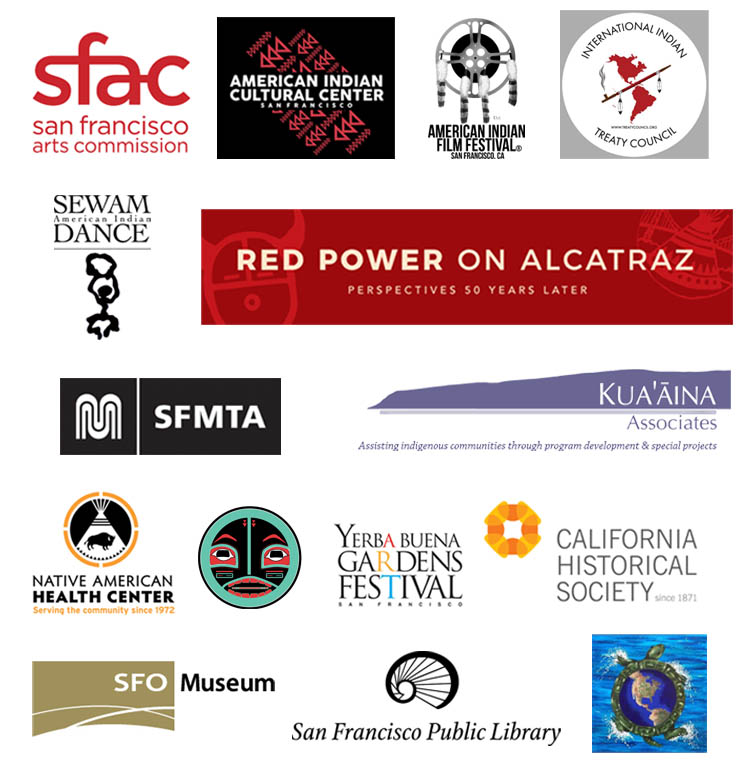 Other Online Resources