Bay Area's Indigenous Community Takes Center Stage in New Exhibition and Temporary Light-Art Installation
The San Francisco Arts Commission Main Gallery kicks off citywide American Indian Initiative with The Continuous Thread: Celebrating our Interwoven Histories, Identities and Contributions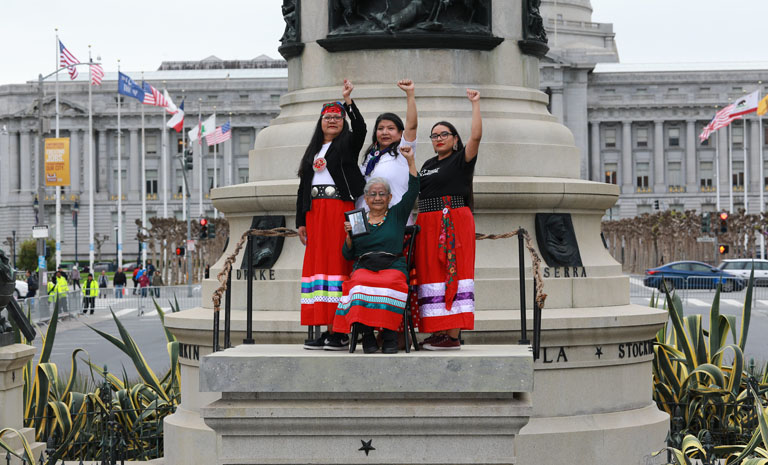 An exhibition and temporary projection project featuring members of our Bay Area Indigenous community photographed by Britt Bradley, Jean Melesaine and Hulleah J. Tsinhnahjinnie
SAN FRANCISCO, August 2, 2019 - On April 5 and 6, the San Francisco Arts Commission hosted over 150 members of the Bay Area's Indigenous community to be photographed on top of the empty plinth that, until recently, held the Early Days component of the Pioneer Monument in San Francisco's Civic Center. The sculpture was removed in September 2018 in response to decades of community objections to its racist and historically inaccurate depiction of Indigenous Peoples. Three photographers, Britt Bradley, Jean Melesaine and Hulleah J. Tsinhnahjinnie, captured the two-day event turned community celebration and reclamation of the site. The Early Days photo project empowered the local Indigenous community to challenge the way that they are seen in the public realm and was the precursor for the Arts Commission's Citywide American Indian Initiative. The photographs comprise the San Francisco Arts Commission Galleries' latest exhibition The Continuous Thread: Celebrating our Interwoven Histories, Identities and Contributions.
According to exhibition curator Carolyn Melenani Kuali'i, "Resistance and resilience have been at the forefront of our community since the dawn of foreign agents and settler-colonialism. And we are still here, never losing sight of both who we are and also that our cultural traditions and spirituality are our greatest weapons!"
The exhibition, which opens on October 4, officially kicks off the Arts Commission's American Indian Initiative that includes exhibitions, a temporary projection project, public celebrations, concerts, a film festival, a fashion show and over 14 community partners. The Initiative, orchestrated by Barbara Mumby, director of the Arts Commission's Community Investments Program, coincides with the 50th Anniversary of the Occupation of Alcatraz, the one-year anniversary of the City's first Indigenous People's Day and the anniversary of the removal of the Early Days sculpture.
SFAC Galleries Director Meg Shiffler says, "We're incredibly proud to memorialize this important moment in the City's history with an exhibition that showcases the strength, diversity and vitality of our regional Indigenous community through an epic documentary undertaking by three important Indigenous women artists."
During the shoot in April, renowned photographer Hulleah J. Tsinhnahjinnie, perched on the second level of a two-story scaffolding, directed groups of individuals including elders, children, academics, lawyers, artists, chefs, Two-Spirit individuals, business people, family groups and more onto the Early Days plinth and into position. Some came in traditional clothing carrying photos of their ancestors, some sported casual clothes often accompanied by traditional regalia, kids came in hoodies and sneakers, while others arrived in business attire on their lunch hour. Even a steady downpour on the first day could not dampen spirits as poses were struck, fists were raised, songs were sung and the shutter clicked.
Tsinhnahjinnie, a member of the Bear Clan of the Taskigi Nation and Tsinajinnie Clan of the Diné Nation, has exhibited her photography and video work internationally, and is currently an Associate Professor in the Department of Native American Studies at the University of California Davis. "As I was photographing, I thought to myself, my community is resilient, continuous, and beautiful. In my viewfinder, I saw familiar friends from SFAI Center times and the new faces, those whom I would be introduced to, the overall feeling was that of a safe place to be"
On the opposite side of the Pioneer Monument, Britt Bradley organized small groupings of participants to sit for another group portrait. Their images were recorded through a collodion wet plate process, a 19th-century method by which a glass plate is coated with collodion, a sticky transparent medium, then charged with silver nitrate, exposed to the light (capturing the image), and quickly developed inside a portable darkroom. This labor-intensive process was executed by Bradley on-site many times throughout each day. Bradley, who is from Algonquin, Mexican and Irish American descent, uses this media specifically because she is "interested in how a medium that has continually been used to exploit marginalized voices, could instead be adapted to empower. I'm looking to make the images that were missing from the version of history I was presented in school."
Inside the San Francisco Main Public Library, Jean Melesaine welcomed participants into a makeshift studio to sit for formal portraits against a black background. The resulting images are striking, close-up portraits that highlight and celebrate the diverse identities of the SF Bay Area's Indigenous Peoples. "This was probably the most nervous I've ever been about a photoshoot because I understood the weight of what this project meant. Photography has a negative connotation for Indigenous people, with no feeling, no deep human connection, just a one-sided transaction by anthropologists," says Melesaine. "To be born and raised on Ohlone land all my life I have to understand the connection of Indigenous people from my island to this land, what it means for the Native families, elders, people who traveled coming to bring their spirit of resistance and a reclaiming of space through their reflection. It's a powerful energy and spirit, I felt it, and I hope as they see their reflection and others see they can feel it as well."
Melesaine is a Samoan documentary photographer and artist born and raised in the San Francisco Bay Area. She was taught conscious photography and film from community members as a teenager, and her work has been shown in venues across the Bay. In 2016, she was selected to be part of KQED's Women To Watch series celebrating 20 local women artists, creatives and makers who are pushing boundaries. In 2017, Melesaine was included in the Yerba Buena Center for the Arts 100 List.
In addition to appearing in the SFAC Galleries' The Continuous Thread, Melesanie's portraits are the sole focus of Reclaiming Space: Projected Portraits of the American Indian Community, a temporary light-art project initiated by Jill Manton, San Francisco Arts Commission's Director of the Public Art Trust and Special Initiatives. Melesanie's portraits will be projected onto the facades of the Asian Art Museum and San Francisco Main Library, on Fulton Street between Larkin and Hyde, facing the Pioneer Monument. An honorific and respectful tribute to Indigenous Peoples, these powerful portraits purify and reclaim the site from its long association with indignity and imbue it with hope for a more equitable future. Made possible by the Public Art Trust, the projections will debut on October 4, coinciding with the opening reception for The Continuous Thread, and will run from dusk to dawn for a period of one week.
PROGRAM DETAILS
The Continuous Thread: Celebrating our Interwoven Histories, Identities and Contributions
On view October 4 – December 14, 2019
SFAC Main Gallery, 401 Van Ness, Veterans Building
Gallery Hours: Tuesday – Saturday, 11 am – 6 pm
Opening Reception, Friday, October 4, 6 – 8 pm
Free and open to the public
Reclaiming Space: Projected Portraits of the American Indian Community
Large-scale projections on the facades of the SF Public Library and Asian Art Museum
On view October 4, dusk to dawn
Free and open to the public
Other Online Resources