McNair Evans: In Search of Great Men
Photographer Rides the Rails Cross Country to Capture Intimate Portraits of Contemporary Americans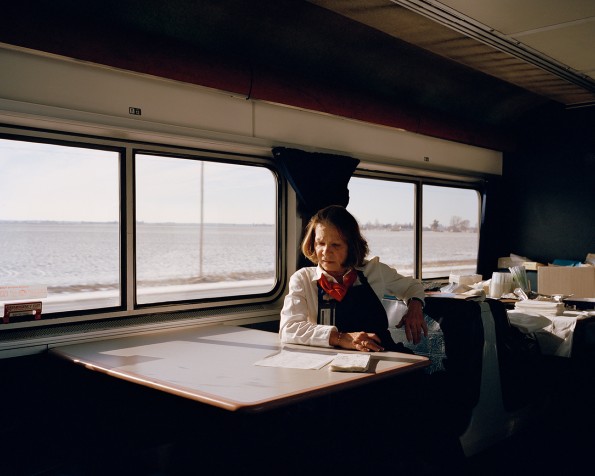 SAN FRANCISCO – A train journey in 2011 from his home town in North Carolina to Virginia inspired McNair Evans to explore contemporary America through our passenger rail system. For over three years, Evans has embarked on biannual two-week long Amtrak trips, what the artist calls a "public artist residency," using the time to meet and converse with fellow passengers, record their stories and photograph the people and the landscape. Presented for the very first time by the San Francisco Arts Commission Galleries, Evans' epic project, In Search of Great Men, combines compelling original photography and first-person, passenger-written journals that capture the unique cross-section of train travelers, offering the viewer a poignant and empathetic view of their lives.
The artist elaborates about his process, "I eat, sleep, and live with my subject. Because long distance trains service many small towns between major destinations, passengers and crew circulate constantly. Collaboration is essential, and each passenger writes about their travels, where they're coming from, and where they hope to go."
Railway transportation was a major component of the Industrial Revolution, providing crucial and timely transportation of both goods and people, creating greater connections between disparate places. Once a vital part of the United States' passenger transportation, today public interest in long-distance railway transportation has waned, yet for some, it still persists as a major means of travel. For In Search of Great Men, Evans, who studied anthropology as an undergraduate, focused on the passengers and employees brought together in this unique environment, bringing a human face to the once vast and great institution of rail travel. Evans asked his fellow travelers to write down their stories—why they're on the train, where they're going—and their collective stories illustrate a moving portrait of the American people.
Evans states, "At a time when such travel may soon be only a memory, this show explores that search for something just out of reach and a bit intangible. It is about the desire for change and the possibility of hope fulfilled. "
For his forthcoming exhibition at San Francisco's City Hall, Evans will work with exhibition curator Ann Jastrab to select and present approximately 100 photographs and journal reproductions from In Search of Great Men. The San Francisco Arts Commission Galleries' ground floor exhibition space presents the perfect location to debut this never before exhibited project. SFAC Galleries Director, Meg Shiffler remarks, "We selected Evans' project for this space because the long, lower level hallway at City Hall echoes the linear, utilitarian quality of an Amtrak passenger train. We hope that viewers will feel like they're on the train with Evans, meeting passengers and looking out the windows."
Other Online Resources