San Francisco's Public Art Program Turns 50 and Debuts Five New Artworks at SFO
Harvey Milk Terminal 1 will also feature an exceptional collection of two-dimensional art by such renowned artists as Barry McGee, Alicia McCarthy, Margaret Kilgallen, Chris Johansen, Hank Willis Thomas and many more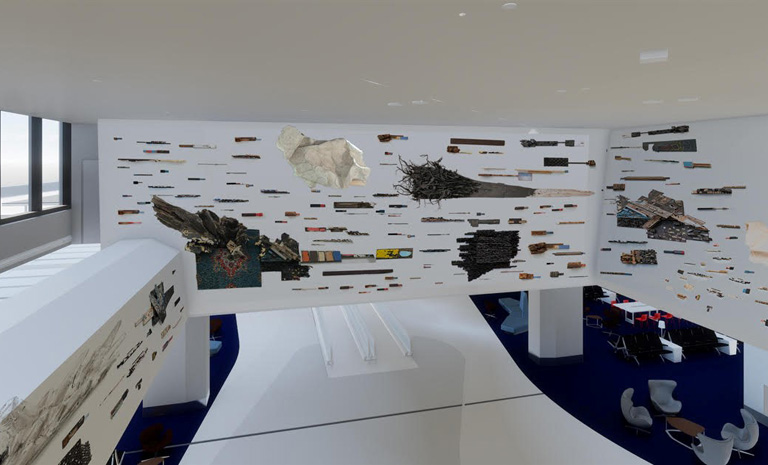 Coming 2021! SFO Museum Debuts Permanent Exhibition Celebrating the Life and Times of Harvey Milk
SAN FRANCISCO, June 25, 2019 – In 1969, San Francisco became one of the first cities in the country to adopt a percent-for-art program. The Art Enrichment Ordinance mandates that two percent of the gross construction costs of publicly funded capital projects be allocated for public art. With the ongoing construction at San Francisco International Airport, the San Francisco Arts Commission has overseen the development of one of the most distinguished public art collections at an airport—anywhere. As the public art program turns 50, the City will debut five new site-specific artworks and 25 two-dimensional works by internationally renowned artists at Harvey Milk Terminal 1.
According to Director of Cultural Affairs Tom DeCaigny, "Thanks to the City's groundbreaking Art Enrichment Ordinance, the San Francisco Arts Commission continues to innovate and push the boundaries of what a public art collection at an airport can be. In the spirit of the late Harvey Milk, who embodied 'San Francisco values,' the latest additions to the Airport's public art collection reflect the creativity, innovation and diversity for which the City is known and beloved throughout the world. Over the next several years, we will continue to add more artwork to the Terminal including a site-specific light installation that pays homage to Milk. Together with the permanent SFO Museum exhibit, Harvey Milk: Messenger of Hope, the art will provide travelers with a narrative arc of the socio-political and artistic moments that have contributed to the City's unique identity."
"Harvey Milk Terminal 1 represents a new chapter for SFO," said Airport Director Ivar C. Satero. "This facility will set a benchmark for the airport experience and serve as a tribute to the life and legacy of pioneering civil rights leader Harvey Milk. This ambition will be realized through museum exhibits and public artwork that together tell a story about what makes San Francisco great, and how people like Harvey Milk continue to serve as an inspiration for our region. Our thanks go out to the San Francisco Arts Commission for their contribution to making Harvey Milk Terminal 1 a facility of which all of San Francisco can be proud."
San Francisco Arts Commission developed an ambitious public art program designed to create a dynamic environment that engages travelers from the moment they arrive at the airport. Phase one of Terminal 1 includes five new site-specific installations. When the Terminal is completed in 2020 it will boast a total of 14 new public artworks.
Floating above the security check-in area is an ambitions installation by Liz Glynn. Terra-Techne consists of six suspended "tectonic plates", each representing a different continent. The work offers viewers two distinct narratives. Looking up from the security level, visitors will see an upside-down landscape representing a different biome from diverse California terrains reproduced in amazing exactitude. When seen from above on the mezzanine level, travelers will experience an abstract circuit depicting a different design in the evolution of the silicon chip. The artwork is a monument to technological innovation and organic connectivity, and it speaks to SFO's role in facilitating greater connectivity of our society through travel.
In Terminal 1's Boarding Area B there are two large-scale mosaic murals by Bay Area artists Jason Jägel and Robert Minervini. Jägel's 13 ft. x 33 ft. The Author & Her Story represents a tableau of unique individuals sitting around a table outfitted with a giant globe. The work invites viewers to consider the transcendent potential of air travel, where passengers can embark on an inner journey, exploring human interconnection. Minervini's Hyper-Natural Bay Area is both a still-life and a sweeping landscape of San Francisco's famous skyline. As the viewers peer into this trompe l'oeil scene, the artist hopes that they will discover a new way to dream of place, city, and destination as they wait for their flights.
Adorning one of Boarding Area B's prominent bulkheads is a multi-layered installation by Leonardo Drew. Comprised of hundreds of small sculptural elements derived from remnants of past artworks and other recycled materials, the installation forms a massive galaxy spanning three walls. Recycling is integral to the artist's desire to never let anything go to waste. The artwork reflects the enormous cross-section of people passing through SFO who carry with them a multitude of life experiences and cultures.
Mark Handforth's suspended sculpture, Cadmium Red Giant, is a dynamic collage in the form of a star, like a child's drawing -- but "drawn" with bent metal beams painted a rich cadmium red. Intersecting the star form is a cast aluminum Redwood branch. Violet, amber and red fluorescent lamps are mounted on the arms of the star to resemble light rays.
San Francisco Arts Commission also curated an extensive collection of two-dimensional works by predominately Bay Area artists.
According to the Director of the Public Art Program and Civic Art Collection Susan Pontious, "The new collection of discrete wall art for the airport marks the first time since the 1980s that the Arts Commission has had the opportunity to significantly expand this part of the collection. The artists are reflective of many of the styles and movements that have characterized the region's art scene, such as the celebrated Mission School, to which a whole prominent wall is dedicated."
Artists who will have work installed in Harvey Milk Terminal 1, Boarding Area B, include John Bankston, Fong Chung-ray, David Huffman, Chris Johanson, Margaret Kilgallen, Alicia McCarthy, Frank Lobdell, Barry McGee, Shaun O'Dell, Susan O'Malley, Hank Willis Thomas, and Cornelia Schulz.
"Additionally, this is the first time the Arts Commission has added important photographic works to the collection, such as On Becoming, a series of eight photographs by local artist Tammy Rae Carland," says Pontious. "The series speaks directly to the legacy of Harvey Milk who once said, 'If you are not personally free to be yourself in that most important of all human activities… the expression of love… then life itself loses its meaning.'"
Carland conceived of the On Becoming series out of a desire to re-create a lost archive of her family. She said, "I had wanted an image of me in the presence of my parents." Carland's presence is seen as she performs the roles of her mother, who was of mixed race but tried to pass as white, and her Irish Catholic father, who was a closeted gay man. By creating these images, she produces a parallel between the camera's ability to construct an imagined world and her parents' constructed identities. She becomes her parents, who were never able to become their authentic selves.
The San Francisco Arts Commission is the City agency that champions the arts as essential to daily life by investing in a vibrant arts community, enlivening the urban environment and shaping innovative cultural policy.
About the SFO Museum's Permanent Exhibition in Honoring Harvey Milk - COMING 2021!
In November of 2018, SFO Museum organized a public call for material pertaining to the life and legacy of Supervisor Harvey Milk. This exhibition features the resulting images, in combination with those of other photographers and items from archival collections at the San Francisco Public Library (SFPL) and the GLBT Historical Society. Much of the material is held in the Harvey Milk Archives–Scott Smith Collection, generously donated to the James C. Hormel LGBTQIA Center (SFPL) in 1996 by Elva Smith. Harvey Milk: Messenger of Hope will remain on view until late 2021.
A permanent exhibition will be installed pre-security in the Harvey Milk Terminal 1 in 2021. Special thank you to photographer Daniel Nicoletta; Susan Goldstein, City Archivist at the San Francisco History Center (SFPL); Dee Dee Kramer, Program Manager at the James C. Hormel LGBTQIA Center (SFPL); Christina Moretta, Photo Curator at the San Francisco History Center (SFPL); Tim Wilson, Librarian and Processing Archivist at the James C. Hormel LGBTQIA Center (SFPL); and Ramon Silvestre, Collections Registrar at the GLBT Historical Society Archives & Research Center, for their generous assistance with this exhibition.