SFO's New Terminal 3 Bursting with Art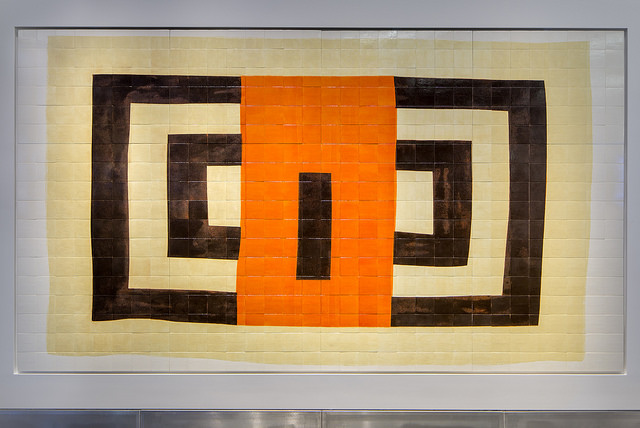 SAN FRANCISCO - The San Francisco Arts Commission unveils the last four art installations, completing the ambitions public art program for SFO's new Terminal 3. The new artworks include a sculpture by internationally renowned artist Ursula Von Rydingsvard, a ceramic mural by Louisiana Bendolph and two series of two-dimensional works by Bay Area artists Sanaz Mazinani and Vanesa Marsh. The latest additions to Terminal 3's art collection join two installations that were completed earlier this summer: a 109-foot mosaic mural by San Francisco-based artist Amy Ellingson and a series of reconfigured maps of San Francisco neighborhoods by Hayward artist Lordy Rodriguez.
"Through San Francisco's percent-for-art program, the Arts Commission has created an unparalleled public art collection at SFO," said Director of Cultural Affairs Tom DeCaigny. "With each new building project at SFO, the Arts Commission has the opportunity to work with a diverse group of artists to create an engaging and dynamic environment for travelers that reflects the innovation and creativity for which San Francisco is known and celebrated throughout the world."
"The Terminal 3 East Concourse at SFO is the embodiment of our goal to create an exceptional airport experience for our guests," said Airport Director John L. Martin. "With thoughtful features and amenities, locally-sourced concessions, and inspiring works of art commissioned by the San Francisco Arts Commission, Terminal 3 East truly provides travelers an environment that is second to none."
German-born artist Ursula Von Rydingsvard is an internationally celebrated artist known for her large-scale sculptures made from carved cedar , a material she began using in the 1970s. Her longstanding use of wood is linked to memories of the makeshift structures that her Ukranian-Polish family inhabited while moving from one refugee camp to the next across postwar Germany. Standing over ten feet tall, Ocean Voices II, 2013, was painstakingly carved and chipped out of cedar 4x4s by the artist and her assistants using circular saws and chisels. Travelers can find the sculpture close to the entrance of Boarding Area E.
Louisiana Bendolph is among the younger generation of quilt makers whose work was included in the national touring exhibition Gee's Bend: The Architecture of the Quilt. Her mosaic mural for T3, New Generation, 2015, embodies the quilting tradition that was influenced by female slaves who pieced together strips of cloth to make bedcovers to keep their families warm. Over the generations, the Gee's Bend Quilters developed a distinctive style, noted for its distinctive style, noted for its lively improvisations and geometric simplicity. Bendolph is known among the quilting community for her stunning abstractions. Originally a quilt, then an etching, and translated into ceramic tile for T3, this artwork depicts an innovative approach to a quintessential American art form.
Iranian-born artist Sanaz Mazinani works primarily in photography, video and large-scale installations. Her practice explores the relationship between perception and representation, in response to site, sight and insight, especially in relation to digital culture. Her series of photographic montages, Forever in the Sky, focuses on the clouds above San Francisco. According to the artist, "I was always really interested in borders and issues around land and landlessness, and being an immigrant, and I found it really rewarding to look up at the sky and see these beautiful clouds moving — without any limitations, without checkpoints, without passports." Mazinani combines photographs of San Francisco's skies with iconic city landmarks assembling the disparate images into compositions that reflect traditional Persian motifs. The resulting images are complex portraits of the city's skyscape.
Oakland-based artist Vanessa Marsh explores the night sky in her series of photograms for T3, Everywhere All at Once, 2012-2014. Photograms are fabricated images that result from drawing, painting, and darkroom techniques. Her enigmatic nightscapes reveal the intersections of the man-made, the natural and the cosmological creating a beautiful and powerful nocturne landscape. "I am imagining a landscape where the only light is the starlight, where all other sources are either gone or turned off," says Marsh. "In a way, the lighting in the images points forward to a possibly apocalyptic future but nostalgic for a time when there was not so much manufactured light."
Amy Ellingson's practice is a synergy between digital media and the hand-made object. Her 109-foot installation, Untitled (Large Variation), is an abstract mural that uses color, geometry, repetition, scale and spatial illusion to suggest movement and transformation. Ellingson uses graphics software to create multilayered compositions of great complexity that are translated into physical form using traditional painting media. All of her imagery, whether geometrically intact or abstracted and chaotic, is comprised of a vocabulary of simple forms that are digitally manipulated. The mural was fabricated by Mosaika Art & Design, a woman-owned and run company based in Montreal, Quebec.
In his practice, artist Lordy Rodriguez explores the identity of place, encouraging the viewer to think about the signifiers of place and how they influence our perception and experience of San Francisco neighborhoods. Using the language of cartography, Strangerhood features a series of maps depicting six iconic San Francisco neighborhoods reimagined as independent countries. Strangerhood focuses on Chinatown, North Beach, The Mission, The Castro, Haight-Ashbury, and Fisherman's Wharf, neighborhoods chosen because of their strong cultural identities and tourism economies. The reconfigured factual locations into fictional territories are intended to illuminate the cumulative identity of a whole neighborhood. This series was first commissioned for the SFAC's Art on Market Street Poster Series in 2014 and was translated into digital prints on aluminum for SFO's Terminal 3 arrival's level baggage claim area.
Other Online Resources