Market Street is the main thoroughfare of San Francisco. Learn more about ongoing public art programs and opportunities happening on or around Market Street.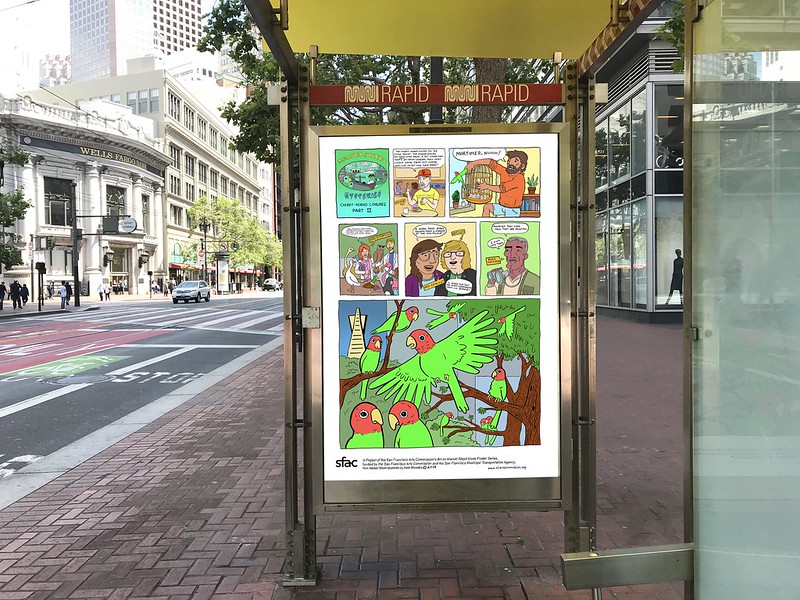 In partnership with the San Francisco Municipal Transportation Agency (SFMTA) and Clear Channel, the San Francisco Arts Commission has commissioned new artworks from artists on an annual basis since 1992. Up to four artists are commissioned annually by the Arts Commission to create a series of at least six unique works of art that responds to a theme specific to San Francisco. Posters are displayed along Market Street between Hyde Street and the Embarcadero at 18 SFMTA transit shelters. The 2023 Art on Market Street Poster Series theme, "Comics 2.0", is a continuation of the 2022 poster series theme based on the artistic medium of comics.
The Kiosk activation program is a collaboration between the City and County of San Francisco, San Francisco Public Works, and JCDecaux. The program provides Art Vendors, Local Artists, Art Collectives and Local Nonprofits interested in programming through a community-serving lens the opportunity to use available kiosks located on and near Market Street. The program is managed and run entirely by JCDecaux and collectively, the programs goal is to create and build opportunities for local artists and nonprofits through the use of the kiosks.