Each Where Art Lives class flows differently depending on the needs and interests of everyone involved.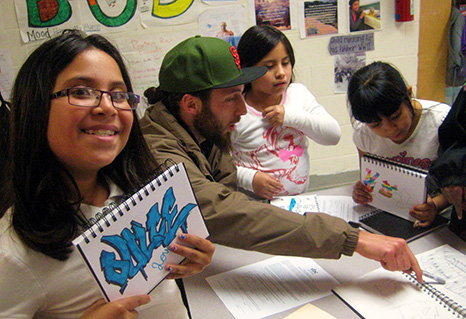 Below is an outline of the Where Art Lives curriculum. Contact Todd Berman whereartlivessf@gmail.com for more details.
Curriculum Outline
SESSION ONE
Imagine ourselves as property owners in San Francisco and design signs for our businesses and organizations.
Explore self expression.
Everyone gets a sketchbook to begin to develop their personal styles.
Homework: observe what's painted on the public walls in your neighborhood.
SESSION TWO
Examine examples of street art and develop a vocabulary to describe it.
Discuss how different types of street art and graffiti can affect the mood of a neighborhood.
Learn some drawing techniques.
Spend time drawing and reflecting.
Homework: keep drawing!
SESSION THREE
What are facts around vandalism laws and artist rights in San Francisco?
How can we identify the difference between public art, illegal graffiti, and advertising?
Begin final project. Students work together to decide how they think their neighborhood should be decorated.
Homework: talk to people in your community about what values they would like to see promoted.
SESSION FOUR
Students design and draw the neighborhood they would like to live in. They design murals they would put on the sides of their property.
Photograph the finished art and share it with the world.